Love apple crumble? Then you've got to try this Inside Out Apple Crumble recipe!
This delicious treat is the first in our four part air fryer dessert recipe series. You can view the full series of recipes right here – and, if you're looking for an excellent air fryer for your home, you can shop our range of Philips Air Fryers here.
Prep 15 mins
Cook 25 mins
Serves 4
Inside Out Apple Crumble Ingredients
40g (1/4 cup) plain flour
35g butter, chilled, chopped
2 tablespoons instant rolled oats
2 tablespoons walnuts, finely chopped
1 tablespoon brown sugar
4 (about 200g each) Sundowner apples
4 sheets frozen puff pastry, just thawed
4 thin cinnamon sticks
1 egg, lightly whisked
2 teaspoons raw sugar
Caramel sauce, to serve
Double cream, to serve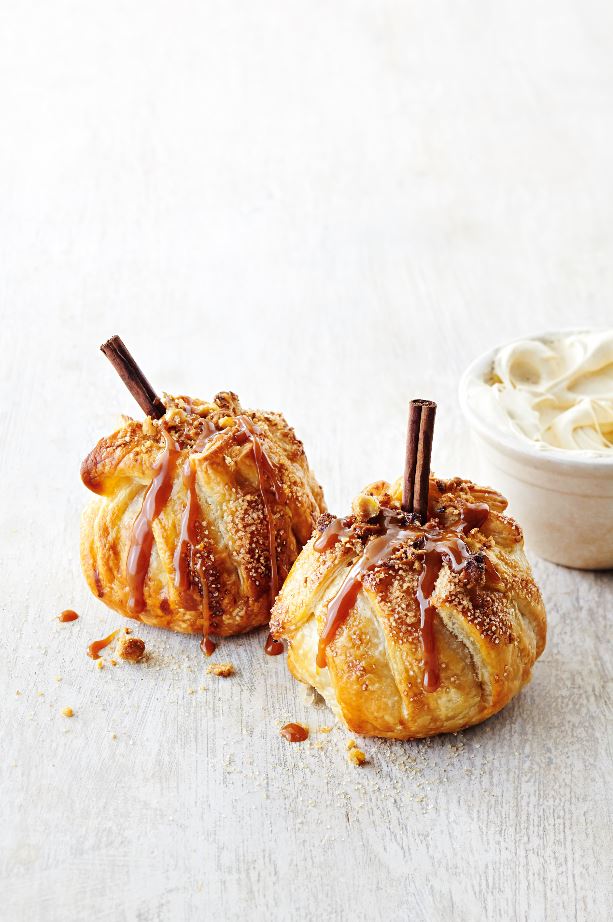 Method
1. Place the flour and butter in a bowl. Use your fingertips to rub in the butter until crumbs form. Stir in the oats, walnuts and sugar.
2. Use an apple corer to remove the core from the apples, using the corer twice to make a slightly larger hole about 2cm round.
3. Cut 1 pastry sheet into a 22cm round disc. Place 1 apple in the centre of the pastry. Fill the apple cavity with one-quarter of the crumble mixture, pressing in firmly (a little will fall onto the pastry around the apple). Press a cinnamon stick into the apple cavity. Brush the edge of the pastry disc with the whisked egg and fold the pastry up and around the apple to enclose. Brush with egg. Cut leaf shapes from the pastry scraps and use to decorate the top. Sprinkle with a little sugar. Repeat with the remaining pastry, apples, crumble mixture, cinnamon sticks, egg and sugar to make 4 apples.
4. Preheat a 7-litre air fryer to 170°C. Place each apple on a small square of baking paper. Place in the air-fryer basket, leaving a little space between each apple. Bake for 25 minutes or until golden and crisp. Drizzle with the caramel sauce and serve with the cream.
More Air Fryer Dessert Recipes
• The Ultimate Chocolate Impossible Pie Recipe
• Condensed Milk Bread and Butter Pudding Recipe
• Passionfruit Self-saucing Pudding Recipe
Plus, shop Philips Air Fryers here!