Trifle has to be one of the easiest desserts to assemble and it's a definite crowd-pleaser! This recipe is an Italian-style trifle that's prepared with sponge finger biscuits and a light jelly made from cranberry juice and fresh raspberries. Topped with cascading whipped cream and a raspberry coulis, it's the perfect finish to your next family BBQ or Sunday lunch.
Why not give it a go this weekend and prepare your coulis using the high-performing KitchenAid Pro Line Blender from Harvey Norman.
Serves 6-8
Ingredients
10 sponge finger biscuits, halved
2 tsp vanilla extract
1 ½ cups (375ml) thickened cream, whipped
Raspberry jelly
5 tsp gelatine powder
3 cups (750ml) cranberry juice
½ cup (110g) caster sugar
250g raspberries, plus extra to serve
Coulis
200g frozen raspberries, thawed
2 tbs icing sugar
1 tbs water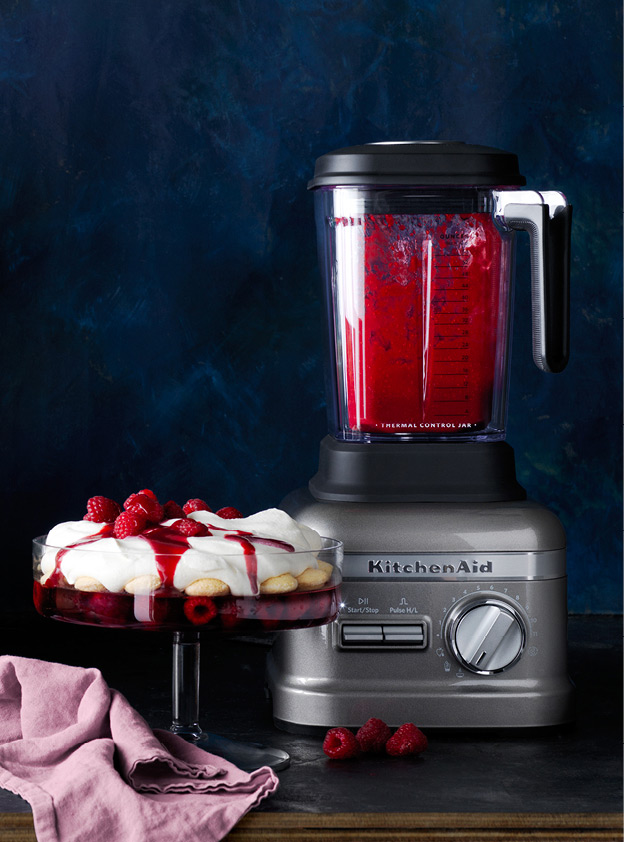 Method
1 To make the raspberry jelly, place the gelatine and ½ cup (125ml) cranberry juice in a bowl and stir to combine. Set aside for 5 minutes or until the gelatine is absorbed.
2 Place the remaining cranberry juice and sugar in a saucepan over medium heat and stir until the sugar is dissolved. Bring to the boil and cook for 1 minute. Remove from the heat, add the gelatine and stir to combine. Set aside to cool for 20 minutes.
3 Arrange the raspberries in the base of a 5-litre bowl and pour over the jelly mixture. Refrigerate for 5 hours or overnight until set.
4 To assemble, arrange the sponge fingers on the jelly. Fold the vanilla extract through the cream and layer over the sponge fingers. Using the ProLine Blender, blend the raspberries, icing sugar and water until coulis is smooth. Sieve to remove seeds. Top with raspberries and drizzle with coulis to serve.