On the 7th day of Christmas my true love gave to me… delightful canapés!
At Harvey Norman, we're celebrating the 12 Days of Christmas with 12 delicious recipes. On the menu today: Lemongrass-Cured Salmon with Coriander Blinis and Lime Crème Fraiche.
Serves 7.
Prep 20 minutes (+ 2 days curing).
Cook 10 minutes.
Ingredients
2 stalks fresh lemongrass, white part only, thinly sliced.
6 kaffir lime leaves.
5cm piece ginger, peeled, chopped.
1 bunch coriander, roots and stems sliced.
165g palm sugar, grated.
1 cup (270g) rock salt.
¼ cup vodka.
900g sashimi-grade salmon fillet, skin on.
Crème fraiche, to serve.
Salmon roe and caviar, to serve.
Micro coriander and lime wedges, to serve.
Coriander Blini
⅔ cup (100g) "00" flour.
1 teaspoon baking powder.
1 egg.
⅔ cup (180ml) buttermilk.
40g unsalted butter, melted.
¼ cup coriander leaves, finely chopped.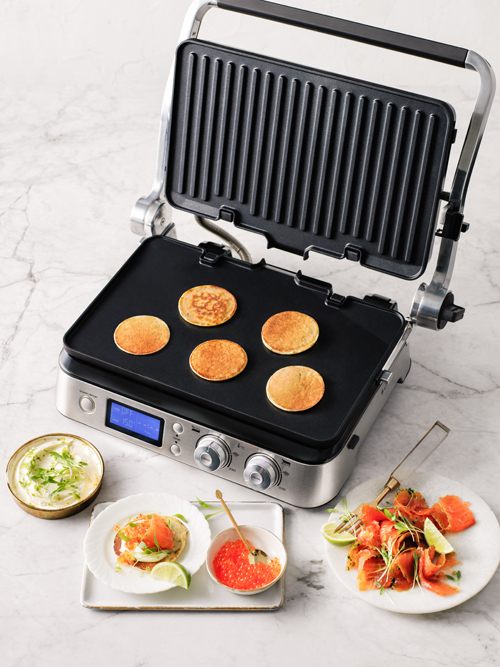 Method
▶ 1. To cure the salmon, place lemongrass, lime leaves, ginger and coriander in a mortar and pestle and pound until well combined. Place in a large bowl with the palm sugar, rock salt and vodka and mix together. (You can use a small food processor, if you like.)
▶2. Lay two long sheets of plastic wrap on a bench. Place half the salt mixture in the centre. Place the salmon on top and cover with the remaining salt mixture. Wrap tightly. Place in a medium baking dish and weigh down with heavy objects (tins work well). Refrigerate for 48 hours, turning every 12 hours.
▶ 3. Remove the salmon and brush off all the salt mixture, patting dry with paper towel before thinly slicing.
▶4. To make the blini, place flour, baking paper, egg, buttermilk, butter and coriander in a bowl and whisk until smooth.
▶ 5. Heat a Delonghi Grill plate over medium heat. Lightly grease. Spoon 1 tablespoon of the mixture onto the plate and cook for 1-2 minutes each side or until cooked.
▶ 6. To serve, top blinis with crème fraiche, salmon, salmon roe, caviar and micro coriander. Serve with lime wedges.
12 Days of Christmas Recipes
Is your mouth-watering? Celebrate the festive season with our complete 12 Days of Christmas recipes:
▶ Day 1: Coconut and Raspberry Layer Cake
▶ Day 2: Caramel, Hazelnut and Praline Affogato
▶ Day 3: Sparkling Champagne Cocktail with a Grapefruit Twist
▶ Day 4: Mini Chocolate Orange Puddings with Gold Leaf Oranges
▶ Day 5: Five-Spice Maple-Glazed Ham
▶ Day 6: Six Herb, Pea and Avocado Dip with Sliced Radish and Mixed Micro Herbs
▶ Day 7: Lemongrass-Cured Salmon with Coriander Blinis and Lime Crème Fraiche 
▶ Day 8: Fig, Raspberry and Meringue Trifles
▶ Day 9: Sloe Gin Turkish Delight and Coconut Jellies
▶ Day 10: Parmesan and Potato Rösti Nests with Rare Roast Beef
▶ Day 11: Berry, Chocolate and Coconut Ice Cream Log
▶ Day 12: Sour Cherry and Brownie Truffles