Chilli, coriander, lime, lemongrass, sesame oil… Is your mouth already watering? Ours too! If you're someone who loves zesty flavours and appreciates the delicate texture of fresh fish, then you'll love this recipe, where a medley of mouthwatering Asian aromatics work together to elevate baked snapper to impressive heights.
Serves 6
Prep 20 minutes
Cook 50 minutes
Ingredients
1.5kg whole cleaned snapper
2 garlic cloves, thinly sliced
1 stalk lemongrass, trimmed, halved
4 coriander roots, cleaned, finely chopped
3 kaffir lime leaves, torn
1 green onion, roughly chopped, plus extra thinly sliced green onion to serve
2 tablespoons sweet soy sauce
2 tablespoons lime juice
1/4 teaspoon sesame oil
5cm piece fresh ginger, cut into matchsticks
1/2 cup fresh coriander sprigs
1 long red chilli, sliced
Steamed jasmine rice, to serve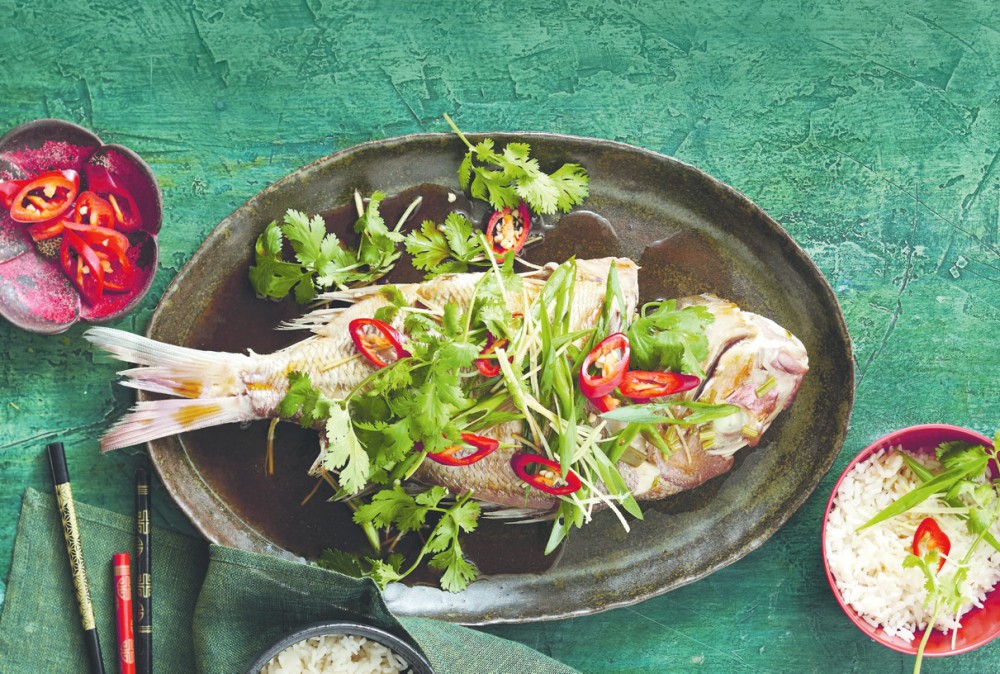 Method
1 Preheat oven to 200°C/180°C fan-forced. Place a large sheet of foil on a large baking tray, allowing sides to overhang (see note). Top with a large sheet of baking paper.
2 Rinse fish inside and out with cold water. Pat dry with paper towel. Make 3 shallow cuts, 1cm-deep, into thickest part of each side of fish. Place fish on the centre of baking paper. Fill cavity of fish with garlic, lemongrass, coriander root, lime leaves and onion. Season with pepper. Fold up baking paper and foil to enclose fish, scrunching foil to secure. Bake for 50 minutes or until fish is cooked through.
3 Place soy sauce, lime juice and sesame oil in a small saucepan over high heat. Bring to the boil. Remove from heat.
4 Carefully transfer fish to a serving platter. Drizzle with hot soy mixture. Sprinkle with ginger, coriander sprigs, extra onion and chilli. Serve with rice.
Cook's note: The baking paper and foil need to be large enough to fold over and enclose the fish.
Tools of the Trade
Is it time to update your kitchen with a new cooktop? Look no further than these great options at Harvey Norman.

From left:
Electrolux 90cm Ceramic Glass Cooktop