The best gifts are handmade and edible just like these little pineapple fruit cakes that are utterly adorable. Full of rich Christmasy flavours, these mini cakes will make the perfect gift for teachers, friends and co-workers.
Treat yourself to an early Christmas present with a mixer from Harvey Norman – you need it to make these cakes after all!
Prep and Cook time 2 hours, 20 mins
Makes 6
Ingredients
4 cups (600g) mixed dried fruit
1 cup (230g) chopped glace pineapple
1 cup (250ml) dark rum
250 g butter, softened
1 cup (220g) brown sugar
4 eggs
2 cups (300g) plain flour
1/2 teaspoon bicarbonate of soda
3 teaspoons mixed spice
1/4 cup (60ml) dark rum, extra
1/2 cup (160g) apricot jam
1.2 kg white icing (fondant)
Icing sugar, for dusting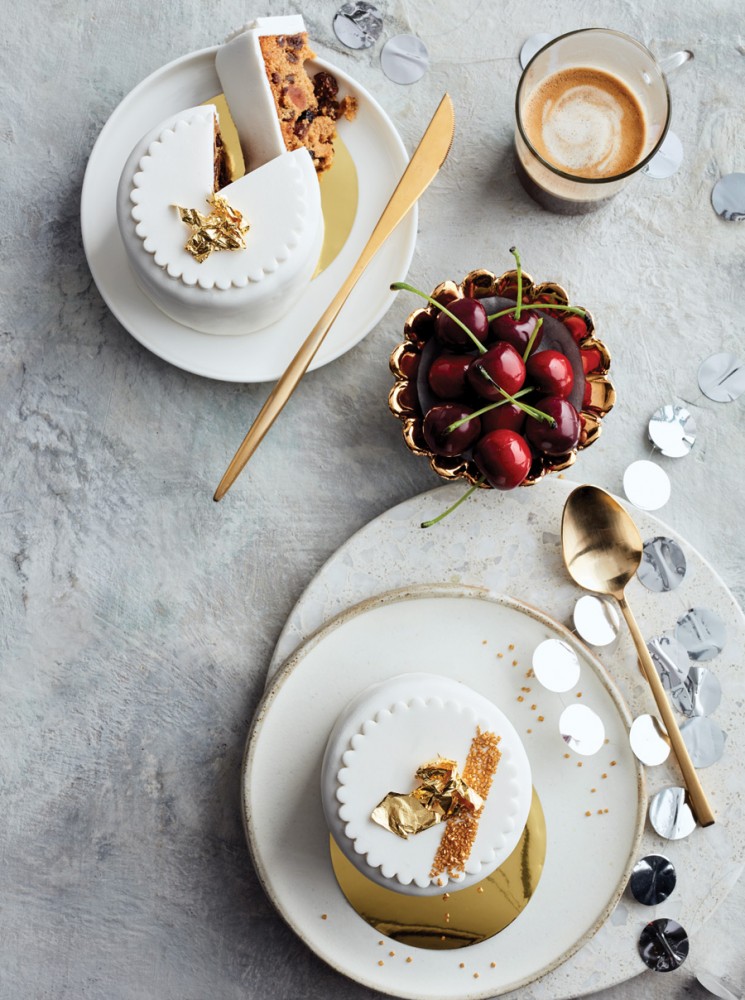 Method
1 Combine dried fruit and rum in large bowl; mix well. Cover; microwave on medium-high for 6mins, stirring every 2mins. Cool.
2 Preheat oven to 150C (130C fan-forced). Line six 9cm-round cake tins with 3 layers of baking paper, extending 5cm above side of pans.
3 Combine butter and sugar in bowl with electric mixer. Beat in eggs one at a time. Stir in sifted flours, spice, pineapple and dried fruit. Divide mixture between pans; smooth tops.
4 Bake for 80mins or until cooked. Brush with extra rum, cover with foil. Cool upside-down overnight. Remove from pans.
5 Warm jam in microwave for 30 seconds or until melted; strain.
6 Knead icing on surface dusted with sifted icing sugar until smooth. Divide into six; roll 1 piece until large enough to cover a cake. Brush cakes with apricot jam. Place rolled icing on cake, smooth evenly, then trim around base. Stand at room temp to dry. Repeat with remaining icing and cakes.
7 Re-roll any icing scraps to 5mm thick; cut out 8cm scalloped rounds. Lightly brush top of cakes with water leaving 2cm border. Place scalloped rounds on cakes. Decorate as desired.