This Lobster with Chilli & Coriander Butter recipe is part of our Steam Oven Recipe Series. Each recipe in the series utilises steam ovens to delicious effect.
For more, just follow the links at the end of this steam oven recipe!
Lobster with Chilli & Coriander Butter Recipe
Serves 4
Prep and Cook Time 1 Hour + Refrigeration and Resting Time
Ingredients
4 lobster tails, about 250g each, defrosted if frozen
1 tablespoon extra virgin olive oil
12 coriander leaves,
Optional finely sliced chilli
Lime wedges, to serve
Chilli and Coriander Butter Ingredients
100g softened butter
1 teaspoon finely grated lime rind
½ fresh long red chilli, seeded, finely chopped
2 tablespoons finely chopped fresh coriander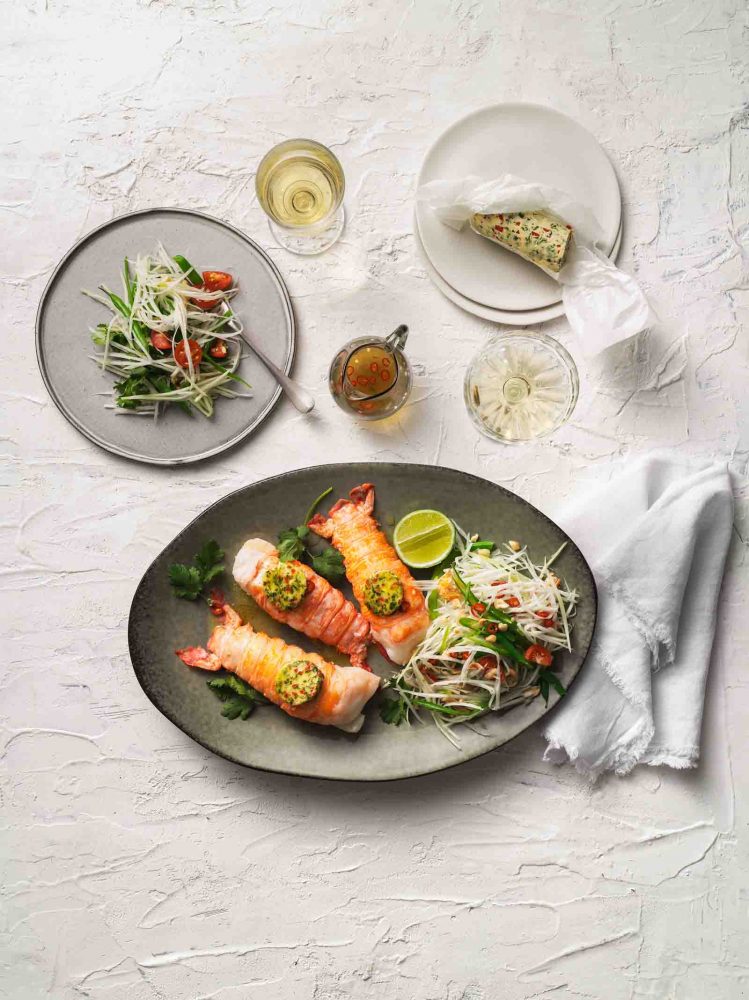 Method
1) Combine Chilli and Coriander Butter ingredients in a medium bowl. Shape into a log; wrap in baking paper or plastic wrap. Chill for 30 minutes or until firm enough to cut.
2) Skewer lobsters with two metal or wooden skewers each to stop curling. Blanch tails 2 at a time in boiling water for 1 minute; refresh in iced water until cool, drain. Remove shells by cutting ribs on underside with kitchen shears, trim sharp points on shell, then push shell away from lobster sides a section at a time.
3) Place lobster tails individually into small vacuum sealing bags, adding a quarter each of the olive oil, coriander, chilli if using, and a pinch of salt. Vacuum seal on medium-low setting. Place the bag onto a steaming rack on shelf position 2 in oven. Sous-vide 60°C for 30 minutes. Rest in the bag for 10 minutes.
4) Serve lobster with sliced butter and lime wedges, scattered with extra coriander and green papaya salad, if you like.
Chef's Notes
Not suitable to freeze or microwave.
For Conventional Cooking: Skewer lobster tails, then simmer gently in a large saucepan of salted water for 6-8 minutes or until just cooked.
Serve with Green Papaya Salad
Stir 1½ tablespoons fish sauce, 2 tablespoon lime juice, 2 tablespoon caster sugar, 1 tablespoon water and ½ birds eye chilli, finely sliced in a small bowl, until sugar has dissolved.
Blanch 120g green beans, finely sliced on a long angle, for 30 seconds; refresh in iced water, drain.
Toss beans; 3 cups (300g) firmly packed green papaya, finely julienned; 120g cherry tomatoes, roughly chopped; ¼ cup coriander leaves; 1 clove garlic, finely chopped; and 1 tablespoon dried prawns, soaked for 5 minutes, drained and roughly crushed with a mortar and pestle.
Scatter with 30g roasted peanuts.
Tools of the Trade
This Lobster with Chilli & Coriander Butter recipe was made with the AEG 600mm SteamPro Steam Oven in mind. Available from Harvey Norman, this steam oven has an integrated sous vide system, allowing you to easily cook your dish with low temperature steam.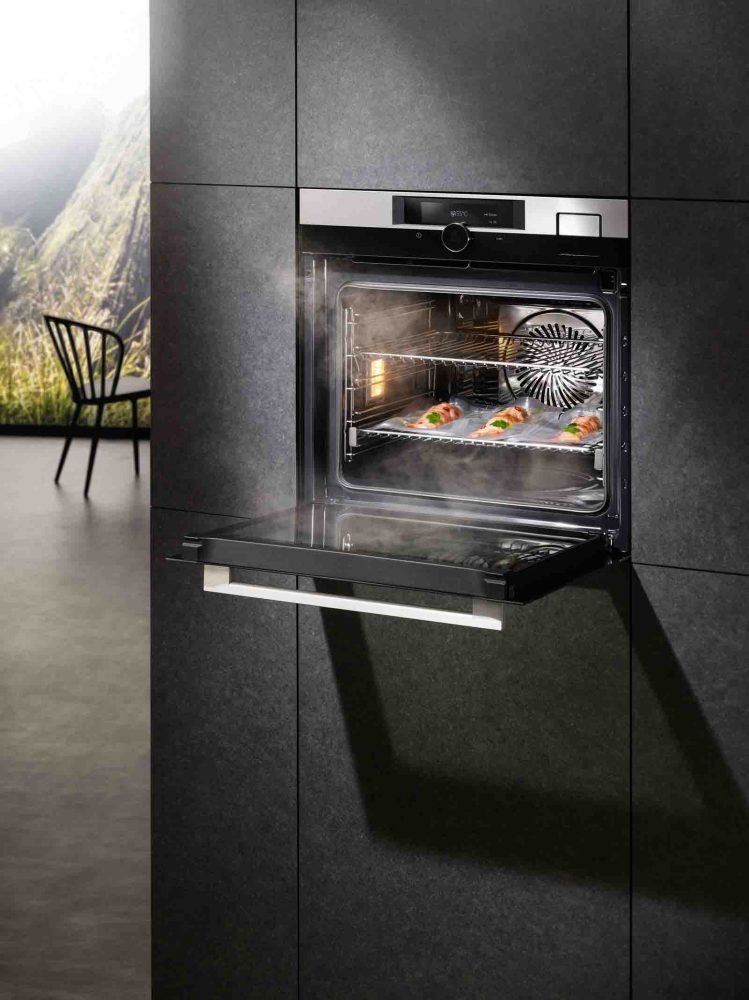 More Steam Oven Recipes
For more great recipes from our Steam Oven Recipe Series, simply click the below links.
► Roast Chicken with 40 Cloves of Garlic