This delicious, syrup-drenched cake – with its nutty spiced semolina texture, fruity floral flavour, and perfect pistachio crunch – is every mum's dessert dream come true. And those crystalised rose petals are the icing on the cake (pardon the pun!).
Serves 8-10
Ingredients
Melted butter, to brush
3 mandarins, washed
5 eggs
250 g caster sugar
60 g melted butter
180 g almond meal
140 g fine semolina, plus extra for dusting
1 tsp ground cardamom
¾ tsp baking powder
Chopped pistachios, thick Greek yoghurt and crystalised roses (see note), to serve
Rose And Cardamom Syrup
200 g caster sugar
100 ml mandarin juice
8 cardamom pods, bruised
30 ml rosewater
Finely grated zest and juice of 1/2 lemon
3 mandarins, peeled and thickly sliced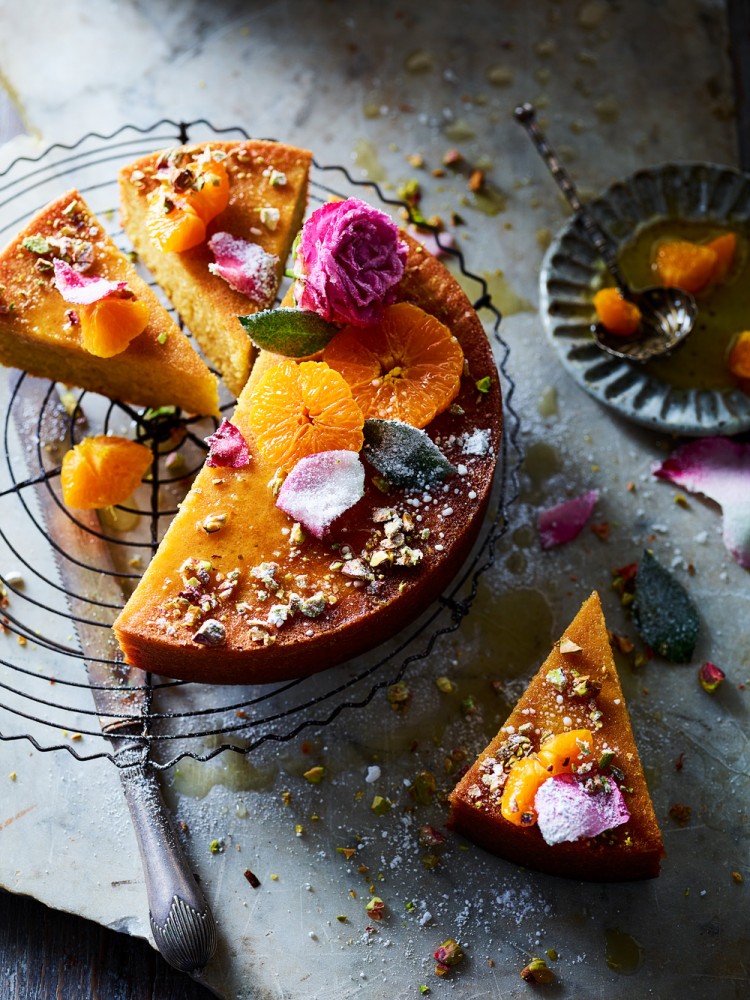 Method
1 Place mandarins in a medium saucepan and cover with water. Bring to the simmer, cover and simmer until flesh is soft, about 1hour- 1.5 hours. Transfer to a plate and set aside to cool in the fridge.
2 For mandarin syrup, combine sugar, mandarin juice, rosewater, lemon zest and juice together in a small saucepan. Bring to the simmer over medium heat, stirring occasionally to dissolve sugar. Add mandarin slices, remove from the heat and let cool at room temperature.
3 Increase oven to 180°C (160°C fan-forced). Brush a 25cm cake pan with melted butter, line base with baking paper then dust with some semolina. Whisk eggs and sugar in an electric mixer until pale and fluffy, about 4-5 minutes. Fold in mandarin purée and butter, then fold in almond meal, semolina, cardamom, baking powder and a pinch of salt. Spoon into prepared tin, smooth top and bake until golden brown and a skewer inserted withdraws clean, about 50 minutes – 1 hour.  Turn out onto a wire rack to cool.
4 To serve, place cake on a serving plate, drizzle with some syrup and top with crushed pistachios, crystalised roses and serve with yoghurt and extra syrup.
Note: to crystalise roses, brush roses lightly with whisked egg white, sprinkle with caster sugar and leave at room temperature to set for 1-2 hours before using.
Kitchen Essentials
Don't have the right tools to ensure this recipe is a success? Visit Harvey Norman to get sorted! While you're there, why not pick up a little pressie for mum too?