Serves 4
Prep 25 minutes
Cook 1 hour 10 minutes
Ingredients
1kg orange sweet potato, cut into 2cm cubes
1 teaspoon ground coriander
1/4 teaspoon chilli powder
1 large red onion, cut into thin wedges
1/4 cup maple syrup
2 tablespoons extra virgin olive oil
6 silverbeet leaves, stems and centre veins discarded, leaves roughly chopped
1 garlic clove, thinly sliced
100g fetta, crumbled
1/4 cup pecans, roughly chopped
3 teaspoons fresh thyme leaves
6 sheets filo pastry
75g butter, melted
Plain Greek-style yoghurt and salad, to serve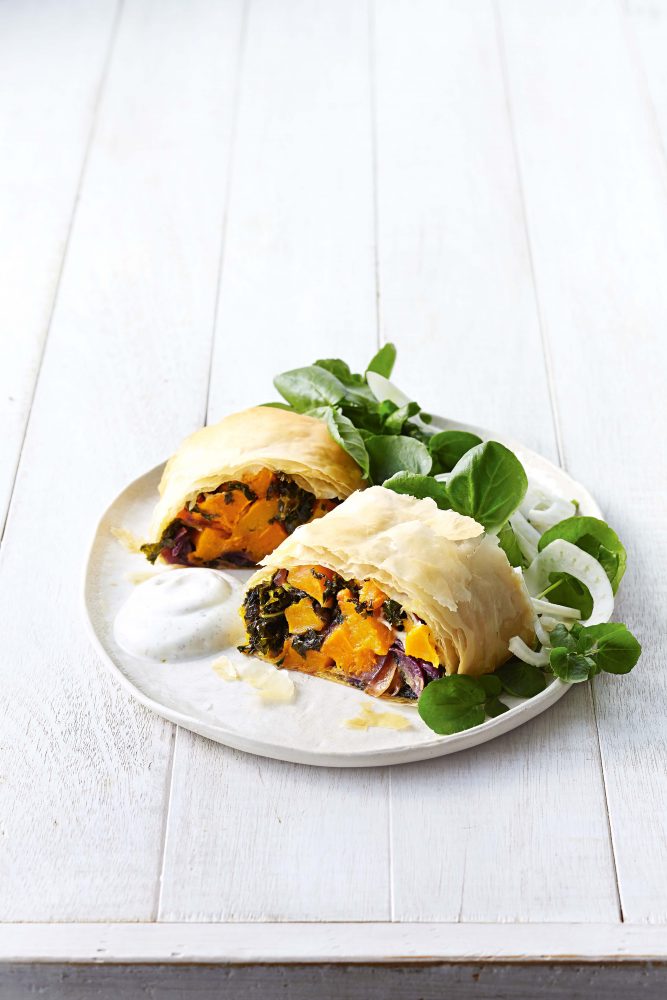 Method
1. Preheat oven to 200°C/180°C fan-forced. Line 2 large baking trays with baking paper.
2. Place sweet potato, coriander and chilli powder in a bowl. Toss to coat. Place on 1 prepared tray. Add onion. Drizzle with maple syrup and 1 tablespoon oil. Roast for 30 minutes or until golden and tender, turning vegetables halfway through cooking. Cool.
3. Meanwhile, heat remaining oil in a large frying pan over medium-high heat. Add silverbeet and garlic. Cook, tossing for 2 to 3 minutes or until just starting to wilt. Remove from heat. Set aside to cool.
4. Combine sweet potato mixture, silverbeet, fetta, pecans and thyme in a large bowl. Season with salt and pepper. Toss to combine.
5. Reduce oven temperature to 180°C/160°C fan-forced. Place 1 sheet of filo on a flat surface. Brush with butter. Top with another filo sheet. Brush with butter. Repeat layering with remaining filo sheets and butter to make a stack. Spoon mixture along 1 long side of stack, leaving a 5cm edge at both short ends. Fold filo over, tucking in ends. Roll up to enclose filling. Place seam-side down on remaining prepared tray. Brush with butter. Bake for 35 minutes or until golden.
6. Serve strudel with yoghurt and salad.
Tools of the Trade
Ready to cook up a feast? The Omega Oven – available at Harvey Norman – is your alpha cooking solution!