Impress your guests this summer with this easy-to prepare, Greek-inspired salad of spiralised beetroot, carrot and zucchini 'noodles', cucumber, red onion, ricotta and basil. This Mediterranean-Style Salad with Raw Vegetable Noodles recipe is sure to become a staple with its flavour-packed seasonal vegetables and winning crunchy texture offering a fresh twist on summer salads.
Serves 6
Prep and Cooking Time 55 minutes
Mediterranean-Style Salad with Raw Vegetable Noodles Ingredients
• 6 cloves garlic
• 2 large carrots
• 1 large zucchini
• 2 medium beetroot
• 6 baby cucumber (qukes), cut into ribbons
• 1 red onion, finely sliced
• 200g soft fresh ricotta
• 2 tsp finely grated lemon zest
• 1 tbs lemon juice
• ⅔ cup Sicilian green olives
• Baby Greek basil leaves, to garnish
Dressing Ingredients
• ⅓ cup avocado oil
• 1 clove garlic, crushed
• ¼ cup sherry vinegar
• 1 tbs Dijon mustard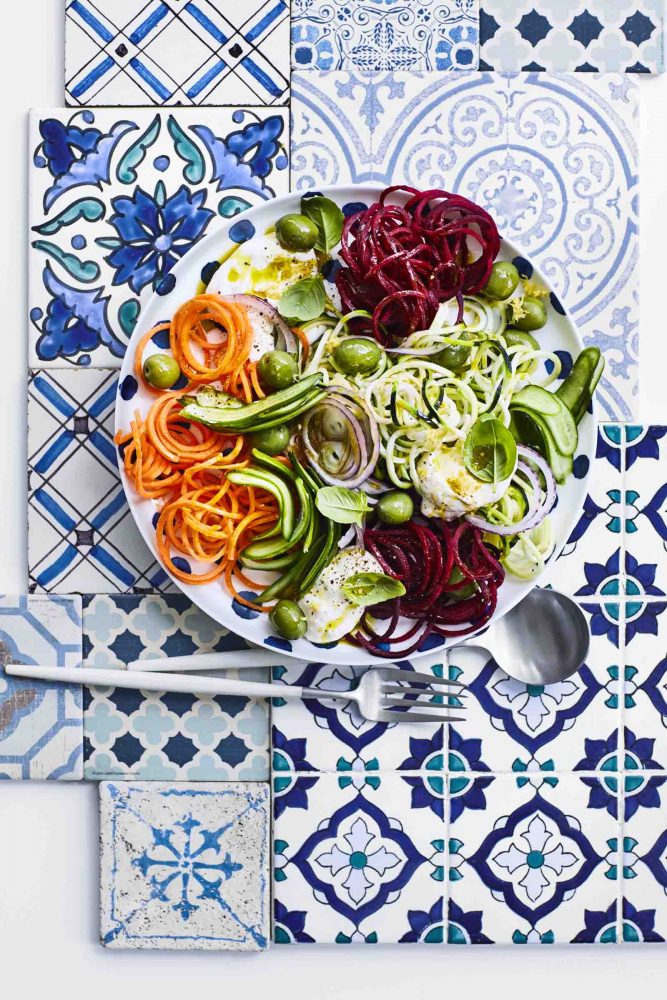 Method
1) Preheat oven to 200°C/180°C fan. Wrap garlic in foil. Roast for 40 minutes or until tender.
2) Using the Spiralizer Plus attachment on your KitchenAid Stand Mixer, push carrot, zucchini and beetroot through to form long thin spirals.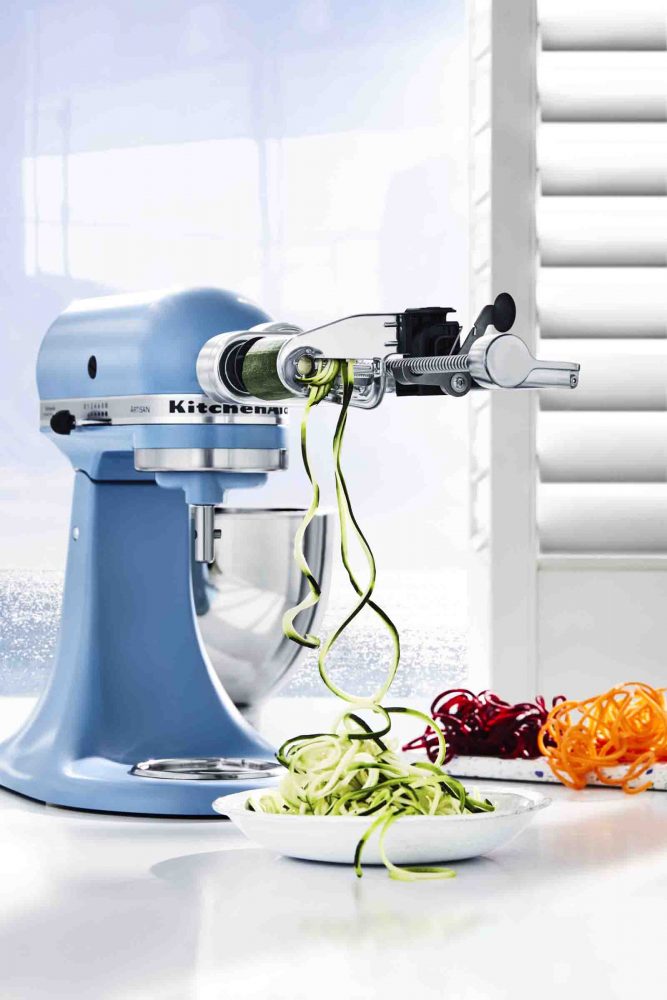 3) Arrange the vegetable spirals, cucumber ribbons and onion on a serving platter.
4) Whisk the ricotta, zest and juice in a bowl. Squeeze roast garlic cloves into ricotta mixture and stir to combine.
5) Season to taste.
6) To make the dressing, whisk oil, crushed garlic, vinegar and mustard in a bowl.
7) Dollop ricotta mixture over vegetables on the platter. Drizzle with dressing.
8) Top with olives. Garnish with basil, and season with freshly ground black pepper to serve.
Chef's Note
Use a vegetable peeler to cut cucumbers into ribbons.
More Recipes to Celebrate Summer!
Looking for more recipes to celebrate summer with? Check out these creations from our 'Celebrate Summer' series:
• Summertime Seafood Platter with Oregano and Garlic Dressing
• Passionfruit and Pineapple Crush Cocktail/Mocktail
• Blood Orange, Watermelon and Ruby Red Grapefruit Refresher
• Mini Pavlovas with Crème Fraîche, Mango, and Tropical Curd