On the 4th day of Christmas my true love gave to me… golden puddings!
At Harvey Norman, we're celebrating the 12 Days of Christmas with 12 delicious recipes. On the menu today: Mini Chocolate Orange Puddings with Gold Leaf Oranges.
Serves 6.
Prep 15 minutes.
Cook 1 hour.
Ingredients
250g unsalted butter, chopped and softened.
1 cup (220g) caster sugar.
1 teaspoon finely grated orange zest.
2 eggs.
1 cup (150g) plain flour.
½ cup (50g) cocoa powder.
⅓ cup (80ml) milk.
¼ teaspoon sea salt flakes.
100g dark chocolate, finely chopped.
Oranges in Syrup
1 small orange, thinly sliced.
½ cup (110g) sugar.
1 cup (250ml) water.
Gold leaf, to decorate.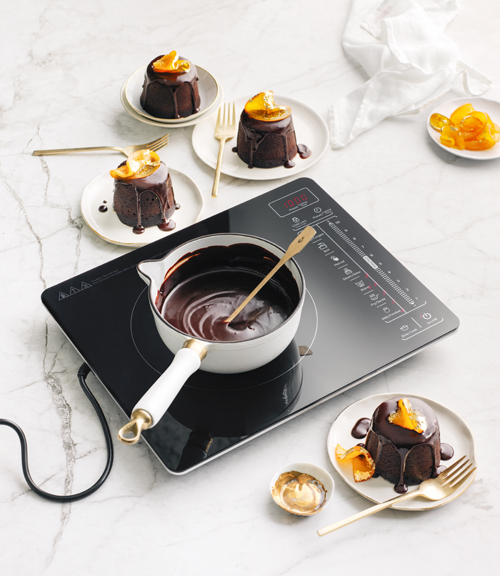 Method
▶ 1. Preheat oven to 180°C (fan forced). Lightly grease 4 x 1-cup (250ml) metal dariole moulds and line the bases with baking paper.
▶ 2. Place butter and sugar in the bowl of an electric mixer and beat for 6-8 minutes or until light and fluffy. Add orange zest and eggs and beat until just combined. Add flour, cocoa powder, milk and salt and beat until just combined.
▶ 3. Spoon into the moulds and smooth the tops. Place puddings in a deep-sided baking dish. Pour boiling water halfway up the moulds and cover with foil. Bake for 1 hour or until the puddings are cooked when tested with a skewer.
▶ 4. Invert the puddings and keep warm.
▶ 5. While the puddings are cooking, make Oranges in Syrup. Place the orange slices in a heatproof bowl and pour over boiling water. Set aside for 5 minutes.
▶ 6. Place sugar and the water in a medium saucepan on the Philips portable cooktop over medium heat and bring to a simmer.
▶ 7. Drain the orange slices from the water and add to the pan. Cook for 10-15 minutes or until syrup is reduced and orange slices are translucent. Carefully remove the orange slices and set aside.
▶ 8. Add chocolate to saucepan. Reduce heat to low and stir until smooth.
▶ 9. Decorate the orange slices with gold leaf.
▶ 10. Divide puddings between plates, pour over chocolate sauce and top with orange slices.
12 Days of Christmas Recipes
Is your mouth-watering? Celebrate the festive season with our complete 12 Days of Christmas recipes:
▶ Day 1: Coconut and Raspberry Layer Cake
▶ Day 2: Caramel, Hazelnut and Praline Affogato
▶ Day 3: Sparkling Champagne Cocktail with a Grapefruit Twist
▶ Day 4: Mini Chocolate Orange Puddings with Gold Leaf Oranges
▶ Day 5: Five-Spice Maple-Glazed Ham
▶ Day 6: Six Herb, Pea and Avocado Dip with Sliced Radish and Mixed Micro Herbs
▶ Day 7: Lemongrass-Cured Salmon with Coriander Blinis and Lime Crème Fraiche 
▶ Day 8: Fig, Raspberry and Meringue Trifles
▶ Day 9: Sloe Gin Turkish Delight and Coconut Jellies
▶ Day 10: Parmesan and Potato Rösti Nests with Rare Roast Beef
▶ Day 11: Berry, Chocolate and Coconut Ice Cream Log
▶ Day 12: Sour Cherry and Brownie Truffles