Whip your guests into a frenzy with this take on the classic pavlova – these individual pavlovas are topped with whipped crème fraîche, mango puree and tropical curd. Instead of the usual lemon curd, this dessert features tangy pineapple curd. The fruit balances with the sweet, light and airy pavlova to produce a stunning ending to your summer feast.
Serves: 6
Prep and Cooking Time 1 hour 10 minutes plus cooling
Mini Pavlovas Ingredients
• 6 egg whites
• 1½ cups caster sugar
• 1 tsp cornflour
• 1 tsp white vinegar
• 200g crème fraîche
• 200ml thickened cream, whipped
• 2 tbs icing sugar
• 1 mango, pureed
Tropical Curd Ingredients
• 700g fresh pineapple, trimmed, cored, pureed, strained (about ½ cup juice)
• 1 tbs cornflour
• ⅓ cup caster sugar
• 3 egg yolks
• 100g chilled unsalted butter, chopped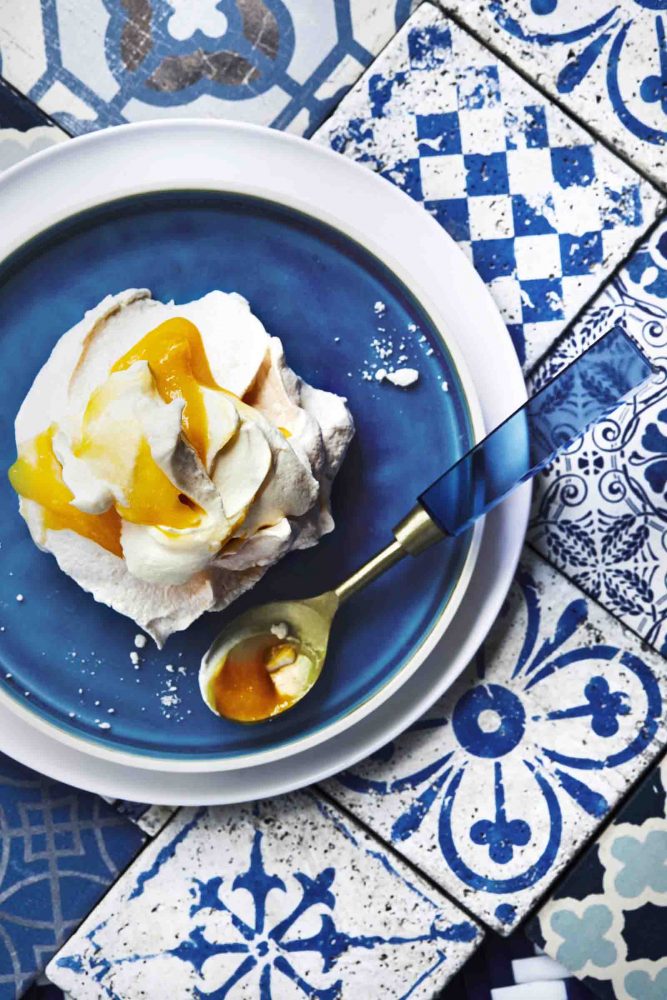 Method
1) Preheat oven to 120°C/100°C fan. Using a pencil and a small plate as a guide, mark 6 x 15cm circles on baking paper. Turn paper pencil-side down to line a lightly greased oven tray.
2) Using the Smeg Dolce & Gabbana 'Siciliy Is My Love' Stand Mixer, beat egg whites in a large, dry, clean bowl using the whisk tool until soft peaks form. Gradually add sugar, 2 tablespoons at a time, beating well between each addition, until all sugar has been added. Continue beating until the mixture is smooth and glossy and the sugar is dissolved (mixture should feel smooth when pinched with fingers; if grainy, continue to beat until smooth). Beat in cornflour and vinegar.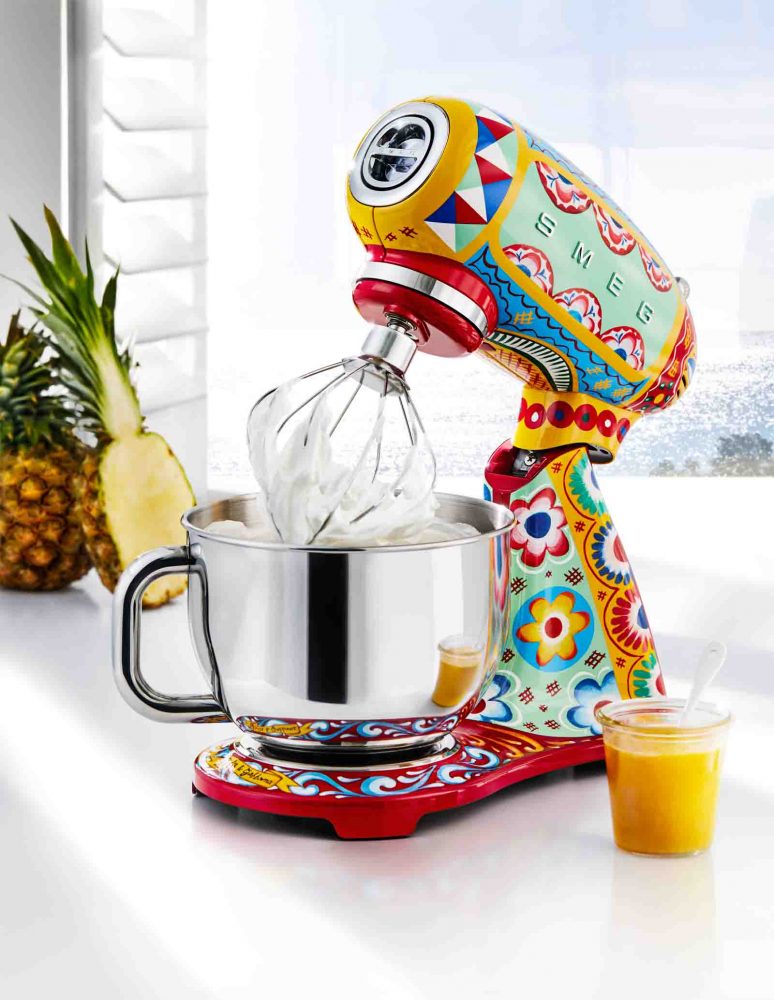 3) Using a large spoon, dollop pavlova mixture onto prepared tray, then use a small spatula to mould into nests, making a small indent in the top of each. Bake in the oven on the lowest rack for 55 minutes or until dry to touch. Turn oven off. Cool pavlovas in oven with door slightly ajar.
4) To make tropical curd, whisk juice, cornflour, sugar, yolks and butter in a saucepan over medium-low heat until sugar is dissolved. Cook, stirring, for 8-10 minutes or until mixture thickens. Transfer to a bowl. Set aside to cool. Place in the fridge until set.
5) Meanwhile, combine crème fraîche, cream and icing sugar in a bowl. Spoon crème fraîche mixture onto pavlovas. Swirl with tropical curd and mango puree, to serve.
Chef's Note
Make sure sugar is completely dissolved before baking pavlovas. If not dissolved, pavlovas will "weep". Store-bought lemon curd can be substituted for tropical curd.
More Recipes to Celebrate Summer!
Looking for more recipes to celebrate summer with? Check out these creations from our 'Celebrate Summer' series:
• Summertime Seafood Platter with Oregano and Garlic Dressing
• Passionfruit and Pineapple Crush Cocktail/Mocktail
• Blood Orange, Watermelon and Ruby Red Grapefruit Refresher