Have your cake and eat it too. Easily and successfully prepare this carrot, chocolate and walnut concoction in all its naked glory with a handy kitchen helper from Harvey Norman: Kenwood Chef Sense XL Mixer
This glorious recipe can also be found in the May edition of Better Homes and Gardens magazine.
Serves 16
Prep time 45 mins  + 1 hour cooling
Cook time 1 hour
Ingredients
Cooking oil spray, to grease
1kg carrots, peeled
4 cups plain flour
1 tbspn bicarb soda
1 tbspn baking powder
2 tsp ground cinnamon
2 cups brown sugar, firmly packed
100g crumbed walnuts
100g dark baking chocolate, finely chopped
2 cups vegetable oil
6 free-range eggs
Baby corella or paradise pears, to garnish
Fresh figs, to garnish
Grapes, to garnish
Thick caramel sauce, to serve
Cream cheese frosting
3 x 250g blocks cream cheese, chopped, softened
2¼ cups icing sugar mixture, sifted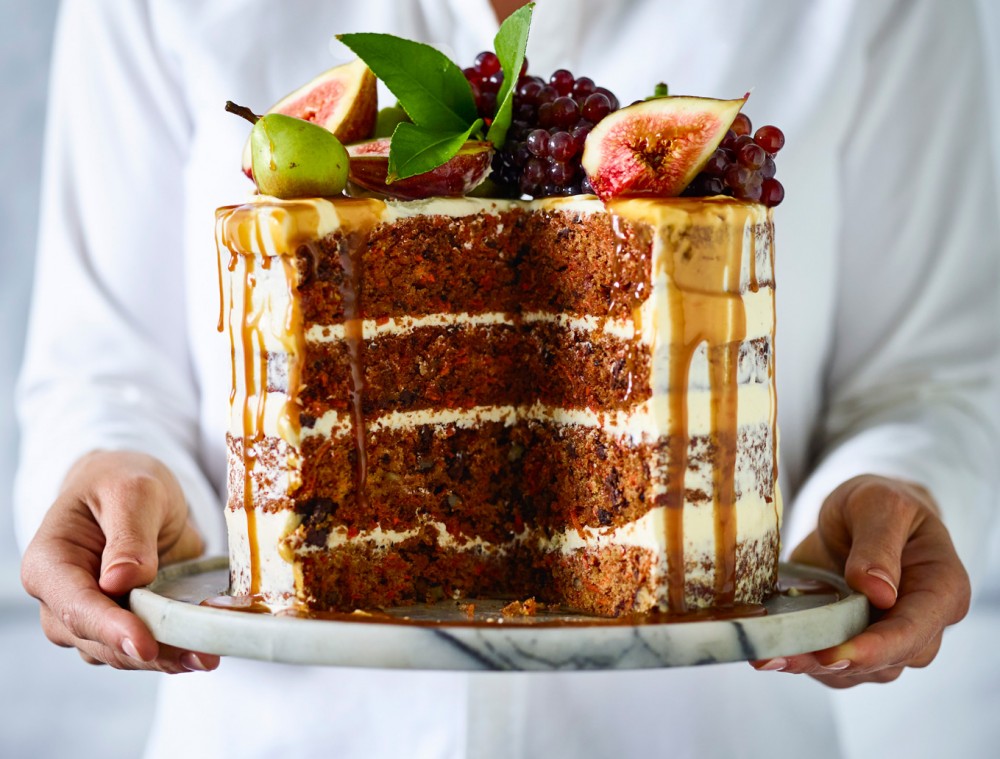 Method
STEP 1 Preheat oven to 160ºC fan forced. Grease 4 x 20cm round loose bottomed cake tins with cooking oil, line base and sides with baking paper.
STEP 2 Use a box grater to coarsely grate carrots.
STEP 3 Sift together flour, bicarb, baking powder and cinnamon into a very large bowl. Add grated carrot, sugar, walnuts and chocolate and stir until just combined.
STEP 4 Put oil and eggs in the bowl of an electric mixer and beat briefly on medium speed with whisk attachment until just combined. Pour into carrot mixture and stir until just combined.
STEP 5 Divide batter evenly between prepared tins, levelling and smoothing batter with the back of a spoon. Bake for 30 minutes, or until tested with a skewer. Stand in tin for 15 minutes before turning out onto a wire rack to cool completely.
STEP 6 Meanwhile, to make cream cheese frosting, put cream cheese into the bowl of an electric mixer and beat with paddle attachment on medium speed until smooth. Pour in icing sugar and beat on low speed until incorporated, then beat on high until fluffy and creamy.
STEP 8 To assemble cake, use a serrated knife to trim off domed tops from each cake, to give a flat level top.
STEP 9 Put one cake on a serving plate. Spread ¾ cup of cream cheese frosting over the top, sandwich with a second cake and repeat sandwiching with cream cheese frosting and cakes.
STEP 10 Cover top and sides of cake with remaining cream cheese frosting, using a palatte knife to scrape off excess frosting from the side to expose the sides of the cake to give the naked cake effect. Refrigerate for 1 hour until firm.
STEP 11 To serve, garnish the top of the cake with pears, figs and grapes. Drizzle a little of the caramel sauce over the top, allowing sauce to drizzle down the sides. Serve with extra caramel sauce on the side to add as desired.