Jacqui Challinor, head chef at Nomad in Surry Hills has given the humble ice cream sandwich a hot makeover. Featuring a creamy, custardy parfait flavoured with extra virgin olive oil, a crisp filo pastry top and base sprinkled with sesame sugar and a pistachio, halva and brown sugar shortbread crumble – this will be the showstopper at your next dinner party!
Note: this is an appliance-specific recipe.
Serves 8
Ingredients
Parfait
1 whole egg
5 egg yolks
75g caster sugar
200ml extra virgin olive oil (ALTO Vividus)
300ml Delicious Dairies Countrystyle Cream
Shortbread
200g unsalted butter
95g brown sugar
1 vanilla bean
180g plain flour
40g rice flour
150g plain halva
80g pistachios
Filo Sheets
100g caster sugar
60g white sesame seeds
4 sheets filo pastry
100ml clarified butter
To Assemble
75g fresh honeycomb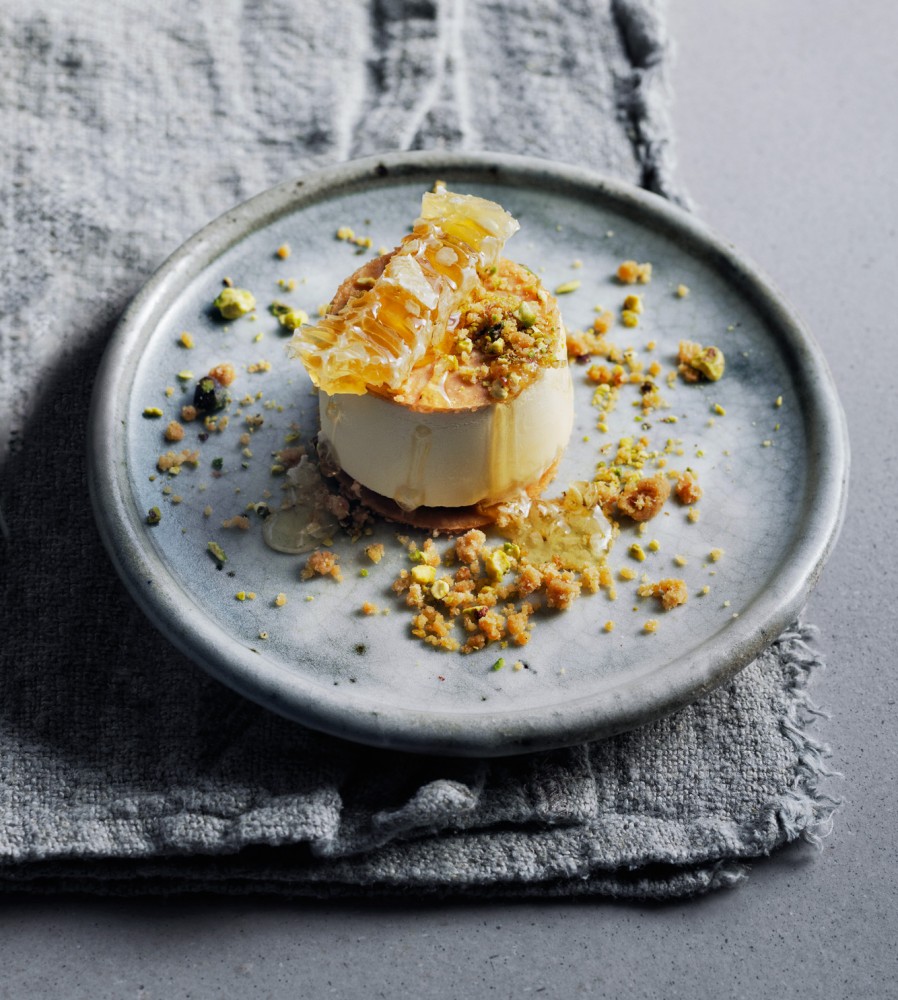 Method
1. For the parfait: combine egg, yolks and sugar in the Tefal Cuisine Companion bowl fitted with the whisk. Mix at speed 6 for 1 minute then set to 40°C for 5 minutes until aerated and sugar has dissolved.
2. Set the Tefal Cuisine Companion to speed 7 and gradually pour in the oil to emulsify.
3. Whip the cream in the Kenwood Chef Sense XL Mixer to form firm peaks.
4. Gently fold the olive oil mixture through the cream in 2 batches to avoid knocking too much air out of the mix.
5. Pour parfait mix into 8 x ½-cup (125ml) silicone muffin moulds and freeze.
6. For the shortbread: cream the butter and sugar in a food processor.
7. Add the vanilla bean, plain flour and rice flour and pulse until ingredients just start to come together (this can also be done in the Kenwood Chef Sense XL Mixer).
8. Remove dough from processor and gently knead in the crumbled halva, being careful not to overwork the dough.
9. Rest dough in the refrigerator for at least 1 hour.
10. Preheat oven to 175°C.
11. Once rested, break up the dough into chunks and spread with palm of hand over a baking tray.
12. Bake for 5 minutes, remove from oven and break up dough with a wooden spoon.
13. Return to oven for 15-20 minutes, breaking up dough every 5 minutes, until shortbread is cooked through and golden brown.
14. Allow shortbread to cool.
15. Toast pistachios until golden brown. Once cooled, roughly pulse them in the Vitamix Professional Series 500 Blender until chopped.
16. Add the crushed pistachios to the shortbread crumb and mix well. Store in an airtight container until ready to use.
17. For the filo sheets: blitz the caster sugar and sesame seeds in the processor to a fine crumb.
18. Lay a single sheet of filo down onto a piece of baking paper, brush liberally with butter then sprinkle with sesame sugar. Repeat this process with the rest of the sheets, leaving the top layer free from sesame sugar.
19. Place another sheet of baking paper over the top and place between 2 trays to press. Refrigerate to set the butter.
20. Preheat oven to 165°C.
21. Once set, cut the pastry into 8 rounds to fit the same moulds used for the parfait.
22. Bake the filo in between the two trays for approximately 10 minutes, rotating the tray throughout cooking to ensure even colouring.
23. Once golden brown, remove from oven and allow to cool on a rack.
24. To assemble: remove the parfait from moulds and sandwich between two of the filo wafers.
25. Liberally sprinkle the halva shortbread crumble over the top.
26. Drizzle and place fresh honeycomb over top.
Chef's Note: leftover shortbread will keep for up to a week stored in an airtight container.
Handy Kitchen Helpers
The Tefal Cuisine Companion, Kenwood Chef Sense XL Mixer and Vitamix Professional Series 500 Blender from Harvey Norman will become permanent fixtures on your benchtop. Not only are they essential for recreating this recipe, they are also great for everyday use in preparing practically anything and everything.