It's starting to feel a lot like Christmas… have you started your Christmas shopping yet? What about the tree and the decorations? And the Christmas menu? If you're reading this with a deer-in-headlights expression, then let us help you out with at least one thing on your to-do-list – the star of the show – Christmas dessert. Panettone and eggnog trifle with scorched meringue. Need we say more?
Prep time 40 mins + 2 hours chilling
Cook time 10 mins
Serves 10
Ingredients
1 vanilla pod, seeds scraped
2 cups pure (thin) cream
½ cup milk
4 egg yolks, separated
1 1/2 tbs cornflour
1 2/3 cup caster sugar
½ tsp freshly ground nutmeg
½ tsp ground cinnamon
750g mascarpone, at room temperature
1 panettone, crusts removed and torn
Toasted hazelnuts, chopped to serve
Rum syrup
1/2 cup caster sugar
½ cup maple syrup
¼ cup dark rum
Method
STEP 1 For the rum syrup, place the sugar and 1 tbs water in a saucepan and bring to a simmer. Remove from the heat then stir through the maple syrup, cool slightly then stir through the rum.
STEP 2 For the eggnog custard, place vanilla pod and seeds, cream and milk in a pan over medium heat. Place 2/3 cups caster sugar, yolks, corn flour, nutmeg and cinnamon in a heatproof bowl and whisk until pale. As soon as cream mixture starts to bubble, pour it into the yolk mixture, whisking constantly. Return to pan and place over low heat. Stir for 8 minutes or until thickened and smooth. Transfer to a bowl, discard vanilla pod and cover surface with plastic wrap. Cool to room temperature then chill for 2 hours. Whisk the mascarpone in a stand mixer fitted with the folding attachment until smooth. Add chilled custard and beat on low until smooth and combined.
STEP 3 Arrange one third of the panettone and a third of the berries on the bottom of the 3.5L capacity trifle dish. Drizzle over 1/3 rum syrup. Top with half the eggnog and mascarpone mixture then repeat, finishing with a layer of panettone, berries and remaining 1/3 syrup.
STEP 4 For the meringue, place the egg whites and remaining 1 cup sugar in a heatproof bowl set over a pan of simmering water and whisk for 5 minutes or until the sugar has completely dissolved. Transfer to a stand mixer and whisk on high for 10 minutes or until stiff and glossy. STEP 5 Spoon meringue over trifle
STEP 6 Caramelise with a blow torch. Top with hazelnuts and serve.
Tools of the Trade
Treat yourself to an early Christmas present and get this high performance Kenwood Chef XL Sense Mixer from Harvey Norman today.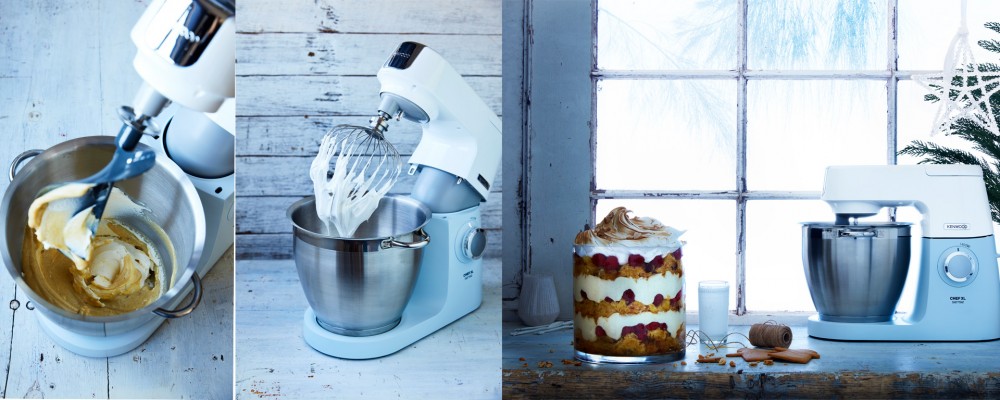 We've tested out the Kenwood Chef Sense before with great results. Read about it here.