How good does this Passionfruit Self-saucing Pudding recipe sound?! You're about to find out!
This sensational dish is the final recipe in our four part Philips air fryer dessert recipe series. You can view the full series of recipes right here – and, if you're looking for an excellent air fryer for your home, you can shop our range of Philips Air Fryers here.
Prep 15 mins
Cook 30 mins
Serves 4
Passionfruit Self-saucing Pudding Ingredients
3 eggs, separated
180g (3/4 cup) caster sugar
50g (1/3 cup) self-raising flour
250ml (1cup) milk
60g butter, melted, cooled
80ml (1/3 cup) passionfruit pulp, plus extra to serve
1 teaspoon vanilla extract
Icing sugar, to dust
Whipped cream, to serve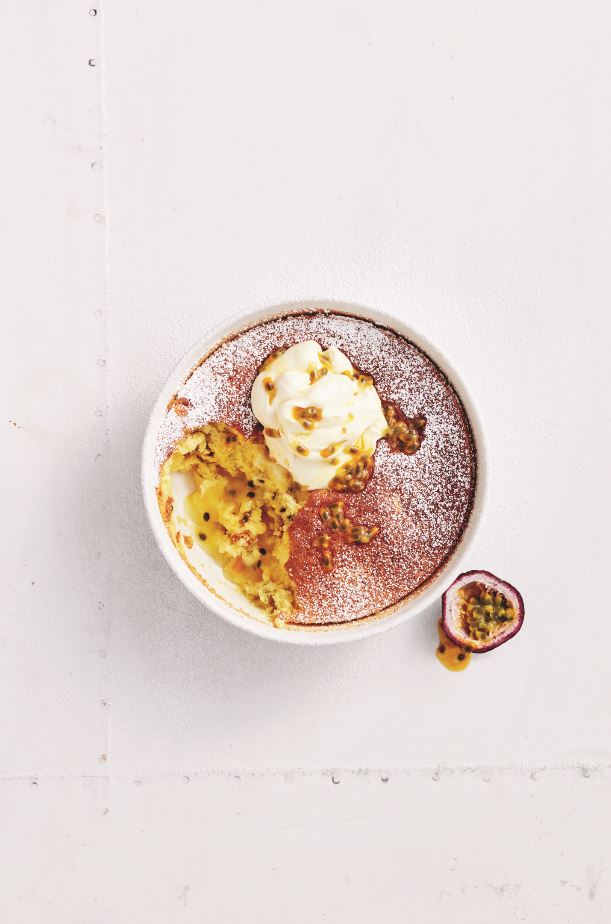 Method
1. Preheat a 7-litre air fryer to 150°C. Grease a 1.5L (6 cup) soufflé dish.
2. Combine the sugar and flour in a bowl. Make a well in the centre. Add the milk, butter, yolks, passionfruit pulp and vanilla extract. Whisk to combine.
3. Use electric beaters to whisk the egg whites in a bowl until firm peaks form. Fold through the batter. Pour into the prepared soufflé dish. Gently place the dish into the air fryer basket.
4. Bake for 30 minutes or until the top feels firm. Set aside for 5 minutes. Serve, dusted with icing sugar, with cream and extra passionfruit pulp.
More Air Fryer Dessert Recipes
• Inside Out Apple Crumble Recipe
• The Ultimate Chocolate Impossible Pie Recipe
• Condensed Milk Bread and Butter Pudding Recipe
Plus, shop Philips Air Fryers here!