To celebrate the festive season, award-winning pastry chef Lauren Eldridge has created a series of special Christmas desserts to wow family and guests. On today's menu: Pavlova Stack with Peaches and Almond Praline.
Serves 10
Prep time 40mins
Cook 6 hours (including drying time)
Pavlova Meringue Ingredients
220gm egg whites (6 eggs)
340gm caster sugar
¼tsp fine salt
1tbsp cornflour
½tsp white vinegar
Almond Praline Cream Ingredients
300gm caster sugar
80ml water
15gm glucose syrup
200gm blanched almonds
350ml thickened cream
110gm sour cream
45gm caster sugar
1tsp vanilla paste
Poached Peaches Ingredients
2 large peaches, halved, stone removed
350gm caster sugar
500gm water
3tbsp peach (or orange) marmalade
4 large ripe peaches, halved, cored, to serve
Edible flowers, to garnish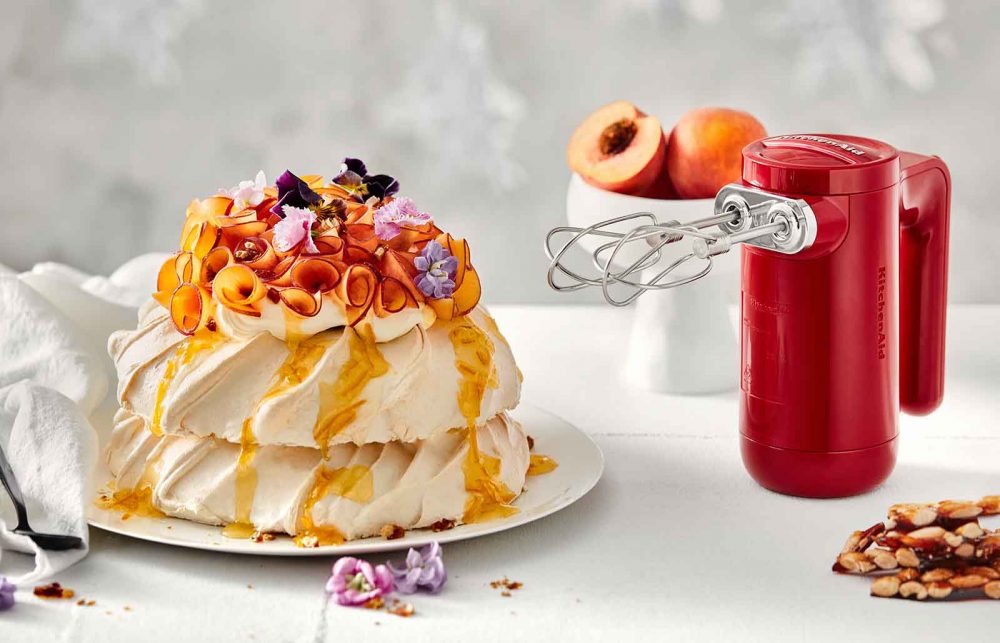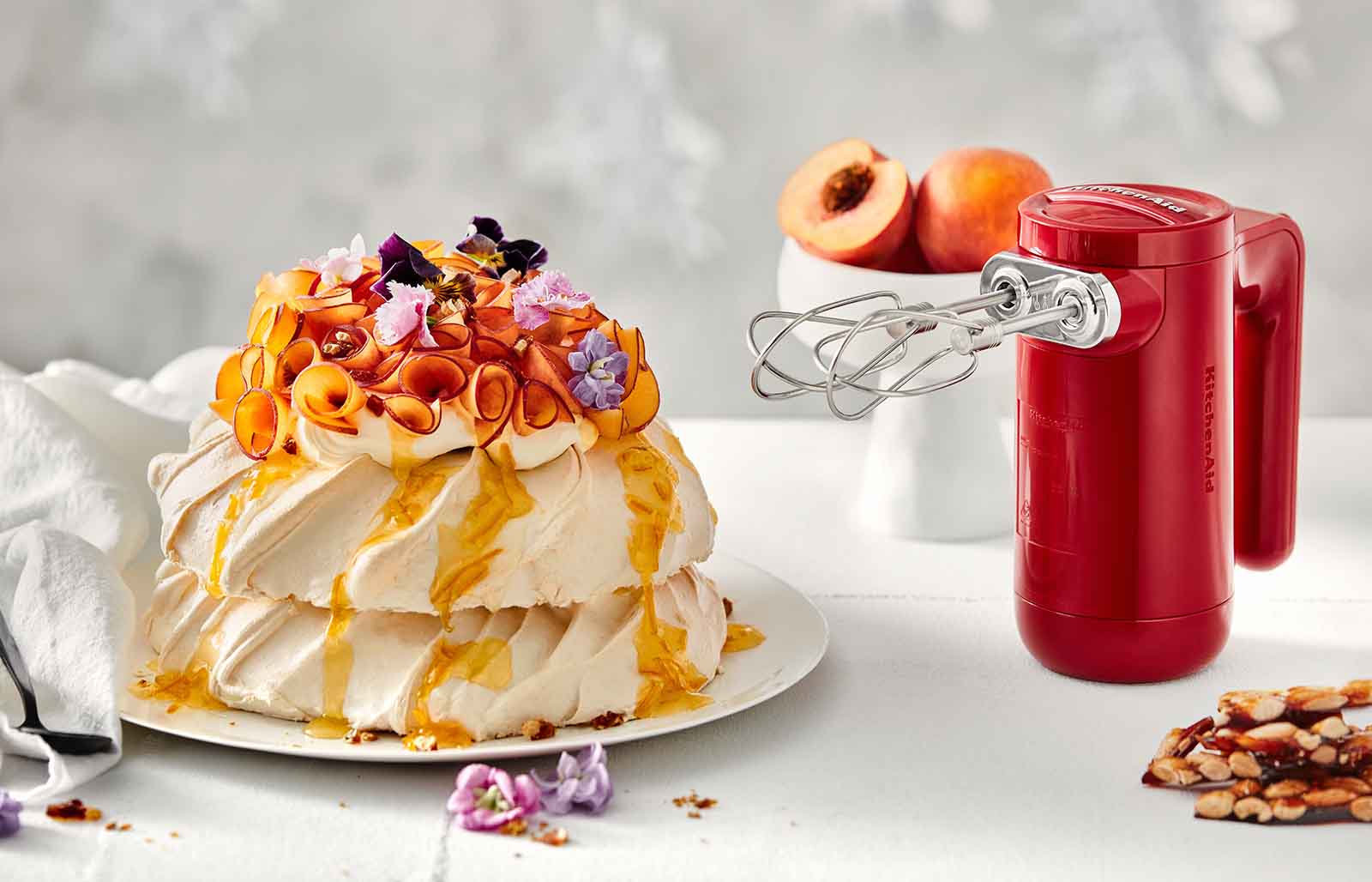 Pavlova Stack with Peaches and Almond Praline Method
1. For pavlova meringue, preheat oven to 120° Trace two 20cm-diameter circles on pieces of baking paper. Place pencil-side down on lightly oiled baking trays.
2. Place egg whites and salt in a large bowl. Using the KitchenAid Hand Held Mixer fitted with the whisk attachment, whisk the egg whites until just foaming. Gradually add sugar, whisking after each addition until sugar is dissolved.
3. Once all sugar has been added, continue whisking until medium-firm peaks form and all sugar is dissolved. Rub a little meringue between your fingers; if it feels gritty, keep whisking until smooth.
4. Gently fold in cornflour and vinegar, then divide meringue evenly between the two marked circles and spread to within the template, using the back of a spoon to create deep swirled ridges on the sides.
5. Bake pavlovas until crisp on the outside (1-1½ hours). Turn off oven and leave to cool inside with door slightly ajar.
6. Cool and then transfer to an airtight container until ready to assemble. Meringue will keep in an airtight container for 1 day.
7. For almond praline, preheat oven to 150⁰C. Spread almonds in an even layer on a baking tray lined with baking paper and toast for 12-15 minutes.
8. Meanwhile, combine sugar and water in a heavy-based saucepan and bring to the boil. Add glucose and stir until golden brown then pour over almonds on the tray to coat evenly. If caramel starts to pool in one spot, tip tray to spread caramel. Leave to set for 20 minutes, then break into large pieces. Place praline in a large Ziploc bag and using a rolling pin, crush into small pieces.
9. Combine cream, sour cream, sugar and vanilla in a large bowl. Whisk with the KitchenAid Hand Held Mixer until medium peaks form. Gently fold through three-quarters of the almond praline, reserving the last quarter to decorate the top of the pavlova. Refrigerate until ready to assemble.
10. For poached peaches, combine water and sugar in a saucepan over medium heat and bring to the boil, stirring to dissolve sugar. Reduce heat to low, add peach halves and simmer for 10 minutes. Remove peaches with a slotted spoon and place in a deep tray, cover with a little poaching syrup and leave to cool in the refrigerator. Once cool, slice each half into 4 wedges. Reserve in the syrup until ready to assemble the pavlova. Mix peach marmalade with 1-2 tsp poaching liquid to create a syrup.
11. To assemble, place one pavlova disc on a serving platter, top with half the praline cream, leaving a 2cm gap around the sides to allow for spreading. Drain syrup from peaches and discard, arrange peaches over the cream. Top with second pavlova disc and decorate top remaining cream.
12. To decorate, slice 2mm-wide strips from the remaining whole peaches and twist into rounds to form peach florets. Gently nestle into top layer of cream. Sprinkle with remaining almond praline shards and drizzle over some of the marmalade syrup. Top with edible flowers and serve.
Showstopping Christmas Desserts
Discover more showstopping Christmas dessert recipes created by Lauren Eldridge!
► Gingerbread and Coconut Layered Cake
► Chocolate Truffle Christmas Wreath
► Brandy and Vanilla Croquembouche
Summary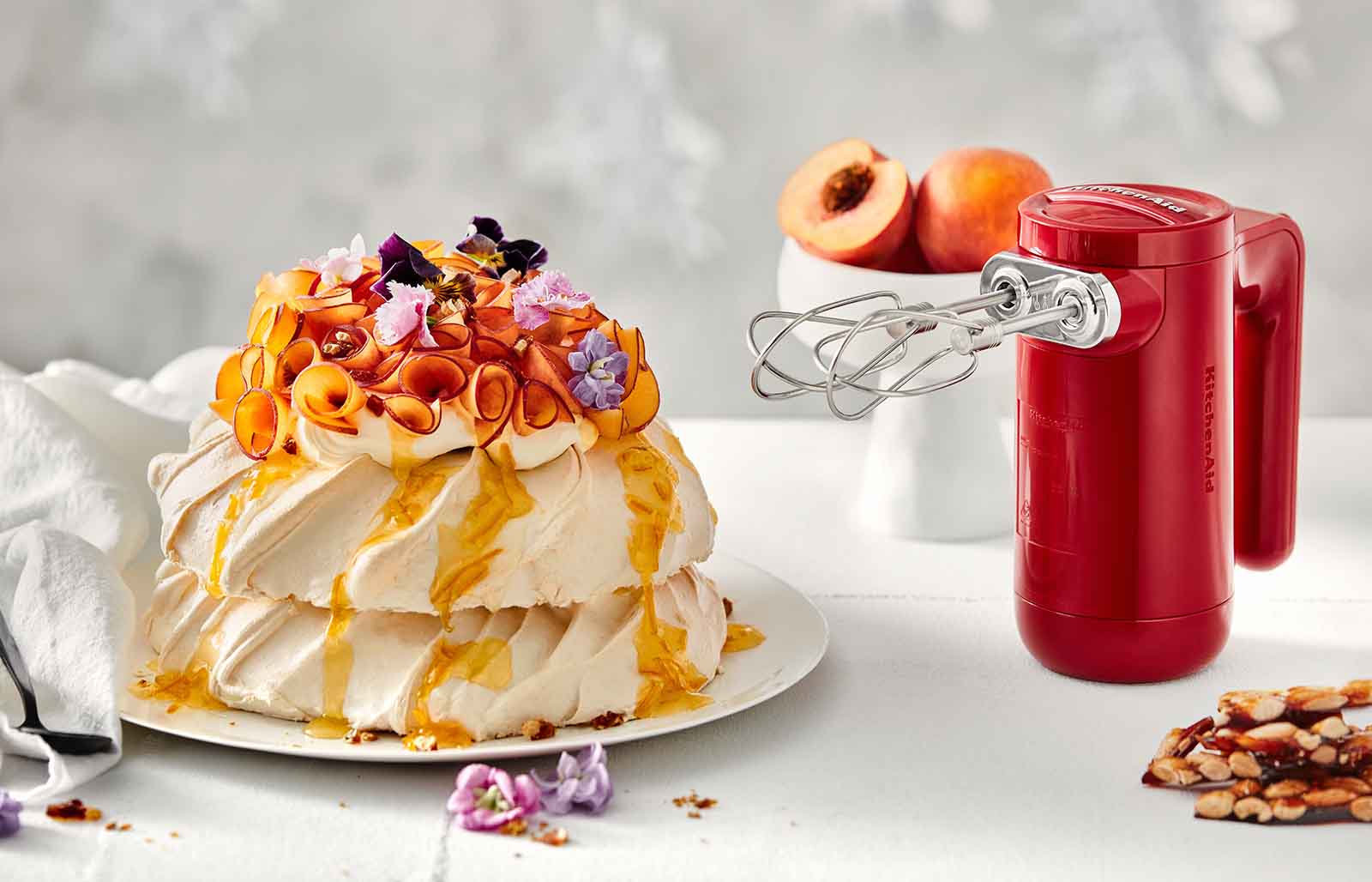 Recipe Name
Pavlova Stack with Peaches and Almond Praline
Author Name
Published On
Preparation Time
Cook Time
Total Time
Average Rating





Based on 1 Review(s)