Pavlovas are truly a versatile and satisfying dessert any time of the year. This recipe sees it paired with luxurious slices of fresh fig and spice-scented orange syrup. Yum!
Prepare your dessert using the Chef Sense XL Stand Mixer from Harvey Norman today.
Serves 6-8
 Ingredients
6 egg whites
1½ cups (330g) caster sugar
3 tsp cornflour
1 tsp white vinegar
300ml double cream
2 tsp vanilla bean paste
Spiced orange syrup with figs
½ cup (110g) caster sugar
5 cardamom pods
1 cinnamon quill
Zest from 1 orange
1/3 cup orange juice
1/3 cup water
3 figs, halved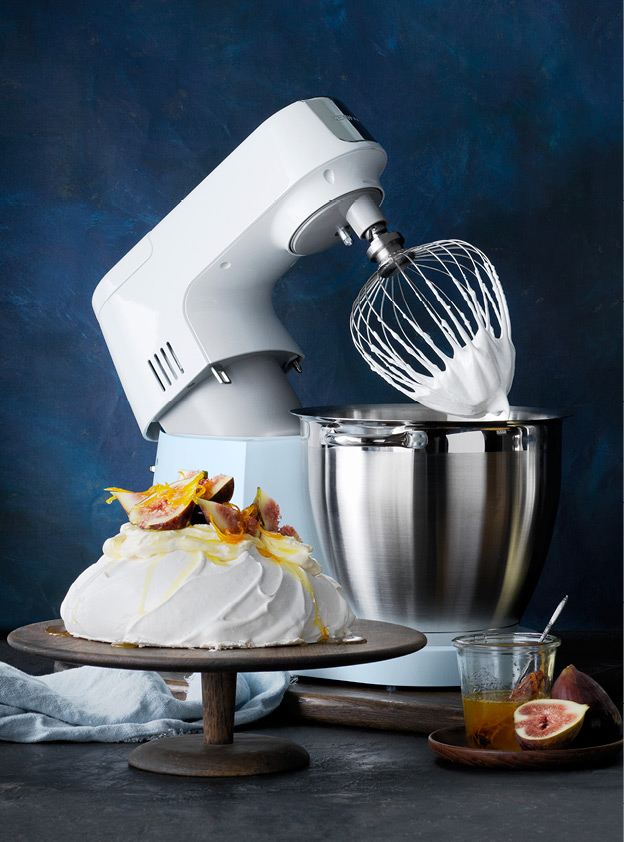 Method
1 Preheat the oven to 160°C. Line a large biscuit tray with baking paper and draw a 20cm circle on the paper.
2 Using the whisk attachment, whisk egg whites and sugar for 15 minutes or until thick and glossy and sugar dissolves. Whisk in the cornflour and vinegar until combined. Spoon mixture into the centre of the circle template, smooth the surface. Using a small palette knife drag the meringue from the bottom upwards into peaks.
3 Place in oven and reduce oven to 100°C. Bake for 1 hour 20 minutes or until outside is crisp and dry. Turn off oven and leave meringue in oven with the door ajar for at least six hours or until cooled completely.
4 For the spiced orange syrup, place sugar, cardamom, cinnamon, zest, juice and water in a saucepan over medium-low heat, stirring until sugar dissolves. Simmer for 8-10 minutes until slightly thickened. Cool syrup then remove cardamom pods and cinnamon quill.
5 Gently whip cream and vanilla in a bowl, then carefully spoon into the centre of the pavlova. Top with figs and drizzle with syr Serve immediately.