Have you got a favourite salmon recipe? It's one of those foods that always surprises, offering tantalising results in combination with a range of intriguing ingredients. This delicious Pepper Crusted Salmon recipe, for instance, makes the perfect team with a Black Rice Salad – as you're about to find out!
Serves 4
Prep 20 minutes
Cook 30 minutes
Pepper Crusted Salmon with Black Rice Salad Ingredients
1 cup black rice, rinsed, drained
1 bunch broccolini, trimmed
4 x 130g boneless salmon fillets
1/4 cup extra virgin olive oil
1/2 teaspoon cracked black pepper
1 tablespoon lemon juice
1 Lebanese cucumber, peeled into ribbons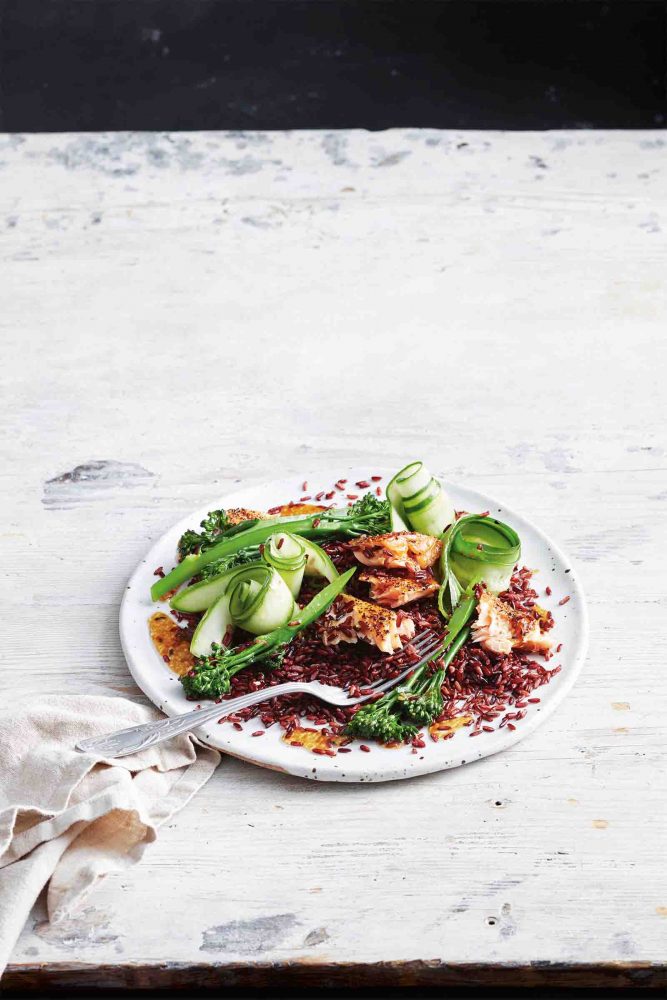 Method
1) Place rice in a large saucepan. Add 2 cups cold water. Bring to the boil over high heat. Reduce heat to low. Cover. Simmer for 35 minutes or until rice is just tender and liquid has absorbed. Remove from heat. Add broccolini. Stand, covered, for 5 minutes. Fluff rice with a fork. Cool for 15 minutes.
2) Meanwhile, place salmon fillets on a large plate. Drizzle with 1 tablespoon oil. Sprinkle with pepper. Season with salt. Heat a large non-stick frying pan over medium-high heat. Cook salmon for 4 minutes. Turn salmon. Cook for a further 2 minutes or until just cooked through. Transfer to a plate. Break into large pieces.
3) Whisk lemon juice and remaining oil together in a small jug. Divide rice mixture among serving plates. Top with salmon and cucumber. Drizzle with dressing. Serve.
More Recipes For You To Create!
Are you always on the lookout for fresh, inspiring recipes? Check out more of our delicious recipe ideas!