In this edition of our Savouring Summer recipe series, we'll show you how to put together a refreshing Pomegranate Spritzer!
Prep time: 15 minutes
Freezer time: 24 hours
Serves: 4-6
Pomegranate Spritzer Recipe Ingredients
800ml chilled water
650ml pomegranate cranberry juice
125ml orange simple syrup
Pomegranate ice cubes
Rosemary sprigs, to garnish (optional)
Pomegranate Ice Cube Ingredients
2 pomegranates or 1 ½ cups (265g) pomegranate arils/seeds
Orange Simple Syrup Ingredients
½ cup water
½ cup sugar
1 orange, peel only, sliced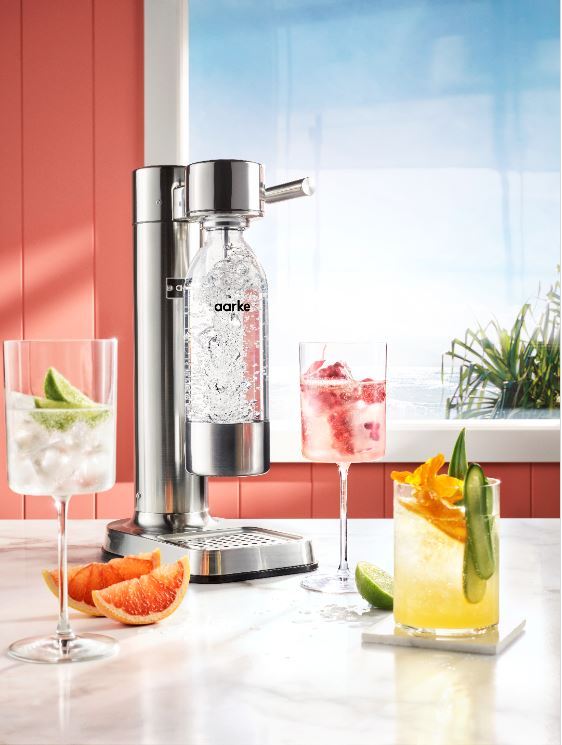 Pomegranate Spritzer Recipe Method
To make large pomegranate ice cubes, divide pomegranate arils/seeds between 2 x 6-hole king ice cube trays. Fill with water, place in the freezer for 24 hours or until frozen.
To make the orange simple syrup, combine water, sugar and orange peel in a medium saucepan and
place over medium-high heat. Stir to combine.
Bring to a boil, reduce heat to a simmer until sugar dissolves, stirring occasionally.
Remove from heat, strain to remove the peel and allow syrup to cool. Transfer to a jug and chill until
ready to use.
Use the Aarke Carbonator 3 Sparkling Water Maker to carbonate your chilled water, then add the
pomegranate cranberry juice and simple syrup to a large pitcher and stir.
Place pomegranate ice cubes in glasses and pour over spritzer mixture.
Garnish glasses with rosemary sprig if desired.
Tip: You can buy Pomegranate arils/seeds in the freezer section of your local supermarket.
Savouring Summer Recipes
Discover more amazing creations from our Savouring Summer recipe series. It's time to let the sunshine in! 
• Berry, Vanilla & Espresso Cheescake Loaf Recipe
• Homemade Spaghetti Alle Vongole with Chorizo & Chilli Recipe
• Crispy-Skinned Salmon with Green Vegetables & Pesto Dressing
• Mini Lemon Curd & Meringue Tarts Recipe