Puff pastry is a versatile ingredient that everyone should keep handy in their freezer. As the perfect canvas for both sweet and savoury fillings, it's great for creating meals and snacks for practically any time of the day – whether it's lunch at the office, morning tea with friends or a sneaky late night snack.
We've gotten our hands on some great filling ideas that you can use to create moreish puff pastry bites that will be the first to disappear at your next party or picnic.
This recipe was developed specifically to be used with the Philips Viva Collection Airfryer

Serves 9
Prep 10 minutes
Cook 20 minutes
Ingredients
200 g ready-made (frozen or chilled) puff pastry
2 tablespoons milk
Filling as desired – see below for ideas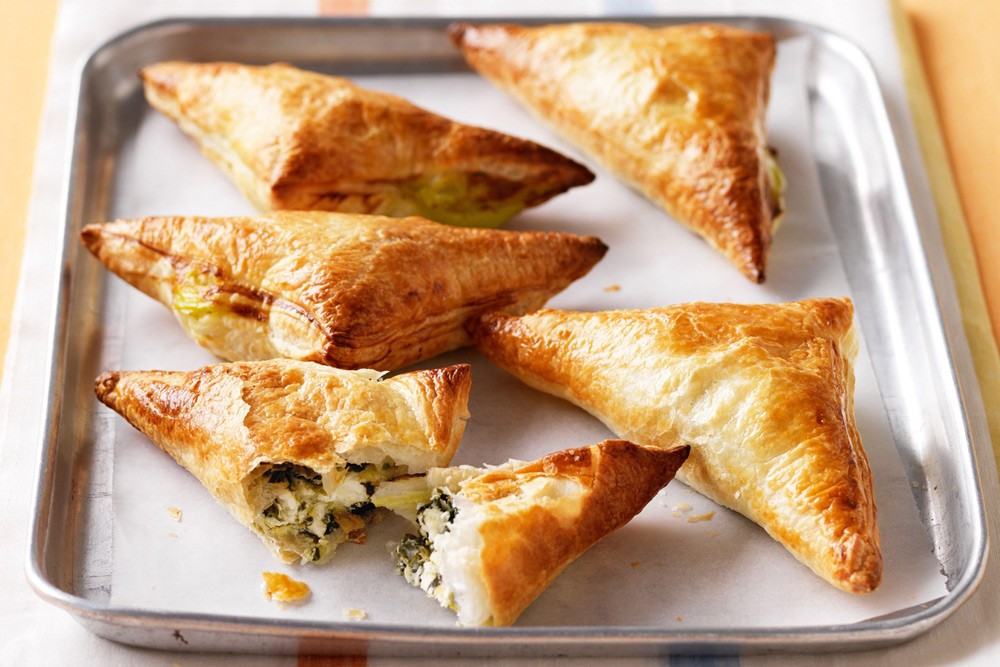 Directions
• Preheat the airfryer to 200°C.
• Cut the pastry into 16 squares of 5×5 cm and scoop a heaped teaspoon of filling onto each square.
• Fold the squares into triangles and moisten the edges with some water. Press the edges firmly together with a fork.
• Put eight parcels in the basket and brush them with milk. Slide the basket into the airfryer and set the timer to 10 minutes. Bake the appetizers until they are golden brown.
• Bake the remaining parcels in the same way. Serve the puff pastry bites in a dish.
Filling Ideas
Ricotta and Salmon Mix 50 g ricotta with 25 g smoked salmon and 1 tablespoon finely chopped chives
Shrimps and Dill Mix 75 g chopped pink shrimps with 1 tablespoon finely chopped dill and ½ tablespoon lemon juice
Pepper and Salami Mix 50 g salami in strips with ½ red bell pepper diced into small cubes and 1 tablespoon of finely chopped fresh oregano
Apple and Ginger Mix ½ large apple, chopped into small pieces, with 1 tablespoon finely chopped preserved ginger and 1 tablespoon of finely chopped fresh mint
Apple and Cinnamon Mix ½ apple chopped into small pieces with ½ tablespoon sugar, 1 teaspoon grated orange peel and 1 teaspoon cinnamon
Cheese and Green Onion Mix 75 g grated cheese (Gouda, Cheddar or Gruyère) with one thinly sliced green onion
Ricotta and Ham Mix 50 g ricotta with 25 g finely-chopped ham and freshly ground pepper
Kitchen Essential
Your golden, pillowy puffs of pastry bites will cook to perfection in the Philips Airfryer.  Available at Harvey Norman, this versatile small appliance will soon become one of your favourite kitchen helpers. Apart from air-frying, it also grills, bakes and roasts. Using TurboStar technology, this dynamo circulates heat evenly to ensure that food cooks consistently, every time.