Serves 8 as a side.
Ingredients
Radicchio Panzanella
1 cup (250mL) extra virgin olive oil.
225g halloumi, crumbled.
2 sourdough panini rolls, thinly sliced on the angle.
1 garlic clove, finely grated.
1 bunch radicchio, leaves separated.
1 large beetroot, thinly shaved.
1 red onion, thinly sliced.
2 zucchinis.
200g Italian olives.
Pickled Radishes
1 tsp fennel seeds.
½ cup (125ml) apple cider vinegar.
1 tbs caster sugar.
1 bunch mixed radishes, thinly sliced.
½ bunch dill, sprigs picked.
Lemon Parmesan Vinaigrette
1/3 cup (80ml) extra virgin olive oil.
Finely grated zest and juice of 2 lemons.
50g freshly grated Parmesan, plus extra to serve.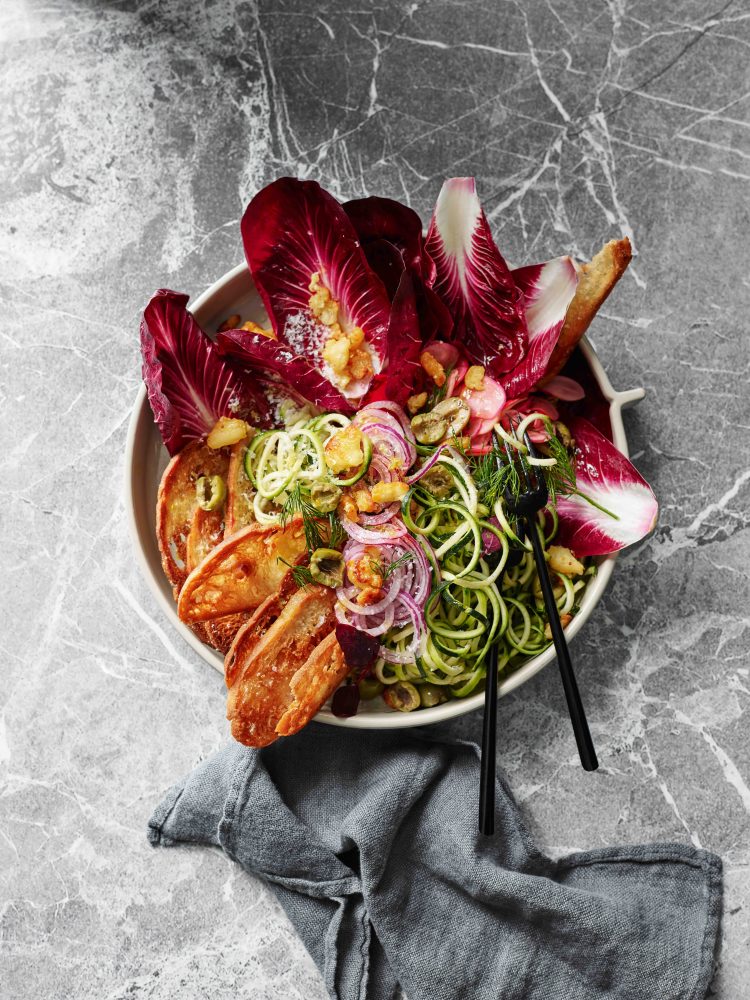 Method
1 ▶ Heat half the oil in a frypan over high heat. Add halloumi and cook, stirring frequently, for 4-5 minutes or until golden. Remove with a slotted spoon and set aside on paper towel to cool. Drain oil into a bowl and toss with sourdough and garlic. Return to frypan with remaining ½ cup (125mL) oil over medium high heat. Add bread and cook, stirring frequently, for 5 minutes or until bread is toasted and golden. Set aside on paper towel.
2 ▶ For pickled radishes, toast fennel seeds in a saucepan over high heat until aromatic. Add vinegar and sugar, and cook, swirling pan regularly, for 1 minute or until sugar dissolves. Bring to a simmer, then pour over radish in a heatproof bowl. Stand for 5 minutes to pickle slightly. Add dill sprigs and chill until required.
3 ▶ For the dressing, whisk all ingredients in a bowl.
4 ▶ Arrange radicchio, beetroot and onion on a serving platter, spoon over 2 tbs of the dressing and scatter with half of the halloumi. Use the Kenwood Chef Sense Elite XL Spiralizer to create zucchini noodles. Arrange over salad. Finish with more dressing, olives, crispy bread, halloumi and extra Parmesan. Top with pickled radishes, and serve remaining alongside.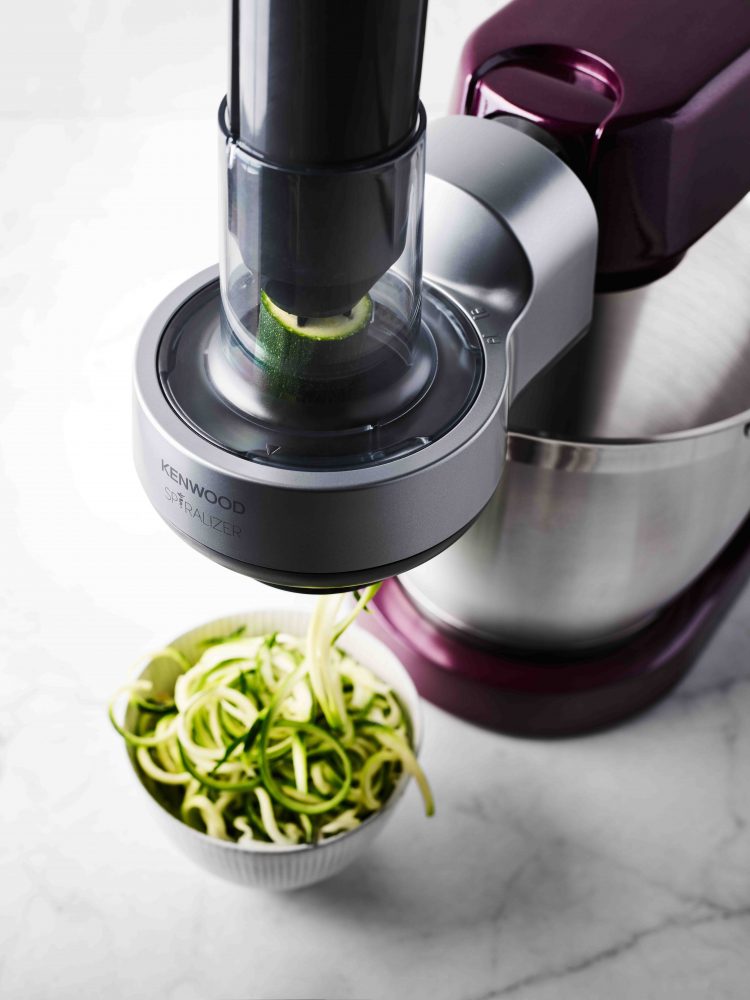 See Kenwood's brilliant range of appliances for yourself at Harvey Norman.