The dessert queen, and editor-in-chief of Donna Hay Magazine, Donna Hay knows a thing or two about baking! So when she tells us that cloud-like meringue topped with creamy vanilla bean mascarpone, tart raspberries and sweet Persian fairy floss makes the perfect summer dessert – we listen!
Prepare the recipe with the Kenwood Chef Sense XL Mixer from Harvey Norman.
Makes 8
Ingredients
1 cup (130g) frozen raspberries, thawed and
processed into a puree
½ cup (110g) caster sugar
Meringue
225ml egg whites (about 6 eggs)
1½ cups (330g) caster sugar
1 tbs cornflour
1½ tsp white vinegar
Vanilla Bean Mascarpone
250g mascarpone
½ cup double cream
½ tsp vanilla bean paste
To Decorate
Fresh raspberries, freeze-dried raspberries and rose Persian fairy floss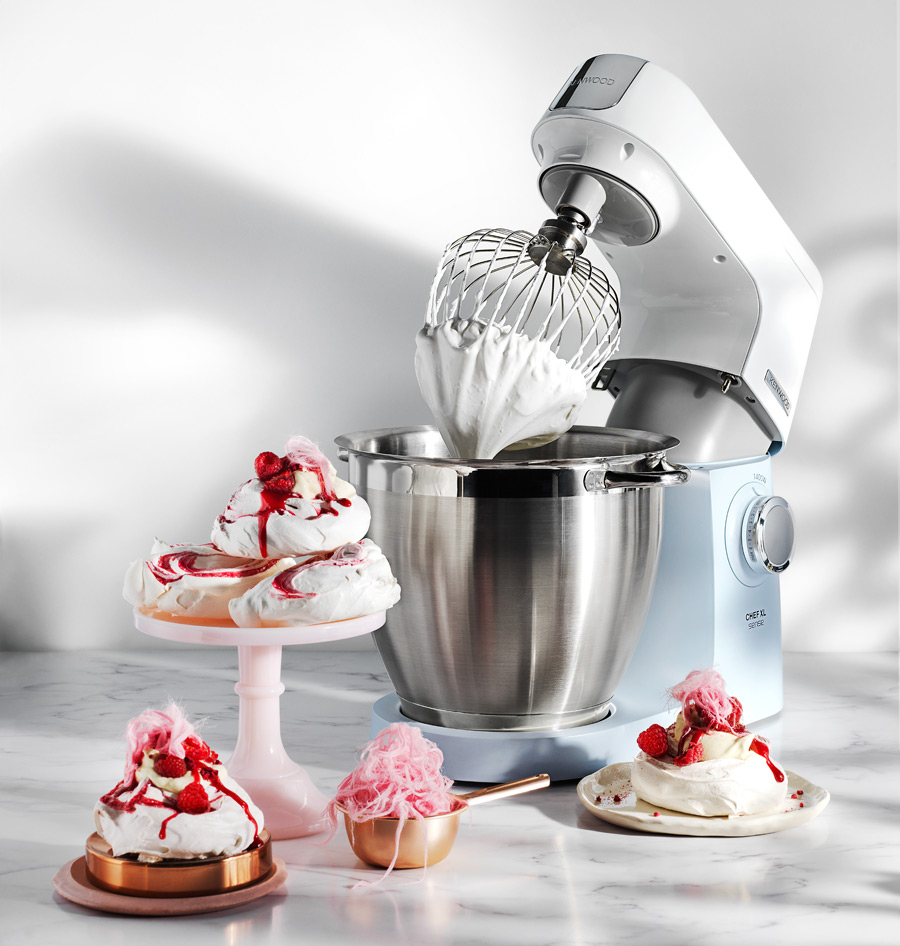 Method
1 Preheat oven to 150°C. Strain the raspberry puree into a small saucepan. Place over medium heat, add the sugar and stir until dissolved. Simmer for 5 minutes. Allow to cool.
2 Place egg white in the bowl of a Kenwood Chef Sense XL Mixer and whisk on high until soft peaks form.
3 Add the sugar, 1 tablespoon at a time, whisking until each addition is dissolved before adding more.
4 Once all the sugar has been added, scrape down the sides of the bowl and whisk for a further 10-15 minutes until the mixture is thick and glossy.
5 Add the cornflour and vinegar to the egg white mixture and whisk for 30 seconds until well combined. Spoon 8 x 10cm rounds of the meringue mixture onto 2 baking trays lined with baking paper. Swirl a little of the raspberry mixture through each round. Reduce the oven temperature to 120°C and bake meringues for 40 minutes. Allow to cool completely in the closed oven.
6 For the vanilla bean mascarpone, whisk together mascarpone, cream and vanilla bean paste in a bowl until combined and thickened slightly.
To assemble: Spoon vanilla bean mascarpone onto meringues. Top with remaining raspberry mixture, raspberries and fairy floss.