This Roast Chicken with 40 Cloves of Garlic recipe is part of our Steam Oven Recipe Series. Each recipe in the series utilises steam ovens to delicious effect.
For more steam oven recipes, just follow the links at the bottom of the page.
Roast Chicken with 40 Cloves of Garlic Recipe
Serves 4
Prep and Cook Time 1 Hour 10 Minutes + Standing Time
Ingredients
3 bulbs (150g) garlic
60g very soft butter
1.7kg whole chicken, at room temperature
2 teaspoons sea salt flakes
2 teaspoons freshly ground black pepper
800g baby potatoes
1 tablespoon extra virgin olive oil
3 sprigs thyme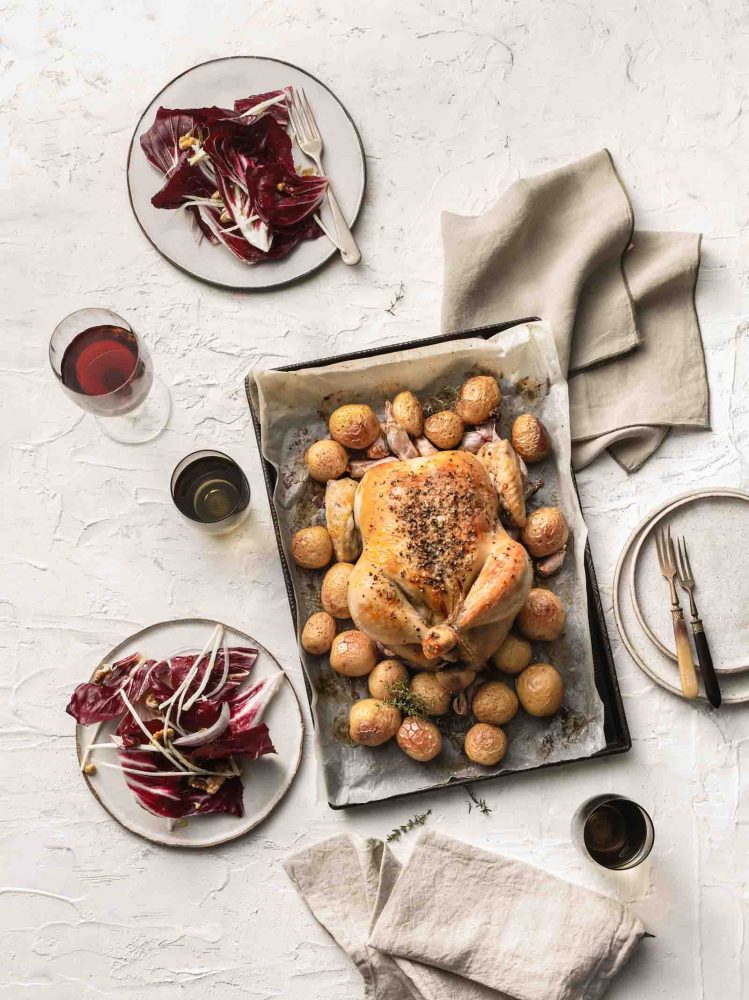 Method
1) Preheat oven to 180°C NEFF CircoTherm with low steam.
2) Separate cloves from garlic bulbs; leave unpeeled. Liberally brush butter over outside of chicken; add remaining to cavity. Season cavity with half the combined salt and pepper, tie chicken legs together with kitchen string, and scatter remaining salt mix over chicken.
3) Place remaining garlic in a single layer on a baking paper-lined oven tray; place chicken on garlic. Place potatoes around chicken; drizzle with olive oil. Place chicken on shelf 2; roast for 50 minutes, or until juices run clear when thickest part of thigh is pierced with a skewer and chicken is browned and cooked through.
4) Add thyme in final 5 minutes of cooking. Transfer chicken to a platter; cover with foil. Rest for 10 minutes.
Chef's Notes
Not suitable to freeze or microwave.
Serve with a winter salad such as radicchio, red onion, celeriac and walnut.
Tools of the Trade
This recipe was made with the NEFF 90cm Slide and Hide Built-in Oven with FullSteam in mind. Available from Harvey Norman, it combines the benefits of CircoTherm and steam cooking, making for an excellent appliance.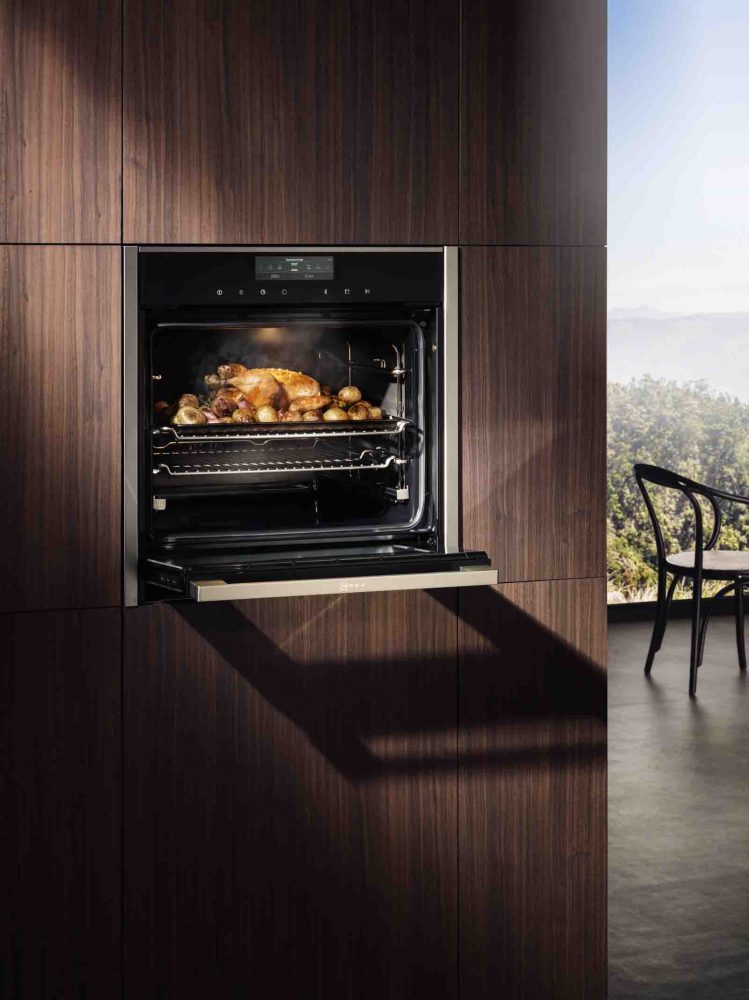 More Steam Oven Recipes
For more great recipes from our Steam Oven Recipe Series, simply click the below links.
► Lobster with Chilli & Coriander Butter