The quintessential Sunday lunch of roast lamb has never tasted so good. Carve your slow-roasted lamb shoulder before serving and place on a bed of creamy parsnip and potato mash. Drench with sweet onion gravy and garnish with a medley of lemon, chilli and parsley. Pairs perfectly with tender stalks of broccolini. Seconds? Don't mind if we do!
Serves 6
Prep 25 minutes
Cook 4 hours 30 minutes
 Ingredients
2 teaspoons chopped fresh thyme leaves
2 garlic cloves, crushed
1 tablespoon extra virgin olive oil
1.8kg lamb shoulder
2 brown onions, halved, cut into thin wedges
2 cups chicken stock
2 tablespoons red wine vinegar
1kg parsnip, peeled, roughly chopped
1.5kg Sebago potatoes, peeled, roughly chopped
2 garlic cloves, peeled, halved
1/3 cup milk, warmed
40g butter
1/2 cup dry white wine
Pinch of sugar
1/3 cup roughly chopped fresh flat-leaf parsley
Zest of 1 lemon
2 long red chillies, seeded, finely chopped
Steamed broccolini, to serve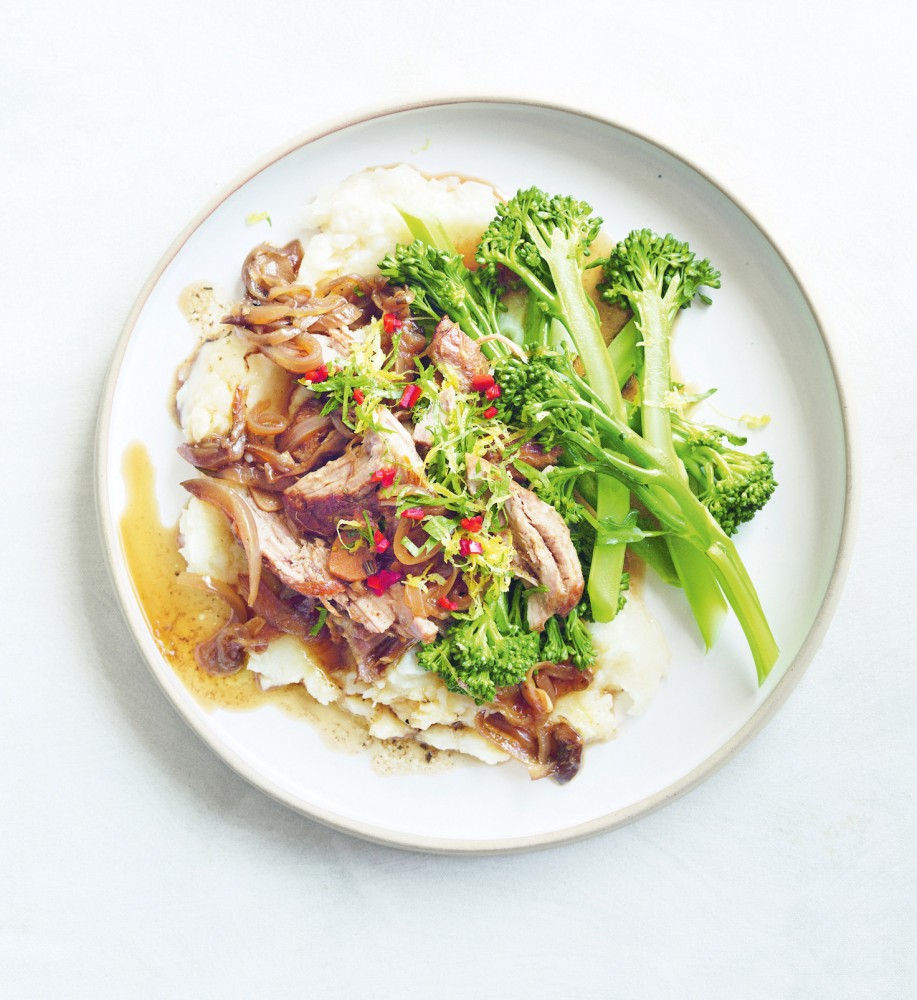 Method
1 Preheat oven to 200°C/180°C fan-forced.
2 Combine thyme, crushed garlic and oil in a bowl. Rub all over lamb. Place onion in a large flameproof roasting pan. Top with lamb. Season with salt and pepper. Bake for 20 minutes or until golden. Reduce temperature to 150°C/130°C fan-forced. Add half the stock, vinegar and 1/2 cup water. Bake for 4 hours or until very tender.
3 During the final 30 minutes of lamb cooking time, place parsnip, potato and halved garlic in a large saucepan. Cover with water. Bring to the boil over high heat. Reduce heat to medium-low. Boil for 15 minutes or until vegetables are tender. Return to pan over low heat. Mash until well combined. Add milk and butter. Mash until smooth and combined. Season with salt and pepper.
4 Transfer lamb to a plate. Strain cooking liquid from roasting pan, reserving onion. Discard liquid. Return onion to pan. Place pan over high heat. Add wine. Bring to a simmer. Add remaining stock and sugar. Reduce heat to medium. Simmer, stirring occasionally, for 5 minutes or until reduced slightly. Season with salt and pepper.
5 Combine parsley, lemon zest and chilli in a bowl. Shred lamb. Divide mash and lamb among serving plates. Drizzle with onion gravy. Sprinkle with parsley mixture. Serve with broccolini.
Tools of the Trade
Bring your Sunday roast to life with help from these amazing appliances from Harvey Norman.

From left:
Fisher & Paykel 60cm 7 Function Built-In Oven
Fisher & Paykel 60cm 3 Burner Natural Gas on Glass Cooktop