This Roast Pork Rack with Apples recipe is part of our Steam Oven Recipe Series. Each recipe in the series utilises steam ovens to delicious effect.
For more steam oven recipes, just follow the links at the bottom of the page.
Roast Pork Rack with Apples Recipe
Serves 6
Prep and Cook Time 1 Hour 30 Minutes
Ingredients
6-point rack of pork (1.7kg), rind scored
2 teaspoons olive oil, plus 1½ tablespoons extra for vegetables
3 teaspoons sea salt flakes
2 teaspoons fennel seeds, crushed
2 red onions, unpeeled, quartered lengthways
3 (380g) parsnips, quartered lengthways
6 (840g) small royal gala or other red apples, scored around centre
2 bunches (400g) trimmed baby heirloom carrots, washed and halved lengthways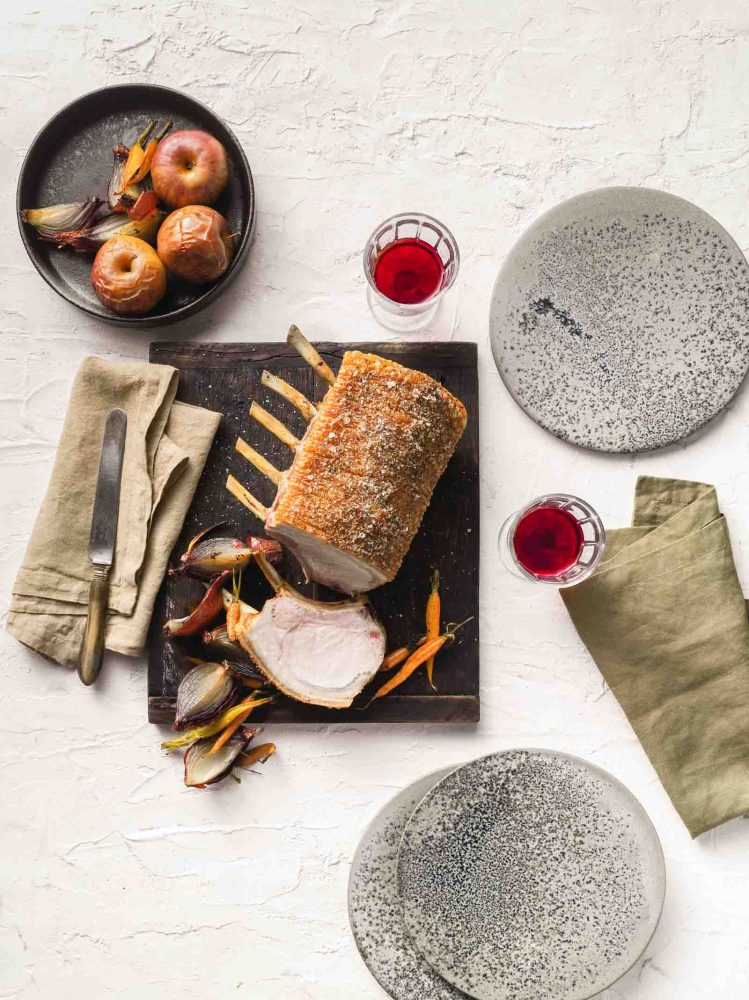 Method
1) Preheat oven to 240°C Electrolux Bake/Pizza; add minimum amount of water to water drawer for steam at second stage of cooking.
2) Pat pork dry with paper towel. Place pork on an oven tray lined with baking paper. Rub rind with oil, then with combined salt and crushed fennel seeds.
3) Insert Food Probe into centre of pork. Roast pork on shelf 2 for 10 minutes, or until skin blisters. Meanwhile, toss onions in a little extra oil and arrange in pork dish. Toss parsnips in a little extra olive oil and arrange on a separate oven tray lined with baking paper. Place parsnips on shelf 1. Roast for a further 15 minutes.
4) Adjust oven to 180°C, Electrolux Bake + Steam; add apples to pork tray and carrots to parsnip tray, drizzle with remaining oil. Roast for a further 25-30 minutes, or until pork registers 62°C on the Food Probe. Set aside for 10 minutes to rest.
5) Serve the pork with the apples and vegetables.
Chef's Notes
Not suitable to freeze or microwave.
For conventional cooking: Use the same oven temperatures, however for the second stage at 180°C (160°C fan-forced), add an extra 5-10 minutes. To test "doneness" without a thermometer, insert a metal skewer; when withdrawn, the juices should run clear.
Tip: To make crisp crackling, the pork rind needs to be really dry. Before you start this recipe, leave the pork rind uncovered in the fridge overnight; you will need to cover the pork flesh with plastic wrap to stop it drying out.
Tools of the Trade
This recipe was made with the Electrolux 60cm Multifunction Steam and Pyrolytic Oven in mind. Available from Harvey Norman, this multifunction steam and pyrolytic oven makes it so simple to prepare a variety of dishes with just one appliance.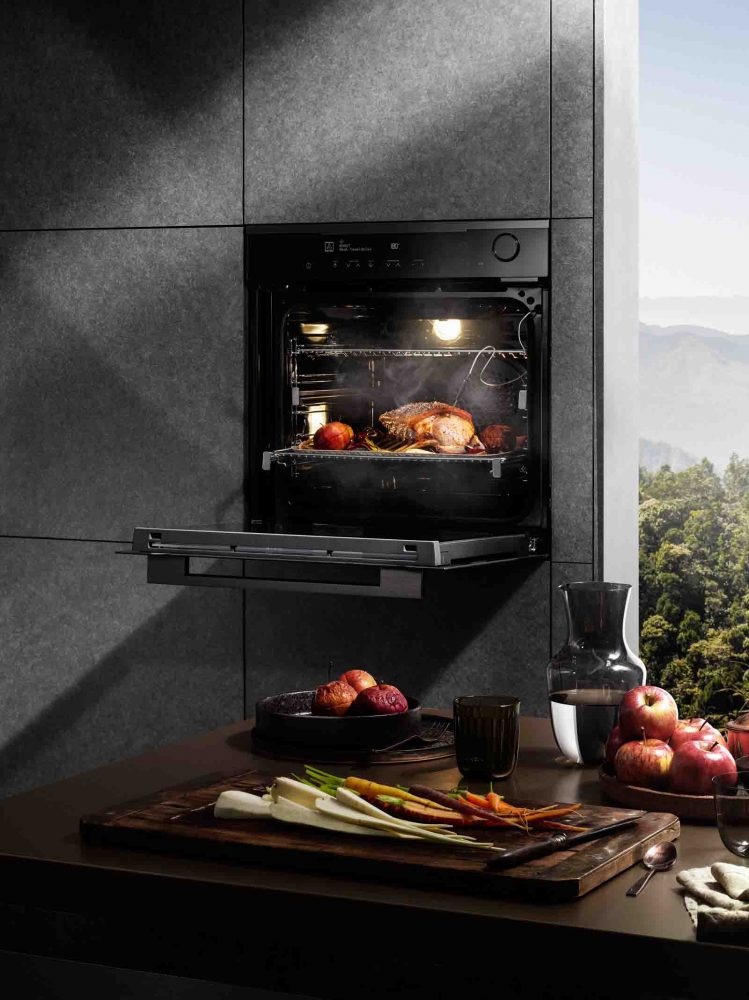 More Steam Oven Recipes
For more great recipes from our Steam Oven Recipe Series, simply click the below links.
► Roast Chicken with 40 Cloves of Garlic
► Lobster with Chilli & Coriander Butter