This latest recipe from chef Martin Boetz – as part of Home Beautiful's Cooks Co-op web series – celebrates wondrous winter flavours. Incredibly quick and easy to prepare, the classic carrot soup is given more body and oomph with the addition of  roast pumpkin, garlic, onion, ginger, and a drizzle of the magic ingredient – Urban Beehive organic honey.
Serves 6
Ingredients
300g butternut pumpkin, peeled, cut into rough pieces
1kg carrots, peeled, halved
1 brown onion, peeled, quartered
8 eschalots, unpeeled
8 cloves garlic, unpeeled
50g ginger
1 leek, trimmed, roughly chopped
¼ cup olive oil
Salt and white pepper, to season
2L vegetable stock
1 bunch thyme
2 bay leaves
Organic honey, to serve
Micro herbs, to garnish (optional)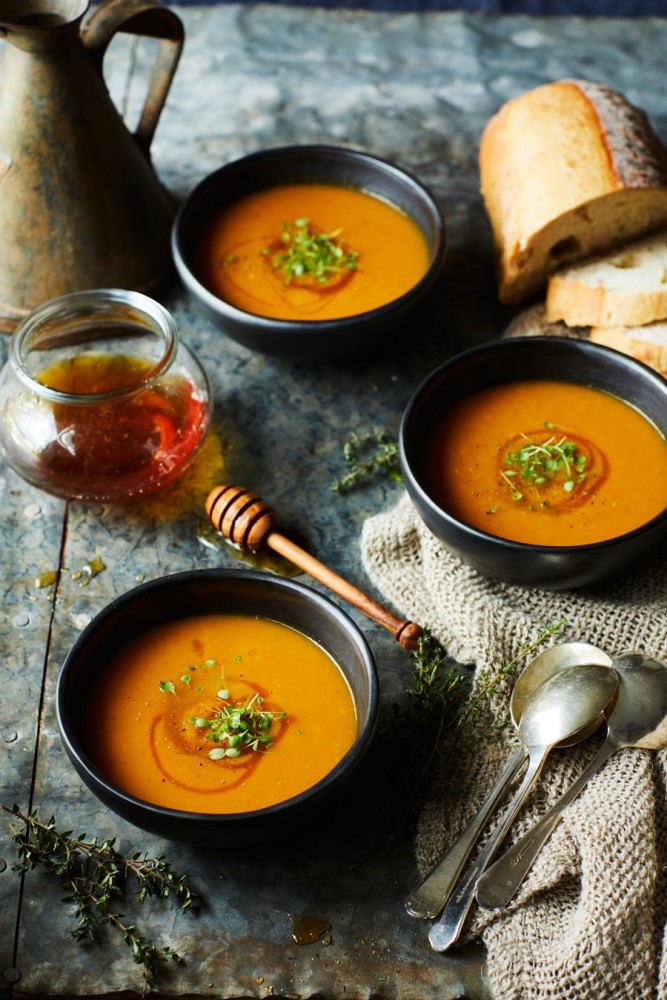 Method
1 Preheat oven to 160°C. Place pumpkin, carrot, onion, eschalots, garlic, ginger and leek in a large roasting tray. Drizzle over oil and season with salt and pepper. Toss until coated. Roast for about 45 minutes or until caramelised, turning vegetables halfway.
2 Place stock, thyme and bay leaves in a heavy-based pot and bring to a simmer. Squeeze garlic and eschalot flesh from their skins into stock. Add cooked vegetables and bring to a simmer. Simmer, covered, for 15 minutes. Remove pot from the heat.
3 Remove thyme stalks and bay leaves and discard. Use a handheld stick blender to puree the soup in pot or puree ladlefuls in a food processor until smooth. If soup is too thick, add more stock or water. Season to taste. Drizzle each bowl of soup with honey to serve. Sprinkle with micro herbs if desired.
Tools of the Trade
A handheld stick blender is crucial for achieving a silky smooth soup consistency  and the Kenwood Triblade Hand Blender is just the handy helper for the task!