This roasted rib of beef with witlof, soft garlic and lardo jus recipe has been created by Jordan Toft, executive chef at Bert's Bar & Brasserie in Newport, NSW. The produce he was inspired by was Brooklyn Valley beef roast.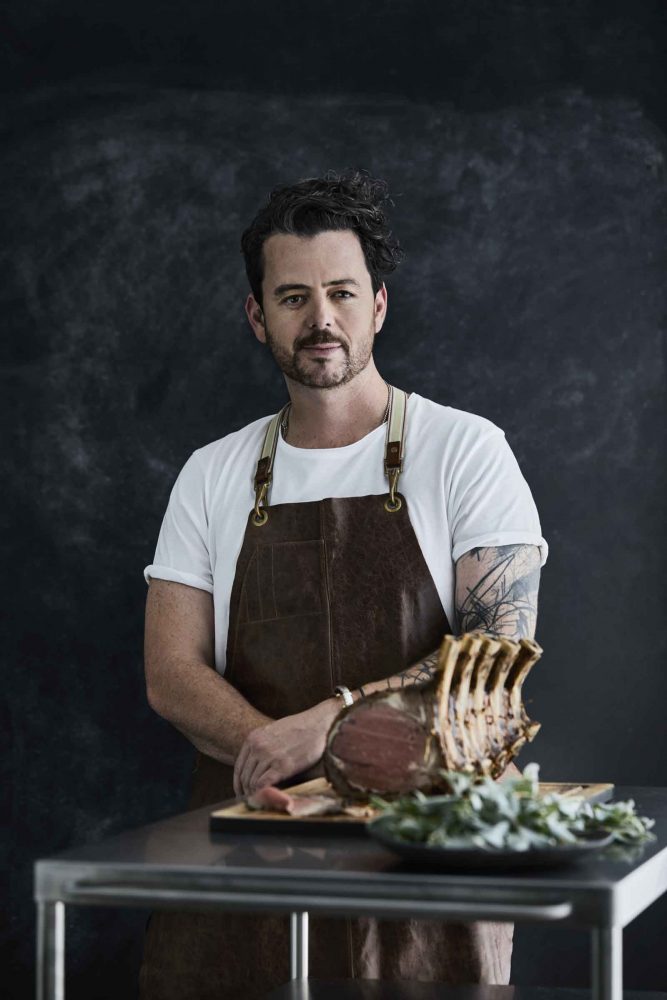 Serves: 6-8
Ingredients
2.5kg 6-rib Brooklyn Valley beef roast
Sea salt and cracked black pepper, to season
1 bunch thyme
1 head garlic, skin on, cloves separated
⅓ cup (80ml) olive oil
200g saltbush
Soft Garlic Ingredients
2 heads garlic
¾ cup (180ml) olive oil
Witlof Ingredients
6 heads white witlof (cut lengthways, top to tail)
¼ cup (60ml) olive oil
2 cloves garlic
10 sprigs thyme
50ml dry white wine
50g unsalted butter, chopped
200ml hot chicken stock
Lardo Jus Ingredients
100g lardo (see note)
500ml demi-glace jus (see note)
2 fresh bay leaves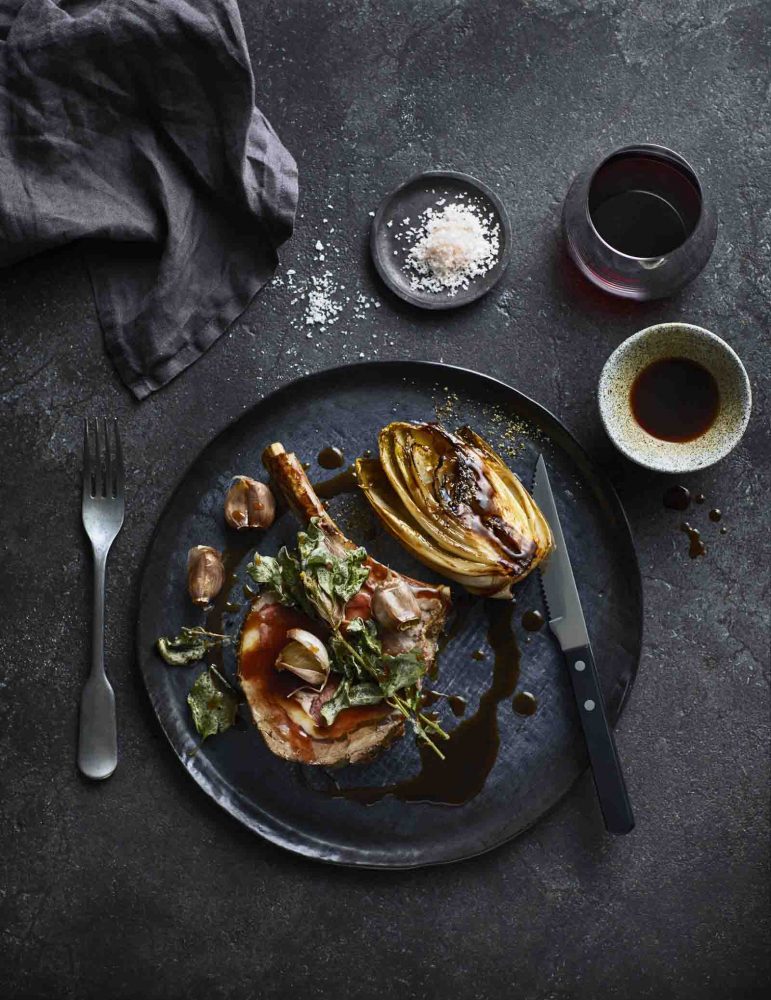 Method
1) Remove beef from the fridge, season with salt and pepper. Preheat oven to 240°C (220°C fan-forced) for 20mins. Roughly chop ⅓ of the thyme and rub over the beef.
2) Lay remaining sprigs of thyme and garlic cloves in the base of a heavy roasting tray, top with beef, bones sticking up. Wrap each bone with foil to prevent burning.
3) Roast for 20 minutes, then reduce oven to 180°C (160°C fan-forced), and roast for a further 40 minutes for medium rare (until a meat thermometer inserted into the thickest part reads 48°C), or until cooked as desired. Cover loosely with foil and allow to rest for 15 minutes.
4) While the beef is cooking, make the soft garlic. Break the heads of garlic into individual pieces, keeping their skins on, and place in a small saucepan. Cover garlic with oil and place on a very low heat. Cook for 45 minutes or until garlic becomes super soft. Be careful not to fry the garlic as it will be crisp and overcooked. Remove from heat and leave in oil to cool.
5) While the meat is resting, dice lardo into small cubes. Place lardo in a small saucepan over low heat and cook for 3 minutes, to allow the fat to render. When the lardo has become a liquid and the small cubes start to crisp, remove from heat and strain, reserving the rendered oil.
6) Add the demi-glace, rendered oil and bay leaves together in the small saucepan and place over low heat, cook for 2 minutes, or until reduced and sticky. (The oil will settle on top of the jus. This is okay as it will create a 'broken' effect on the plate.) Remove bay leaves before serving.
7) Divide witlof into three. For each batch, heat 1 tablespoon of olive oil in an ovenproof, heavy-based frying pan over medium heat. Cook witlof, cut-side down, for 4 minutes or until dark golden brown. Arrange witlof, browned cut-side up, snugly in the pan. Sprinkle with garlic, thyme, wine, butter and pour over stock. Cover with a layer of baking paper and foil and place in the oven. Cook for 12 minutes, remove foil and baking paper, then cook for a further 5 minutes or until just tender when skewered.
8) Just before serving, heat oil in a frypan over high heat. Cook batches of saltbush leaves until lightly crisp. Season with salt while hot.
9) Slice the beef and serve with witlof, soft garlic cloves, lardo jus and saltbush.
Chef's Note
Lardo and demi-glace jus are available from good butchers.
Tools of the Trade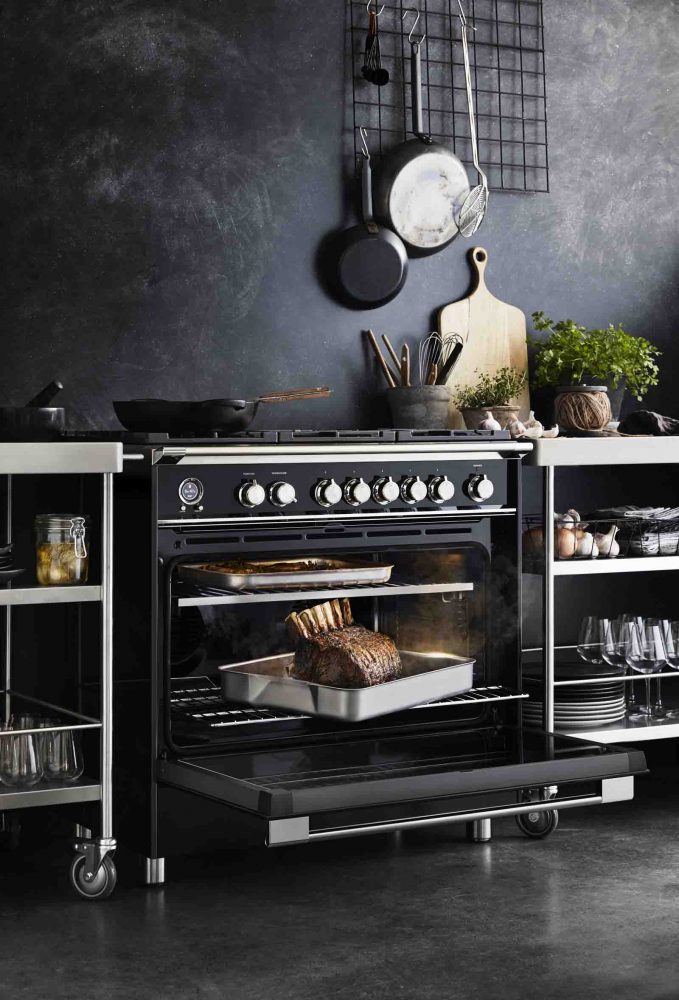 In the above image, Jordan Toft's roasted rib of beef with witlof, soft garlic and lardo jus has been succulently cooked in the Fisher & Paykel 900mm Pyrolytic Dual Fuel Freestanding Cooker – available from Harvey Norman.
More Australian Chef Recipes
The following recipes have all been created by esteemed Australian chefs. Each recipe has been inspired by some of the best Australian produce.
► Western Australian Marron Thermidor with Bush Tomato, created by Paul Farag.
► Rich Chocolate Yoghurt Cake with White Chocolate Ganache and Poached Quince, created by Lauren Eldridge.
► Roasted Purple Cauliflower with Harissa, Macadamia and Pickled Currants, created by Adam Wolfers.