This Rustic Sourdough recipe is part of our Steam Oven Recipe Series. Each recipe in the series utilises steam ovens to delicious effect.
For more steam oven recipes, just follow the links at the bottom of the page.
Rustic Sourdough Recipe
Makes 1 Large Loaf
Prep and Cook Time 1 Hour + Standing and Cooling Time
Ingredients
4⅔ cups (700g) organic white bread flour
1½ cups (240g) organic wholemeal plain flour
1½ tablespoons sea salt flakes
480ml filtered or bottled water, approximately
Organic bread flour, extra
Sourdough Starter Ingredients (Makes 3 Cups)
3 teaspoons (10g) dried yeast
1½ teaspoons caster sugar
2 cups (500ml) lukewarm filtered or bottled water
2⅔ cups (350g) organic bread flour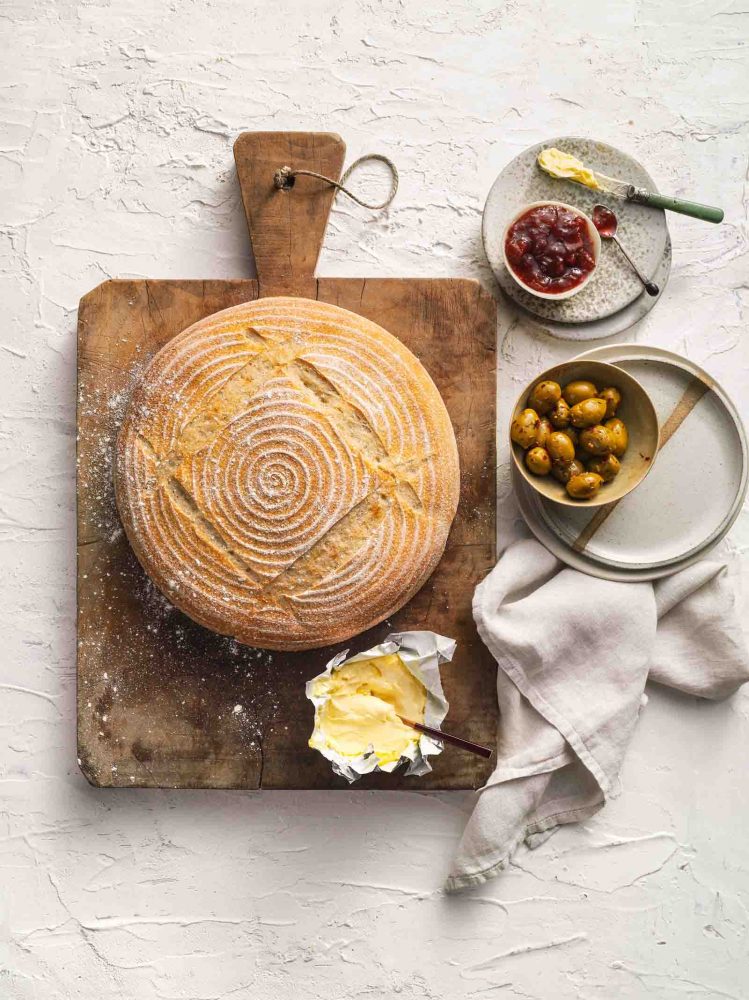 Method
1) Sourdough Starter: Place yeast, sugar and the water in a large bowl; stir until yeast dissolves. Cover; stand in a warm place for 10 minutes or until frothy. Add sifted flour; stir to combine. Cover; stand at room temperature for 2 days. After 2 days, the starter should have a pleasant mild sour smell and small bubbles on the surface, a sign that it's active. Sourdough starter will keep indefinitely in the fridge, adding ¾ cup (165g) organic white flour and ¾ cup water each week after using. If not making bread, dispose of 1½ cups of starter before adding extra flour and water. If using daily, leave at room temperature, adding amounts above each day.
2) On Day 3, place 4 cups (600g) of bread flour, the wholemeal flour, salt, 1½ cups of the Sourdough Starter and the water in a large bowl of an electric mixer fitted with a dough hook. Knead on low speed for 10 minutes, until you have a soft, sticky dough. Slowly add remaining flour until well incorporated (The mixture is quite wet at the beginning of mixing but becomes a soft dough by the end.)
3) Transfer dough to an oiled large bowl; cover with cling film. Stand at room temperature for 4-6 hours or until doubled. Meanwhile, spray a cane proving basket (about 30cm wide, 9cm high) lightly with water; dust with extra flour, rotating and tapping to cover all surfaces. Tap out excess; set aside to dry.
4) Line a large baking tray with baking paper. Turn dough onto a lightly floured surface. Lightly pull each of the 4 sides of the dough from the outside edge to the centre of top to stretch outside skin of the dough. Repeat with 4 diagonals; transfer to proving basket, with seam up. Wrap in cling film, prove in refrigerator for 12 hours or overnight. Remove from refrigerator and bring to room temperature (2-3 hours).
5) When close to room temperature, preheat oven to 240°C, Miele Moisture Plus with 2 bursts of steam. Place baking paper-lined tray on top of proving basket. With the baking paper between the dough and tray, invert dough onto tray; lift off proving basket. Cut 4 slashes into bread in a square shape using a box knife or scalpel.
6) Bake bread on shelf 2 for 30 minutes, or until golden brown and sounding hollow when tapped. Transfer to a wire rack until cool.
Chef's Notes
Suitable to freeze. Not suitable to microwave.
For Conventional Cooking: Preheat oven to 240°C. Place a small shallow-sided oven tray on the lowest shelf of the oven when preheating. Add 10 ice-cubes to preheated oven tray and bake bread for 30 minutes or until golden brown and sounding hollow when tapped. Transfer to a wire rack until cool.
For a Garlic and Rosemary Variation on the Recipe
Wrap 1 bulb of garlic in foil; roast at 200°C for 30 minutes or until soft. Peel garlic and fold through dough with ¼ cup chopped rosemary leaves after mixing. You will need to begin this recipe 3 days ahead.
Tools of the Trade
This recipe was made with the Miele Moisture Plus H 6860 BPX Oven in mind (available at Harvey Norman!). Miele's Moisture Plus technology release bursts of steam into the oven to help dough rise and to dissolve natural sugars on the dough. The result of this is an amazing loaf of bread! Moisture Plus also helps prevent roast meats from drying out.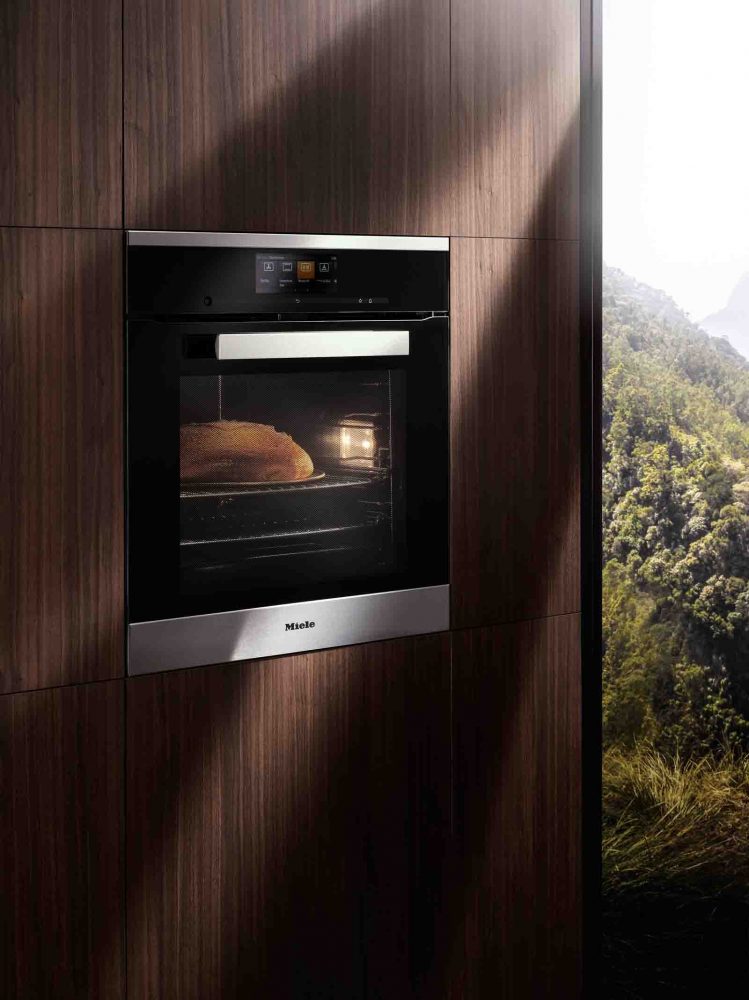 More Steam Oven Recipes
For more great recipes from our Steam Oven Recipe Series, simply click on the below links.
► Roast Chicken with 40 Cloves of Garlic
► Lobster with Chilli & Coriander Butter