Get ready to entertain this Christmas with our six part Christmas recipe series…
This recipe for Salmon and Avocado Roulade with Wasabi Cream makes for a perfect Christmas day entrée!
Makes 12
Serves 6
Prep time 30 mins
Cook 6 mins (plus chilling)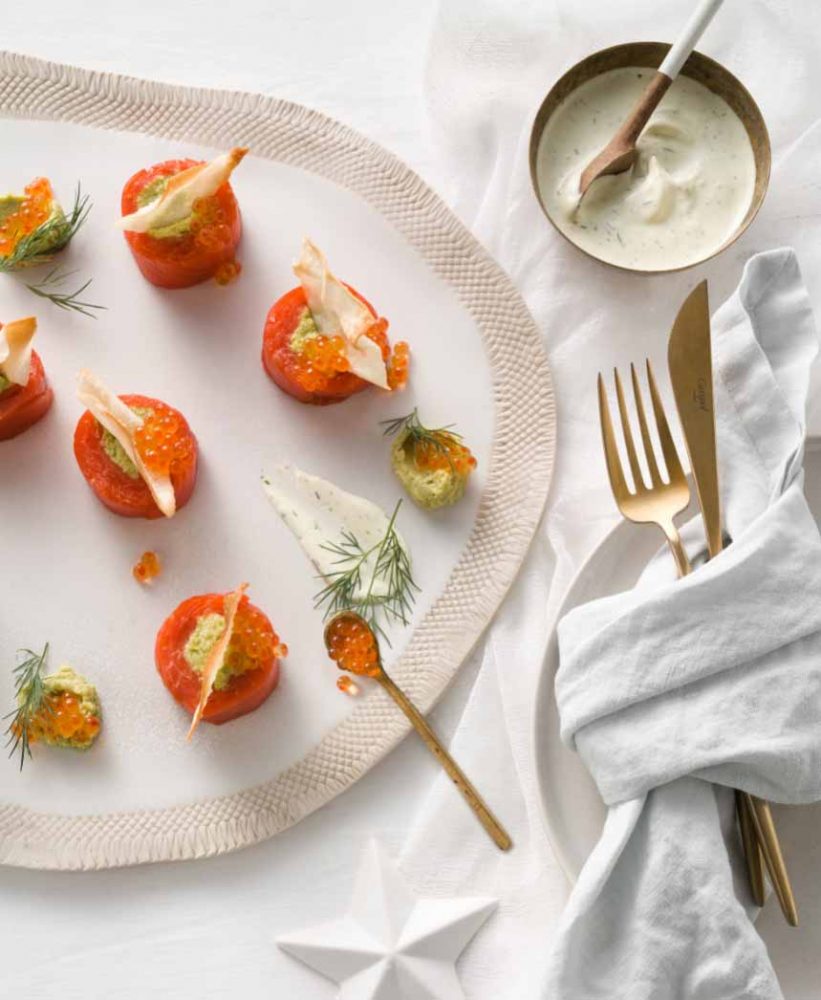 Ingredients
300 gm smoked salmon, sliced
4  wonton wrappers (see note)
2 tbsp salmon roe
Avocado and edamame filling
1 small ripe avocado
½ cup frozen edamame, defrosted
1 tbsp lemon juice
2 tsp soy sauce
Wasabi cream
¼ cup crème fraîche
1-2 tsp wasabi paste, or to taste
2 dill sprigs
Method for Salmon and Avocado Roulade with Wasabi Cream Recipe
1. Place a sheet of baking paper on top of a sheet of plastic wrap. Layer salmon slices onto paper, overlapping, to form a 25cm x 12cm rectangle.
2. For avocado and edamame filling, in the bowl of the KitchenAid 5-cup Cordless Chopper, combine avocado, edamame, lemon juice and soy and blend on high speed until smooth. Transfer mixture to a piping bag.
3. For wasabi cream, whisk ingredients in a bowl to combine using the KitchenAid Cordless Variable Hand Blender.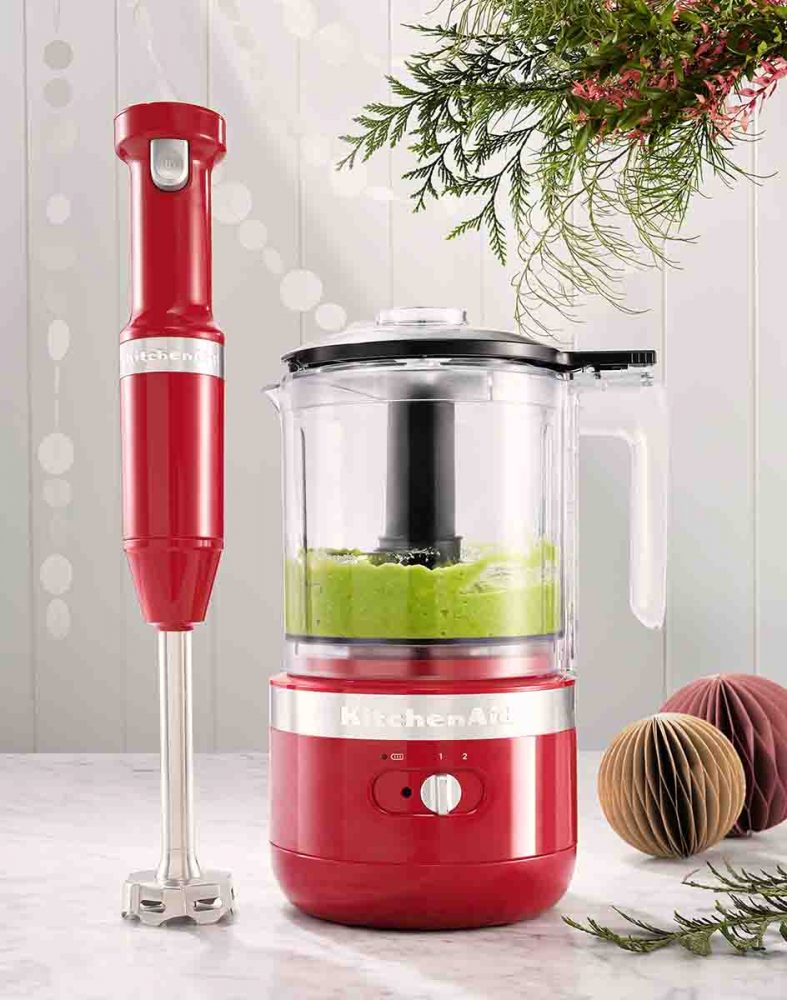 4. Pipe 3cm-thick log of filling lengthways along one end of salmon. Rolling away from you and using the baking paper to help lift and roll over, roll roulade into a log shape. Twist ends of paper firmly to secure and freeze until firm enough to slice (1 hour).
5. Preheat oven to 180° Place wonton wrappers on a tray lined with baking paper, spray with oil and bake until golden brown and crisp (6 minutes). Cool on tray then break into shards and set aside.
6. Slice salmon roulade into 2cm-thick rounds and peel off baking paper and plastic wrap. Place cut-side up on serving platter and chill until ready to serve. To serve, top with wonton shards and salmon roe, drizzle with wasabi cream and scatter over dill.
Note Wonton wrappers are available from select supermarkets and grocers.
Christmas Recipe Series
► Cucumber and Finger Lime Gin Frappé + White Peach Aperol Spritz
► Salmon and Avocado Roulade with Wasabi Cream
► Grilled Lobster and Steamed Kipfler Salad with Furikake-lime Mayonnaise
► Gingerbread Cake with Spiced Rum Buttercream
► White Chocolate and Berry Pavlova Wreath
► Espresso and Dark Chocolate Mousse