Here's a foolproof gingerbread recipe that you can use to make all sorts of shapes, be it gingerbread people to gift to family and friends or festive shapes to hang on your Christmas tree as ornaments. Click here to access the train template and get baking with your kids – all aboard the gingerbread train!
Prep time 40 mins + 1 hour chilling
Cook time 20 mins
Makes 20 gingerbread people

Ingredients
125g unsalted butter, softened
2/3 cup brown sugar
100ml maple syrup
1 egg, lightly beaten
2 2/3 cups plain flour, sifted
1/2 tsp bicarbonate of soda
1 ¼ tbs ground ginger
2 tsp ground cinnamon
1 tsp ground nutmeg
1 tsp salt flakes
Royal icing to decorate
Method
STEP 1 Using a stand mixer, beat butter and sugar until light and fluffy. Add maple syrup and egg. Beat to combine. Sift flour, bicarbonate of soda, ginger and cinnamon over butter mixture.
STEP 2 Add to butter mixture and slowly beat until combined. Place in the middle of a piece of cling film and chill for 1 hour.
STEP 3 Preheat oven to 180. Line 4 baking trays with baking paper. Roll dough between 2 sheets of baking paper until 3-4mm thick. Cut shapes from dough. Re-roll dough scraps. Place, 2cm apart, on prepared trays.
STEP 4 Bake 1 tray at a time for 20 minutes, or until just firm to touch. Stand on trays for 5 minutes. Transfer to a wire rack to cool completely. Decorate with royal icing.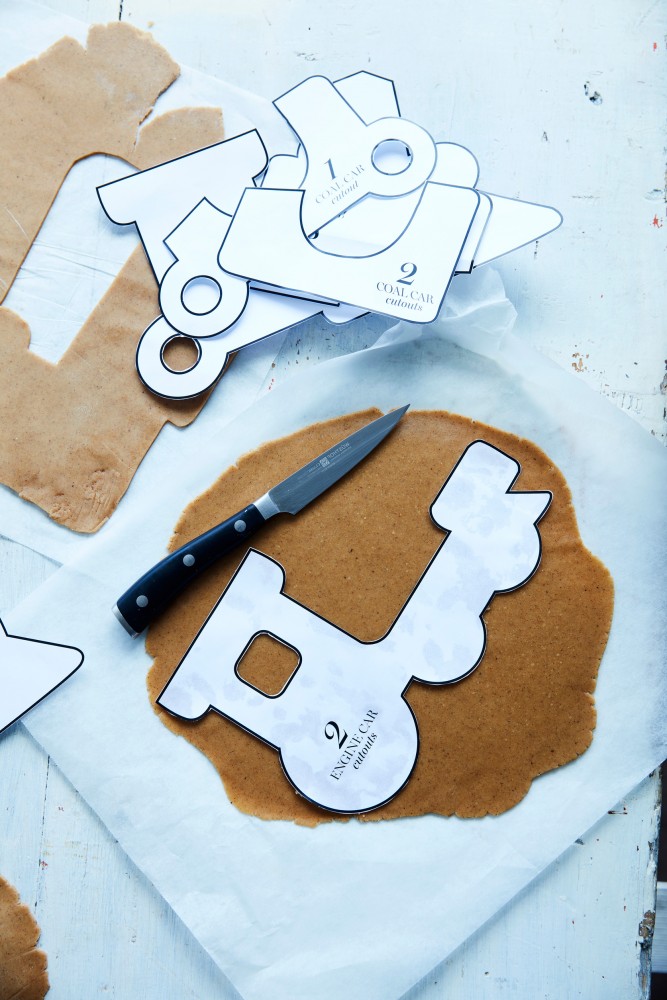 The recipe below makes 1 large train:
Ingredients
3x gingerbread recipe above
Royal icing
Chopped liquorice
Round biscuits for the wheels
Butterscotch icing:
100g brown sugar
100g unsalted butter
2 tbs milk
1 tbs maple syrup
150g icing sugar
1 ½ tsp salt flakes
Method
STEP 1 For the gingerbread train, multiply the gingerbread women recipe by 3 (but make in batches). Working in batches, roll pieces out onto a well floured surface until 3mm thick. Transfer to baking trays lined with baking paper and freeze for 10 minutes or until firm.
STEP 2 Use stencils to cut out shapes then place shapes on baking trays lined with baking paper and bake for 20 minutes or until golden. Repeat with all shapes, gathering excess dough and re-rolling to make more shapes. Use any excess dough to make gingerbread ladies. For the butterscotch icing, combine all the ingredients except the icing sugar in a saucepan and place over medium heat. Cook for 2-3 minutes then remove from heat and cool. Combine with icing sugar then set aside.
STEP 3 Construct the train, using the butterscotch icing as glue.
STEP 4 Chill each carriage for 30 minutes to firm up.
STEP 5 Use a cookie cutter to cut out rounds from waffle biscuits then glue with icing as wheels. Decorate with royal icing and fill coal carriage with chopped liquorice.
Tools of the Trade
Breville the Bakery Boss Mixer from Harvey Norman is the perfect tool for serious bakers. Get all your Christmas baking done without any fuss – be it this gingerbread recipe or other baked goods to give as presents, use as decorations or to serve on the big day.
Check out more great small appliances from Breville over here.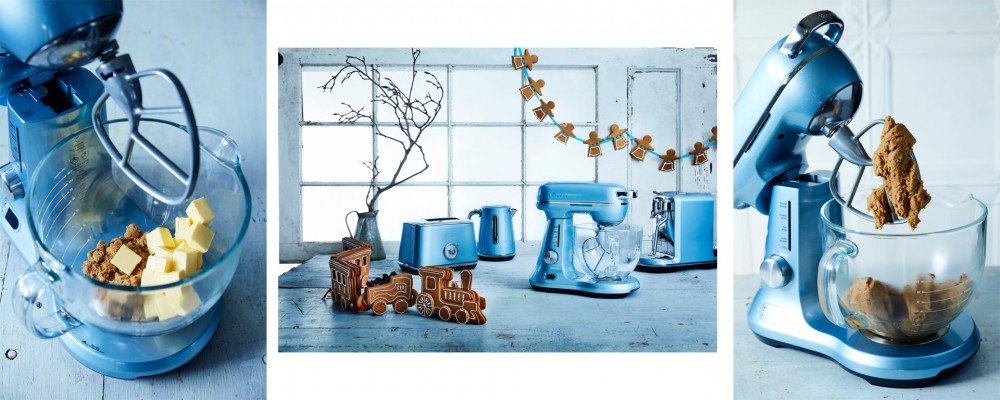 GET GINGERBREAD TRAIN STENCILS OVER HERE