Looking for a recipe to spoil Dad this Father's Day? Try this chocolate cake with whisky salted caramel sauce.
He's going to wish it was Father's Day every day of the year!
Serves 10
Prep 20 minutes (plus cooling time)
Cook 1 hour 10 minutes
Ingredients
300g dark chocolate, chocolate
375g butter
250g cream cheese, softened
1/2 teaspoon vanilla extract
1/3 cup caster sugar
5 eggs
3/4 cup self-raising flour
3/4 cup plain flour
1/4 cup bicarbonate of soda
3/4 cup cocoa powder
2 cups brown sugar
3/4 cup buttermilk
2 single shots (60ml) espresso coffee
2 tablespoons bourbon whisky
250ml bottle salted caramel dessert topping
Whipped cream and pretzels, to serve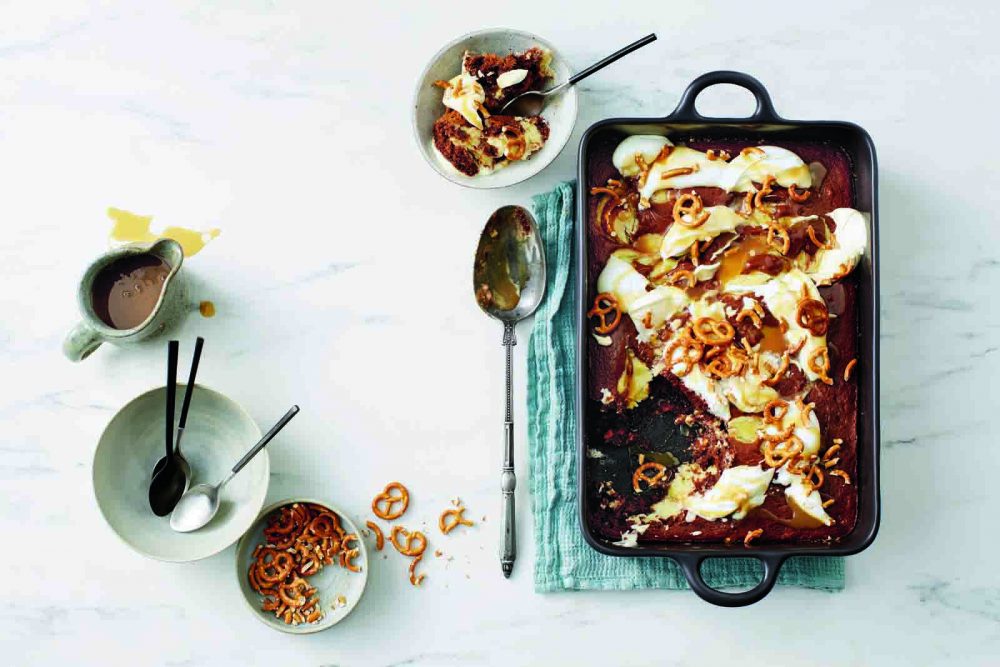 Method
1) Place chocolate and butter in a saucepan over medium heat. Cook, stirring, for 5 minutes or until melted and smooth. Remove from heat. Cool.
2) Meanwhile, preheat oven to 180°C/160°C fan-forced. Grease and line a 5.5cm-deep, 21cm x 30cm (base) baking dish. Using an electric mixer, beat cream cheese, vanilla and caster sugar until light and fluffy. Add 1 egg. Beat until combined.
3) Sift flours, bicarbonate of soda and cocoa in a large bowl. Add brown sugar. Stir to combine. Whisk remaining eggs and buttermilk together. Stir buttermilk mixture, coffee, then chocolate into flour mixture. Pour half the mixture into prepared pan. Top with spoonfuls of cream cheese mixture. Using a butter knife, swirl mixture slightly to create a marbled effect. Pour over remaining chocolate mixture. Bake for 55 minutes to 1 hour or until a skewer inserted into the centre comes out clean (cover with foil if over browning). Cool in pan.
4) Meanwhile, simmer whisky in a small saucepan over medium heat until reduced by half. Cool.
5) Stir whisky into caramel. Top cake with cream, caramel and pretzels. Serve.
More Recipe Ideas
On the lookout for more Father's Day recipe ideas? Check out these delicious options.