Show mum how much she means to you this Mother's Day with a heartwarming, homemade tart. Full of spiced maple pecans, brown sugar and bourbon – this dessert is sure to please every palate at your family gathering.
Serves 8-10
Ingredients
Egg yolk, for brushing
200 g brown sugar
125 ml (1/2 cup) maple syrup
30 g melted butter
3 eggs, at room temperature
40ml bourbon
1 tsp each sea salt and vanilla bean paste
1/2 tsp each cinnamon and nutmeg
200 g pecans, toasted and coarsely chopped
Sea salt and crème fraiche, to serve
Brown Sugar Shortcrust Pastry  
200 g (1 ¼ cup) plain flour
120 g cold butter, cubed
30g brown sugar
1 tsp sea salt
½ tsp white vinegar
1 egg yolk
20 ml ice-cold water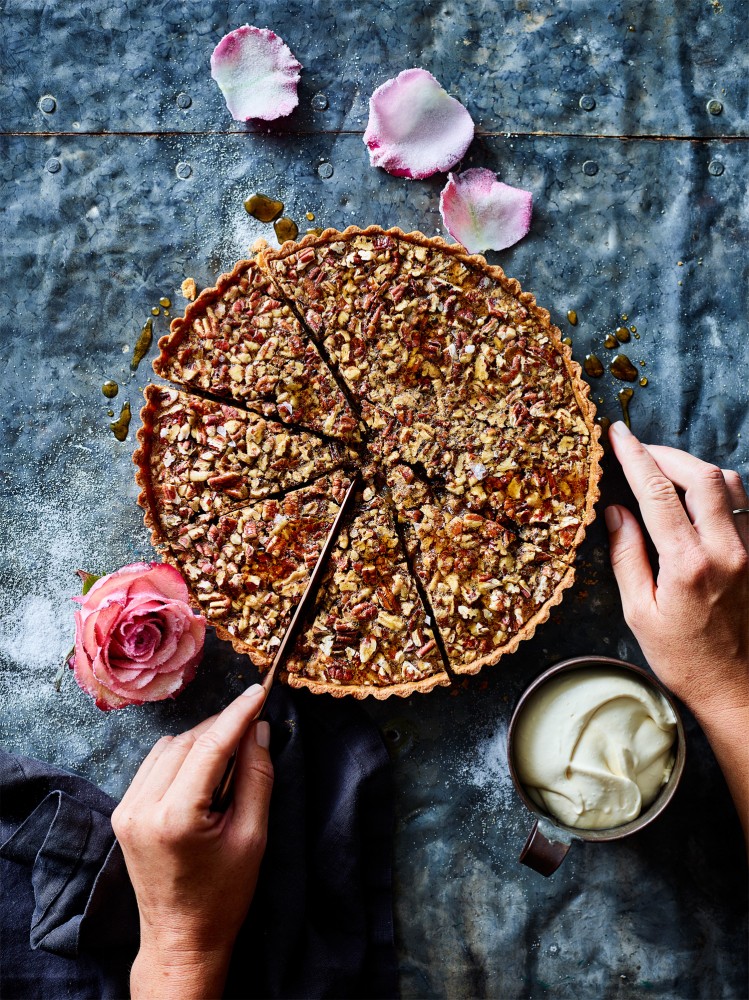 Method
1 For pastry, combine flour, butter, sugar and salt in a food processor and blitz until fine crumbs form. Add vinegar, egg yolk and water then blitz until a rough dough forms. Turn out onto a lightly floured bench, shape into a ball and then flatten into a disc. Wrap with cling wrap and set aside to rest for 20 minutes to firm slightly.
2 Roll out pastry on a lightly floured surface to 3mm thick and to about a 30cm round. Return to the fridge to firm slightly, about 20-30 minutes. Transfer pastry to a 26cm fluted tart tin and gently press the pastry into the corners of the tart tin using a pastry brush. Trim excess pastry, prick base with a fork and then refrigerate to rest for at least 2 hours.
3 Preheat oven to 180°C (160°C fan-forced). Blind bake pastry until golden, about 20-25 minutes. Remove paper and weights, then bake for 10-15 minutes until pastry is light golden. Brush pastry base with egg yolk, return to the oven for 4-6 minutes or until pastry base is dry and golden.
4 Whisk brown sugar, maple syrup, butter, eggs, bourbon, salt and spices together until well combined in a bowl. Stir in pecans then pour into pastry case. Bake until top is golden and filling is nearly set, about 30-35 minutes (middle should have a very slight wobble). Cool to room temperature before serving, about 2-3 hours. To serve, divide tarts between serving plates, sprinkle with extra sea salt and a dollop of crème fraiche.
Kitchen Essentials
Don't have the right tools to ensure this recipe is a success? Visit Harvey Norman to get sorted! While you're there, why not pick up a little pressie for mum too?