This Christmas, why not give scallops the place of pride at your dinner table? The delicate flavour of this succulent seafood is perfectly balanced by a buttery cauliflower puree. Served in their eye-catching shells, these beauties will add a wow factor to your menu!
A quality food processor or blender from Harvey Norman will make things much easier in the kitchen this entertaining season!
Prep and Cook time 30 mins
Makes 12
Ingredients
1 large slice (15g) very thinly sliced prosciutto
1 tablespoon olive oil
12 scallops on the half shell
Micro-cress, to serve
Puree
60 g butter, chopped
2 (50g) eschalots, chopped
2 cups (200g) chopped cauliflower
1/2 cup (125ml) milk
Pinch hickory wood chips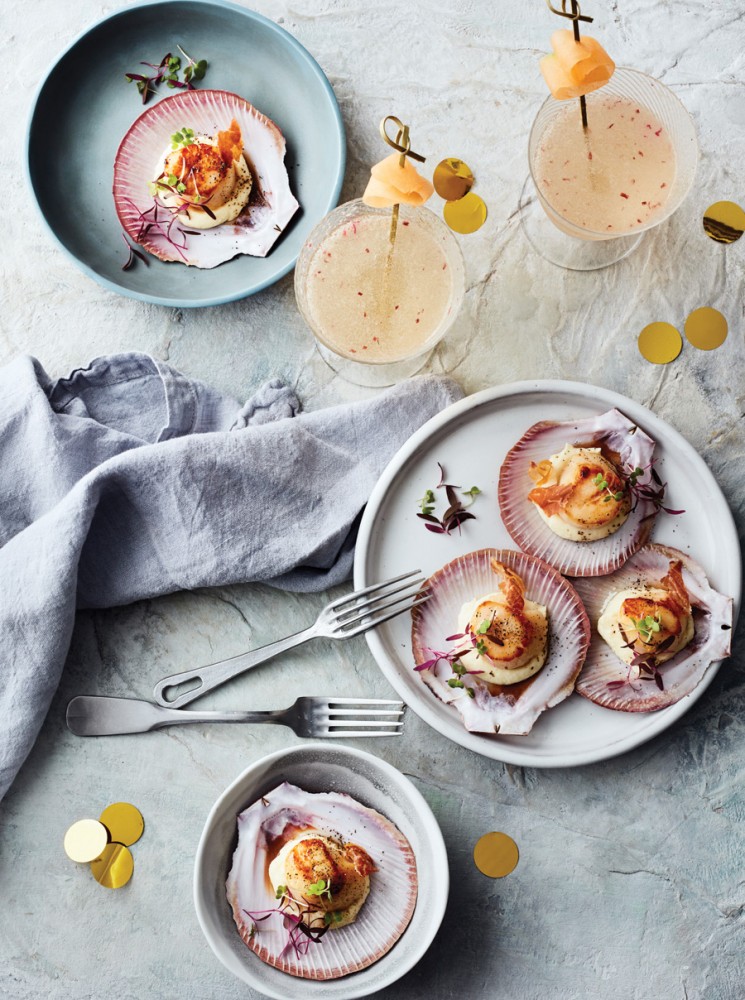 Method
1 SMOKED CAULIFLOWER PUREE: Heat butter in a small saucepan over medium heat. Cook eschalots, stirring occasionally, until soft. Add cauliflower and milk; simmer covered for 8 minutes or until tender. Drain cauliflower over a bowl. Process cauliflower until smooth, season to taste. Transfer puree to a microwave-safe bowl; cover with plastic wrap. Add hickory wood chips to the burn chamber of the smoking gun. Place hose under the plastic wrap with the opening sitting above the puree. Seal. Turn the smoking gun on to high speed and ignite wood chips with a match or gas lighter. Switch to low speed and smoke for a few seconds until the bowl is filled with a dense smoke. Remove hose and reseal plastic wrap. Stand 3 minutes; stir. Repeat smoking process.
2 Remove the scallops from 12 scallops on the half shell. Remove the roe, if desired. Rinse the shells in boiling water; pat dry.
3 Just before serving, preheat oven grill to high heat. Place prosciutto on a foil-lined oven tray. Grill prosciutto for 1-2 minutes until just starting to turn golden. Turn over and grill other side until golden and crisp.
4 Preheat a large frying pan over high heat until very hot. Pat scallops dry with paper towel. Season. Heat pan over high heat. Cook scallops for 30-60 seconds each side or until golden and opaque in the centre.
5 Reheat Smoked Cauliflower Puree until hot; spoon into shells. Top with scallops, prosciutto and cress. Pepper to serve. Not suitable to freeze. Butter suitable to microwave.
Test Kitchen Tip: You can prepare the recipe to the end of Step 2 a day in advance.