On the 6th day of Christmas my true love gave to me… blended herbs!
At Harvey Norman, we're celebrating the 12 Days of Christmas with 12 delicious recipes. On the menu today: Six Herb, Pea and Avocado Dip with Sliced Radish and Mixed Micro Herbs.
Makes 2 cups.
Prep 10 minutes.
Ingredients
1 cup parsley leaves.
1 cup mint leaves.
1 cup coriander leaves.
1 cup basil leaves.
½ cup dill leaves, plus extra, to serve.
¼ cup chopped chives.
¼ cup toasted pine nuts.
2 cups frozen peas.
1 avocado, peeled, chopped.
¼ cup lemon juice.
½ cup water.
Salt and pepper.
1 bunch breakfast baby radishes, thinly sliced .
Mixed micro herbs and toasted sourdough, to serve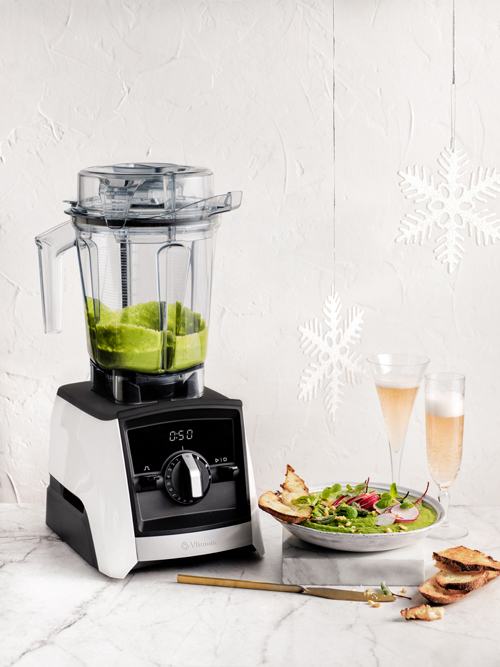 Method
▶ 1. Place parsley, mint, coriander, basil, dill, chives, half the pine nuts, peas, avocado, lemon juice, the water, salt and pepper in the container of a Vitamix A2500i Blender and secure lid.
▶ 2. Select Variable 1.
▶ 3. Turn machine on slowly, and gradually increase speed to Variable 7.
▶ 4. Blend for 45 seconds or until smooth, using the tamper to push the ingredients into the blades.
▶ 5. Place in a serving bowl and top with remaining chopped pine nuts, radish slices and extra dill.
▶ 6. Top with micro herbs and serve with sourdough.
12 Days of Christmas Recipes
Is your mouth-watering? Celebrate the festive season with our complete 12 Days of Christmas recipes:
▶ Day 1: Coconut and Raspberry Layer Cake
▶ Day 2: Caramel, Hazelnut and Praline Affogato
▶ Day 3: Sparkling Champagne Cocktail with a Grapefruit Twist
▶ Day 4: Mini Chocolate Orange Puddings with Gold Leaf Oranges
▶ Day 5: Five-Spice Maple-Glazed Ham
▶ Day 6: Six Herb, Pea and Avocado Dip with Sliced Radish and Mixed Micro Herbs
▶ Day 7: Lemongrass-Cured Salmon with Coriander Blinis and Lime Crème Fraiche 
▶ Day 8: Fig, Raspberry and Meringue Trifles
▶ Day 9: Sloe Gin Turkish Delight and Coconut Jellies
▶ Day 10: Parmesan and Potato Rösti Nests with Rare Roast Beef
▶ Day 11: Berry, Chocolate and Coconut Ice Cream Log
▶ Day 12: Sour Cherry and Brownie Truffles