Planning a barbecue? Treat everyone to the sweet and sticky goodness of smoked ribs with this flavour-packed recipe that perfectly balances the warmth of sugar and spice with the sharp tang of apple cider vinegar and pickled jalapeños.
Prep 10
Cooking 3.5 hours
Ingredients
1.5kg pork spare ribs, silver skin removed, trimmed
2tbs Worcestershire sauce
½ cup (125g) firmly packed dark muscovado sugar
1 ½ tbs each smoked paprika and ground cumin
1 beef stock cube, finely grated
1 cup (250ml) barbecue sauce
1/3 cup (80ml) runny honey
1/3 cup (80ml) finely chopped canned tomatoes
1tbs apple cider vinegar
½ cup pickled jalapeños, plus 1tbs pickling liquid
1 bunch coriander, leaves picked, plus extra small leaves to serve
2 green shallots, chopped
¼ cup extra virgin olive oil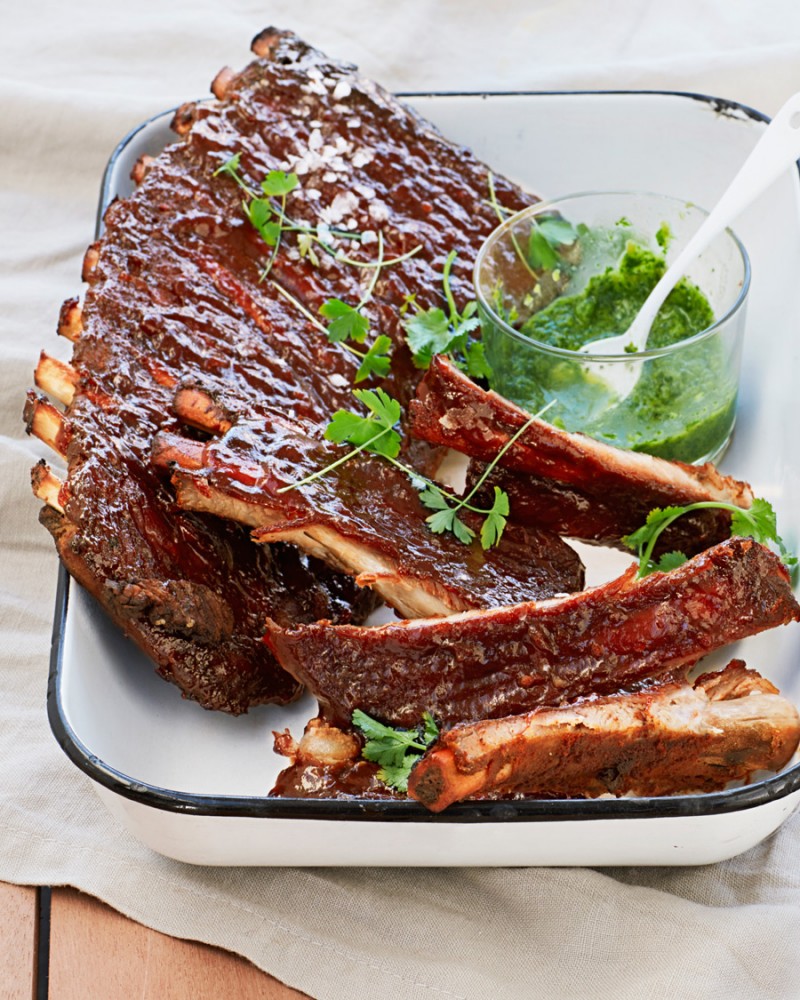 Method
1 If using a smoker, prepare smoker according to manufacturer's instructions, we used coals and a mixture or hickory and apple wood. Place a water bath (use a flameproof gastronome) on the end of the smoker closest to the coals. Close lid and bring temperature to 140C on the cooler side of the smoker (furthest away from the coals) this is where we will cook the ribs. Alternatively, preheat oven to 150C.
2 Place 2 large pieces of aluminium foil on a work surface, overlapping to create a bigger piece. (foil needs to be big enough to wrap the ribs completely)
3 Place ribs in the centre of the foil and brush with Worcestershire sauce. Combine sugar, spices, stock cube, and 2 teaspoons salt flakes in a bowl and use to coat ribs. Enclose with foil to create a parcel. Transfer to smoker or oven and cook, removing foil after 1 hour if using smoker, for 2 hours 30 minutes or until tender.
4 Meanwhile for the barbecue sauce, combine barbecue sauce, honey, tomatoes and vinegar in a saucepan and place over medium heat. Bring to a simmer and cook for 20 minutes or until reduced by half.
5 Once ribs are tender, remove foil and brush with barbeque sauce. Transfer to the hot side of the smoker, increasing heat with more hot coals if necessary, and cook for a further 30 -45 minutes, basting with sauce every 10 minutes, until ribs are sticky and caramelised. Alternatively, increase oven to 200 and cook, basting with sauce every 10 minutes, for 30 -45 minutes.
6 Transfer to serving tray and rest for 10 minutes.
7 Place jalapeños, coriander, shallots, oil and pickling liquid in a small food processor and whiz for 1 minute or until a green sauce forms.
8 Use kitchen scissors to cut ribs, scatter with coriander leaves and serve with jalapeño and coriander sauce alongside.
Tools of the Trade
Are you a serious foodie with a love for the distinctive aroma and taste of smoked food? Then you'll love smoking your own meat, fish and veggies with the top quality Oklahoma Joe Highland Reverse Flow Charcoal Smoker from Harvey Norman. It'll be your go-to cooking appliance all summer long.