The distinctive, woodsy flavour of smoked food is truly unique, and this smoked salmon platter is a great tear-and-share treat that will be a sure-fire hit at your next buffet-style get-together.
Serves 6
Prep 20 minutes
Cook 25 minutes
You'll need a smoking gun for this recipe.
 Ingredients
4 desiree potatoes
250g green beans, trimmed
3 baby cos lettuce hearts, halved lengthways
2 tablespoons extra virgin olive oil
4 x 200g boneless salmon fillets, skin on
Small woodchips or tea leaves of your choice
3 medium-boiled eggs, halved
1 cup pitted kalamata olives
400g tomato medley, halved
Mustard Dressing
1 1/2 tablespoons Dijon mustard
1/2 teaspoon caster sugar
1/2 cup extra virgin olive oil
1/4 cup white wine vinegar
1 tablespoon chopped fresh flat-leaf parsley
1 tablespoon chopped fresh dill
1 teaspoon finely grated lemon rind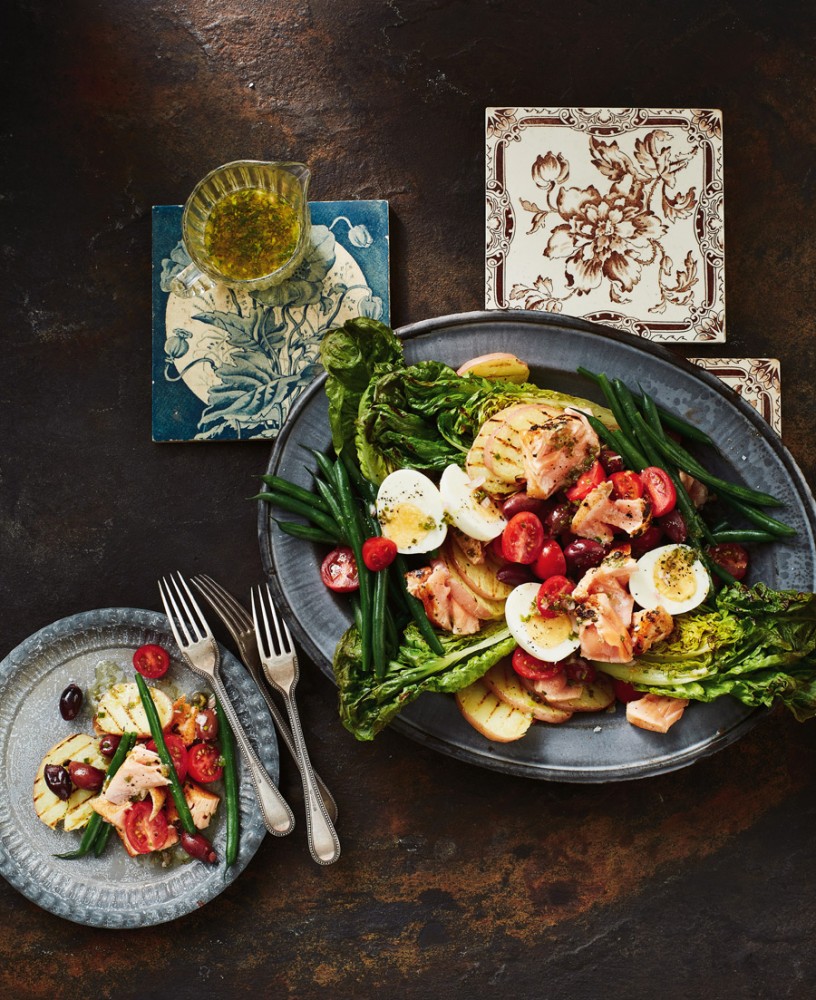 Method
1 Place potatoes in a large saucepan. Cover with cold water. Bring to the boil over high heat. Reduce heat to medium. Boil for 15 to 18 minutes or until potatoes are just tender. Drain. Set aside to cool for 10 minutes. Thickly slice.
2 Meanwhile make Mustard Dressing: Place mustard, sugar, oil, vinegar, parsley, dill and lemon rind in a screw-top jar. Season with salt and pepper. Secure lid. Shake well to combine.
3 Drizzle potatoes, beans and lettuce with half of the oil. Heat a barbecue grill or chargrill pan over medium-high heat. Cook vegetables, turning, for 3 to 4 minutes or until charred.
4 Meanwhile, heat remaining oil in a large frying pan. Cook salmon, skin-side down, for 3 minutes or until golden and crisp. Turn. Cook for a further 2 to 3 minutes, for medium, or until cooked to your liking. Turn salmon again, skin-side down. Remove pan from heat. Cover with a lid. Using a smoking gun, woodchips or tea leaves and following manufacturers instructions, smoke salmon for 1 to 3 minutes to allow flavour to infuse. Remove lid. Remove and discard skin from salmon. Flake flesh.
5 Arrange grilled vegetables, salmon, egg, olives and tomato on a serving platter. Drizzle with dressing. Serve.
Smokin' Hot
Smoke all your favourite foods right at home thanks to this little magician – Breville The Smoking Gun Food Smoker – from Harvey Norman.