Homemade pizza is such a fun thing to create. Everyone gets involved, including the kids – rolling out their own dough and choosing their own toppings might mean they'll finish their meal (for once!) before asking for dessert.
If you're looking for great pizza topping ideas and a good base, then this recipe is for you.
Serves 6 (Makes 2 pizzas)
Prep 30 minutes (plus 1 hour 15 minutes standing for dough)
Cook 25 minutes
Ingredients
7g sachet dried yeast
1 teaspoon caster sugar
1/2 teaspoon salt
2 1/3 cups plain flour, plus extra for dusting
1/3 cup olive oil
2 brown onions, halved, thinly sliced
1 tablespoon brown sugar
1 teaspoon fresh thyme leaves
1/2 cup smoky barbecue sauce
2 cups grated mozzarella
1 1/2 cups shredded cooked chicken
3/4 cup kalamata olives
350g packet tomato medley, halved
1 long red chilli, sliced
Baby rocket and lemon wedges, to serve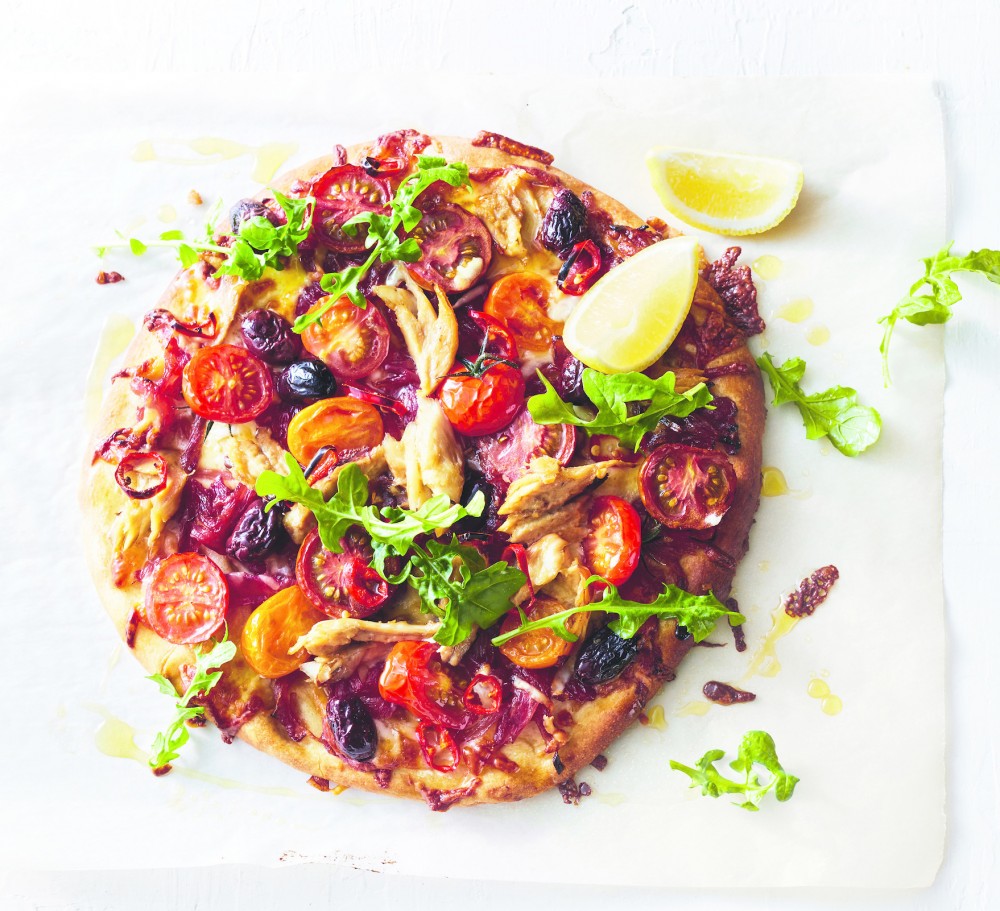 Method
1 Combine yeast, sugar and salt in a bowl. Add 3/4 cup warm water. Mix well. Cover. Set aside in a warm place for 10 to 15 minutes or until foamy.
2 Place flour in a large bowl. Add 1/4 cup oil, stirring to combine. Make a well. Add yeast mixture. Mix well to form a dough. Turn onto a well-floured surface. Knead for 8 minutes or until dough is smooth and elastic, adding extra flour if needed. Transfer to a lightly oiled bowl. Cover with lightly oiled plastic wrap. Set aside in a warm place for 1 hour or until doubled in size.
3 Meanwhile, heat remaining oil in a large frying pan over medium heat. Cook onion, stirring occasionally, for 15 minutes or until softened. Add sugar and thyme. Cook, stirring, for 3 to 5 minutes or until onion is caramelised. Remove from heat.
4 Using your fist, punch centre of dough. Turn onto a lightly floured surface. Knead for 30 seconds or until smooth. Divide dough in half. Roll out each portion to form a 30cm round pizza base.
5 Preheat pizza oven. Spread pizza bases evenly with barbecue sauce. Top with onion, cheese, chicken, olives, tomato and chilli. Cook in pizza oven, following manufacturers instructions, for 2 to 3 minutes or until golden and crisp. Serve pizzas with baby rocket and lemon wedges.
Tools of the Trade
If you love the outdoors, hosting relaxed get-togethers  and are gearing up for the upcoming entertaining season over spring and summer, then you'll love a woodfire pizza oven from Harvey Norman. It's a great investment for anyone who loves to entertain and is serious about their pizza-making!