Looking for a healthy option that still packs a flavour punch for your Christmas menu? Then you'll love this sensational snapper, mango and zoodle salad, which is a celebration of our fresh summer flavours!
Prep and Cook time 30 mins
Serves 4
Ingredients
4 x 600g whole snapper, cleaned,trimmed
2 tablespoons Thai red curry paste
4 kaffir lime leaves, finely chopped
Crispy shallots to serve
Green Mango And Zoodle Salad
1 medium (350g) green mango, peeled
1/2 small (50g) red onion, sliced into thin wedges
1 large fresh red chilli, seeded, finely sliced
1/4 cup fresh coriander and mint leaves, torn
1 tablespoon lime juice
1-2 tablespoons Vietnamese dipping sauce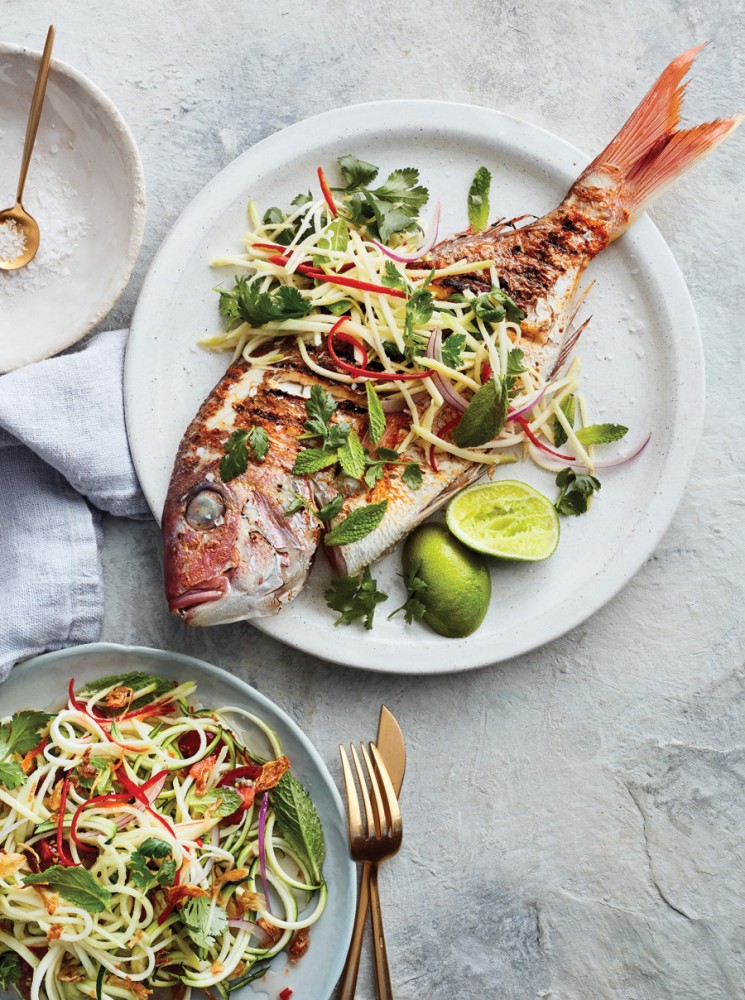 Method
1 Cut cheeks and sides from mango, trim ends to fit into food processor feed tube. Using julienne attachment in food processor, cut mango into long thin strips.
2 Using a Spiralizer attachment on a Kenwood stand mixer, spiralize zucchini into a bowl to make zoodles.
3 Transfer mango, zucchini, tomatoes, onion, chilli and herbs to a bowl. Combine dipping sauce and lime juice in a separate bowl. Divide salad between plates, drizzle with dressing and scatter with fried shallots.
4 Rinse the fish; pat dry with paper towel. Cut three diagonal slashes in the fish on both sides. Combine paste and chopped kaffir lime leaves in a small bowl; rub all over fish, drizzle with oil.
5 Heat a barbecue or chargrill plate over a high heat. Add fish to lightly oiled plate. If using a chargrill plate, cover loosely with foil; cook for 4 minutes each side or until almost cooked through. Transfer to a platter; cover loosely with foil. Stand for 5 minutes to finish cooking. Serve fish with Green Mango and Zoodle Salad. Not suitable to freeze or microwave.
Test Kitchen Tip: If using a barbecue, wrap the fish tail with greased foil to prevent it burning. Recipe can be prepared to the end of Step 3 up to 3 hours ahead. Keep refrigerated.