On the 12th day of Christmas my true love gave to me… tempting truffles!
At Harvey Norman, we're celebrating the 12 Days of Christmas with 12 delicious recipes. On the menu today: Sour Cherry and Brownie Truffles.
Makes 12.
Prep 15 minutes (including chilling).
Ingredients
⅓ cup (90g) sour cherries.
⅓ cup (60g) hazelnuts, toasted.
200g store-bought brownie, chopped.
1 tablespoon brandy (or other alcohol).
200g dark chocolate, melted.
1 tablespoon vegetable oil.
Decorations
Crushed freeze-dried raspberries.
Crushed candy canes.
Black salt flakes.
Chopped slivered pistachios.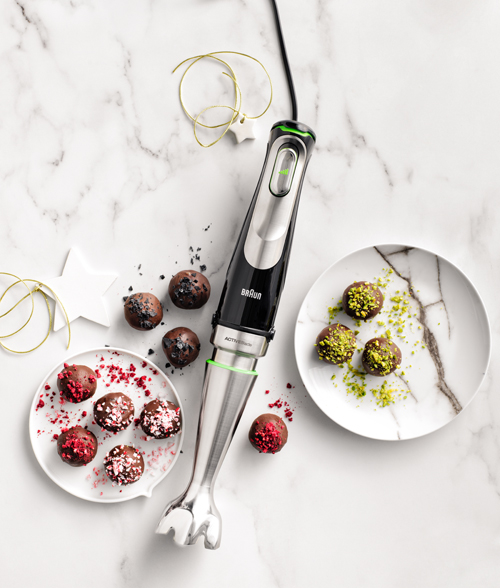 Method
▶ 1. Place cherries and hazelnuts in the Braun Hand Blender 1.5-litre Food Processor Attachment and chop. Add chopped brownie and brandy and process until combined.
▶ 2. Divide into 12 and roll into balls. Refrigerate for 10 minutes.
▶ 3. Place chocolate and oil in a small bowl and mix well to combine.
▶ 4. Dip each truffle into the chocolate, letting any excess drip off. Place on a sheet of baking paper. Sprinkle the truffles with freeze-dried raspberries, crushed candy canes, black salt flakes and slivered pistachios.
Cook's note:
Truffles will keep refrigerated for up to 1 week.
12 Days of Christmas Recipes
Is your mouth-watering? Celebrate the festive season with our complete 12 Days of Christmas recipes:
▶ Day 1: Coconut and Raspberry Layer Cake
▶ Day 2: Caramel, Hazelnut and Praline Affogato
▶ Day 3: Sparkling Champagne Cocktail with a Grapefruit Twist
▶ Day 4: Mini Chocolate Orange Puddings with Gold Leaf Oranges
▶ Day 5: Five-Spice Maple-Glazed Ham
▶ Day 6: Six Herb, Pea and Avocado Dip with Sliced Radish and Mixed Micro Herbs
▶ Day 7: Lemongrass-Cured Salmon with Coriander Blinis and Lime Crème Fraiche 
▶ Day 8: Fig, Raspberry and Meringue Trifles
▶ Day 9: Sloe Gin Turkish Delight and Coconut Jellies
▶ Day 10: Parmesan and Potato Rösti Nests with Rare Roast Beef
▶ Day 11: Berry, Chocolate and Coconut Ice Cream Log
▶ Day 12: Sour Cherry and Brownie Truffles