This crispy-skinned salmon served on a bed of Indian-inspired lentil and potato smash with a side of slow-roasted grape tomatoes is the perfect way to warm up on chilly autumn days.
Give sous vide style of cooking a go with Harvey Norman:

Serves 4
 Ingredients
4 salmon fillets, skin on
200g grape tomatoes, halved
1 tablespoon brown sugar
1 teaspoon white wine vinegar
2 tablespoons extra virgin olive oil
40g butter
1 brown onion, finely chopped
1 garlic clove, crushed
1 teaspoon yellow mustard seeds
2 teaspoons ground cumin
1 teaspoon ground coriander
400g Sebago potato, peeled, chopped
1 small head broccoli, roughly chopped
400g can lentils, drained, rinsed
1/4 cup pure cream
Micro herbs, to serve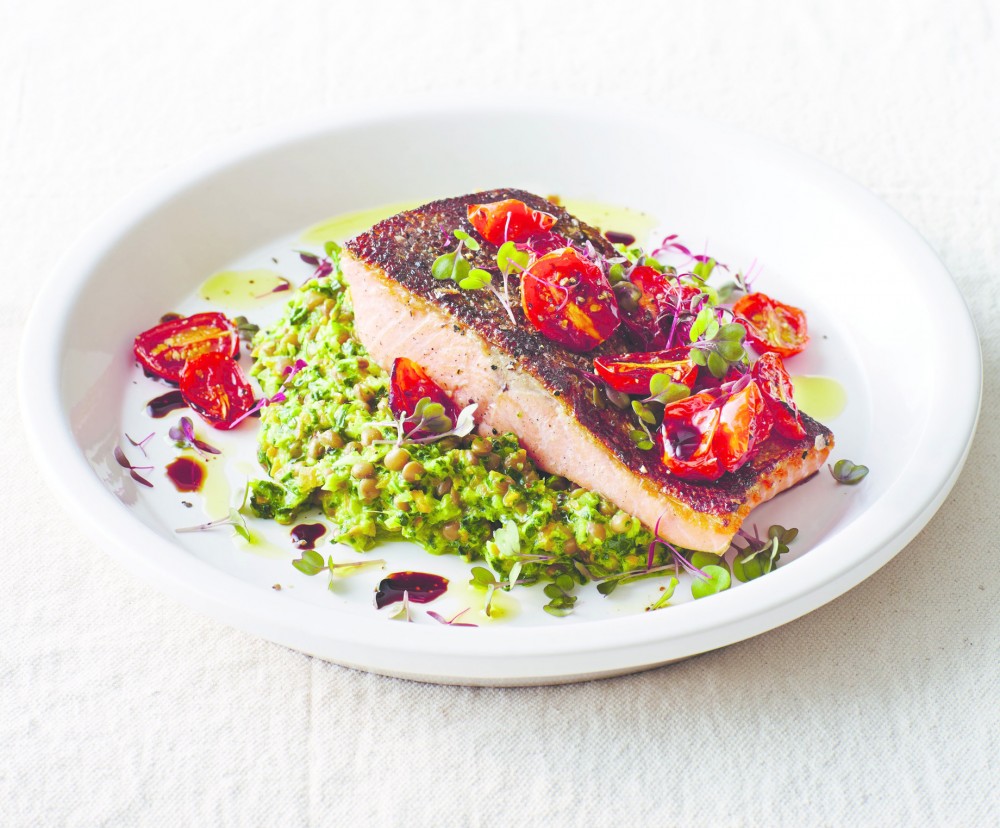 Method
1 Place salmon, in a single layer, in sous vide pouches and vacuum seal. Cook salmon in sous vide machine following manufactures instructions.
2 Meanwhile, preheat oven to 220°C/200°C fan-forced. Line a baking tray with baking paper. Place tomatoes, cut side up, on tray. Sprinkle with brown sugar and drizzle with vinegar and half the oil. Roast to 12 minutes or until softened and sugar is beginning to caramelise.
3 Melt butter in a small frying pan over medium-high heat. Add onion. Cook for 5 minutes or until softened. Add garlic, mustard seeds and spices. Cook for 1 minute or until fragrant. Remove from heat. Place potato in a large saucepan. Cover with cold water. Bring to the boil over high heat. Cook for 12 minutes. Add broccoli. Cook for a further 5 to 6 minutes or until tender. Drain. Return to pan over low heat. Add spice mixture. Mash until well combined. Add lentils and cream. Beat with a wooden spoon until combined.
4 Remove salmon from pouches. Pat skin dry. Season well with salt and pepper. Heat remaining oil in a large frying pan over medium-high heat. Cook salmon, skin-side down, until skin is golden and crisp. Turn. Cook for a further 1 minute.
5 Spoon lentil smash onto serving plates. Top with salmon, skin side up. Spoon over tomatoes with any caramelised juices. Sprinkle with micro herbs. Serve.