If you've got a craving for meatballs, then this Spaghetti Meatballs with Basil & Ricotta recipe will more than satisfy. In fact, the whole family is going to want to dig in, because it tastes as amazing as it looks!
Ingredients
• 500g pork and fennel sausages, casings removed, filling crumbled
• 300g veal mince
• 60g panko crumbs
• 50g finely grated parmesan, plus extra to serve
• 2 garlic cloves, crushed
• ½ tsp chilli flakes, or to taste
• 1 ½ tbs each finely chopped sage and rosemary
• 1 egg, beaten
• 150g firm ricotta
• 2 tbs olive oil
• 6 sprigs basil, plus extra to serve
• 2 tsp aged red wine vinegar
• 400g spaghetti
Tomato-thyme Sugo Ingredients
• 1 red onion, coarsely chopped
• 2 garlic cloves, crushed
• 700g tomato passata
• 125ml ( ½ cup) red wine
• 1 tbs finely chopped thyme
Method
1. For tomato-thyme sugo, combine ingredients in a blender; season and blend until smooth. Set aside.
2. For meatballs, combine sausage mince, veal mince, panko, garlic, chilli, herbs and egg in a large bowl and combine well. Stir through ricotta and season . Using damp hands, roll into golfball-sized balls and place on a tray.
3. Meanwhile, bring a large saucepan of salted water to the boil for the pasta.
4. Set cooker to sauté function. Heat half the oil in cooker. Cook half the meatballs, for 5 mins, turning occasionally, until golden all over. Remove with a slotted spoon. Repeat with remaining oil and meatballs. Return all the meatballs to cooker, add sugo and basil. Cover and cook on high pressure for 5 mins.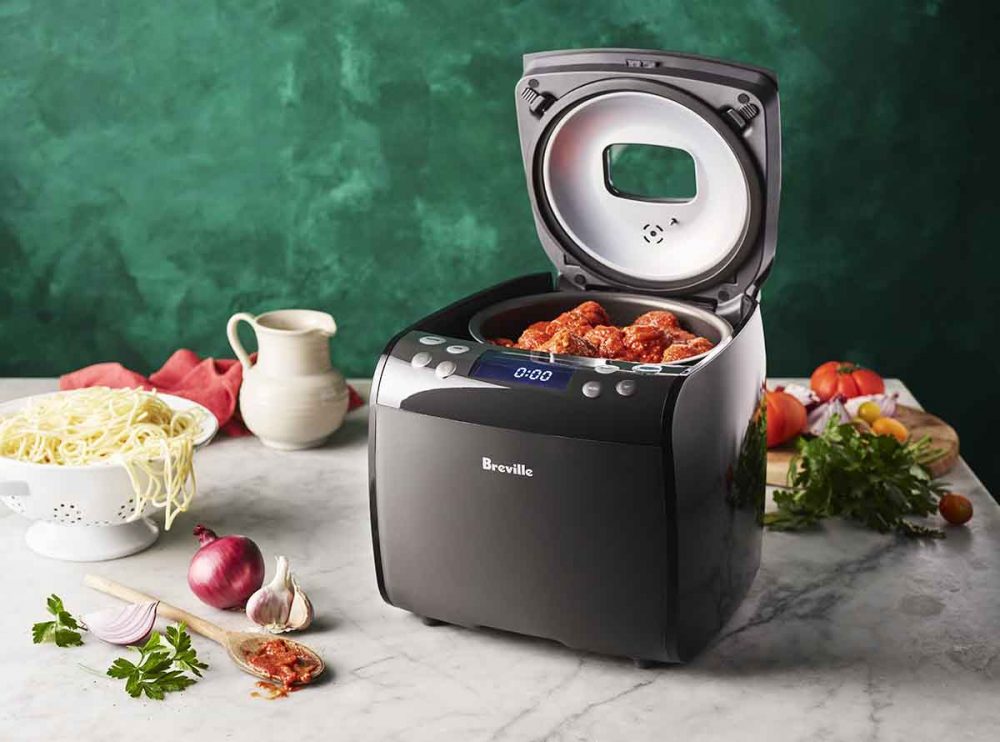 5. Cook spaghetti in pan of boiling water for 8 mins or until al dente.
6. Manually release the pressure from cooker then remove the cover. Discard basil, stir through vinegar and check seasoning, adjusting if necessary. Add spaghetti to cooker and toss to combine. Divide spaghetti and meatballs among bowls, scatter with finely grated parmesan and top with basil.
More Italian Entertaining Recipe Ideas
• Minestrone with Pancetta, Zucchini Flowers and Baby Kale
• Mushroom, Roasted Garlic and Mascarpone Pizza with Cauliflower Base