Think outside the box this Mother's Day and instead of giving mum a bunch of flowers, why not arrange a gorgeous bouquet of native blooms on top of a homemade cake? Currently trending on social media, naked cakes decorated with breathtaking florals is all the rage and this recipe makes it easy to replicate the effect at home.
This delicate and fluffy sponge cake is filled with layers of luscious Swiss meringue buttercream – a less sugary version of normal buttercream – this frosting is light from the addition of gently heated egg whites, while still maintaining a richness from the inclusion of pure butter. Mmm…yum!
Serves 25
Prep 2 hours
Cook 1 hour 10 minutes (plus cooling time)
You'll need floral tape for this recipe.
Ingredients
4 1/2 cups plain cake flour
3 teaspoons bicarbonate of soda
375g butter, at room temperature
3 cups caster sugar
1 1/2 teaspoons vanilla extract
9 egg whites
750ml bottle sparkling rosé
Pink food colouring gel
Native flowers, to decorate
Swiss Meringue Buttercream
250g butter
3/4 cup caster sugar
4 egg whites
1/2 teaspoon vanilla extract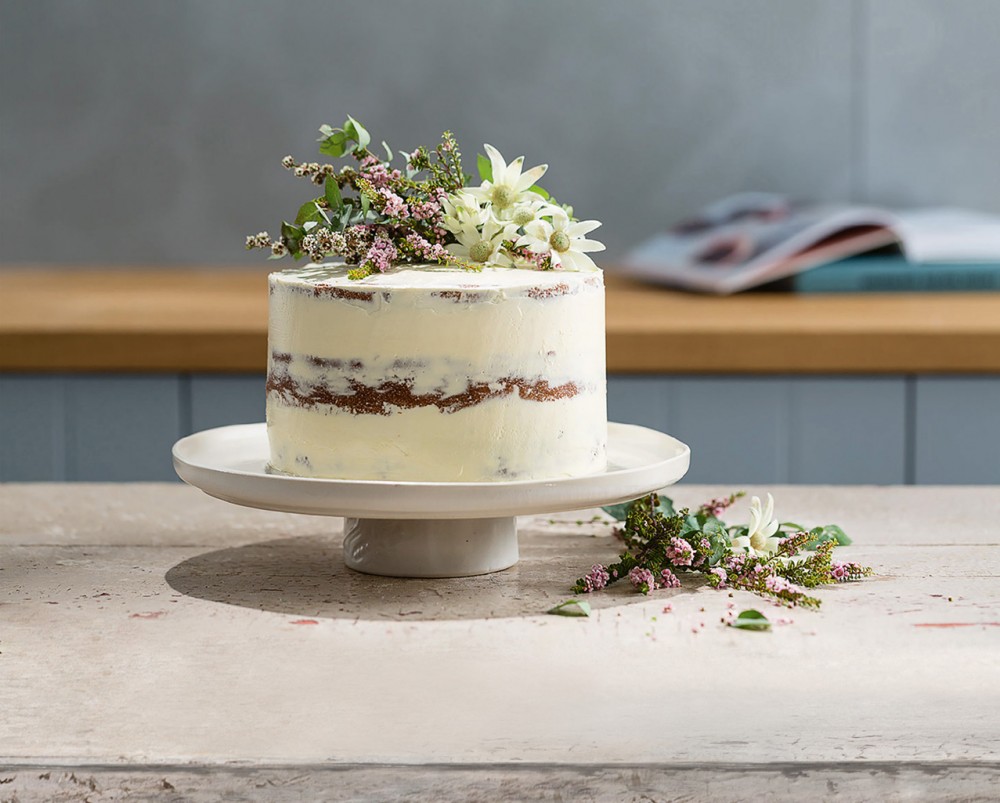 Method
1 Preheat oven to 180°C/160°C fan-forced. Grease three 6cm-deep, 20cm round (base) cake pans. Line base and sides with baking paper.
2 Sift the flour and bicarbonate of soda into a large bowl. Using an electric mixer, beat butter, sugar and vanilla in a separate bowl until very pale and creamy. Reduce speed to medium. Add egg whites, 1 at a time, beating well after each addition.
3 Add flour mixture and the sparkling rosé alternately in 3 batches, beating well after each addition and scraping down the side of the bowl as necessary. Tint pale pink with food colouring.
4 Divide mixture evenly among prepared cake pans. Smooth surface. Bake for 1 hour or until a skewer inserted into the centre of each cake comes out clean. Stand cakes in pans for 10 minutes. Turn onto wire racks to cool completely.
5 Make Swiss Meringue Buttercream Cut butter into cubes. Whisk sugar and egg whites together in a heatproof bowl until combined. Place over a saucepan of simmering water. Whisk continuously for about 8 minutes until the mixture reaches 70°C on a candy thermometer or is hot to the touch. Transfer mixture to a clean bowl of an electric mixer. Beat for 10 minutes or until mixture has cooled and is almost at room temperature. Reduce speed to medium. Gradually add butter, 1 cube at a time, beating well after each addition until the mixture is smooth and creamy (see notes). Beat in vanilla.
6 Using a serrated knife, level tops of cakes. Place one cake, cut-side up on a cake stand. Spread with 3/4 cup buttercream. Top with a second cake, cut-side up. Spread with 3/4 cup buttercream. Top with remaining cake, cut-side down. Using a palette knife, spread remaining buttercream over the top and side of cake. Using the edge of the palette knife (see notes), scrape off some of the buttercream to create a 'naked' effect.
7 Wrap stems of flowers and foliage with florist tape to cover. Arrange on top of cake. Serve.
Cook's Notes
Do not rush making the Swiss meringue buttercream. The butter must be added very slowly, at least to begin with. If the butter or the meringue mixture happens to be too warm, you may find that the mixture "collapses" and becomes liquid looking once you start adding the butter. If this happens, place the bowl in the fridge for 20 minutes to chill then continue.
You could also use a cake scraper or plastic ruler to create a smooth edge.
Buttercream can be made 1 week ahead. Store in an airtight container in the fridge. Soften at room temperature before using.
Cake can be assembled and iced a day ahead and stored in the refrigerator. Remove 30 minutes before decorating with flowers and serving.
Tools of the Trade
These hardworking stand mixers from Harvey Norman will help you easily create your dessert masterpiece for mum on May 14th – and why not get one for mum too?

From left: