Nothing beats sitting down with the family and tucking into a wonderful spiced-rubbed pot roast chicken – especially when it's delightful as this!
Serves 4
Prep 20 minutes
Cook 2 hours 30 minutes
Ingredients
1 tablespoon extra virgin oil
2kg whole chicken
1 lemon, cut into wedges
4 garlic cloves, sliced
2 fresh bay leaves
8 fresh thyme sprigs
2 cup chicken stock
4 small red onion, thickly sliced
200g green beans, trimmed, halved
Mashed potato, to serve (optional)
Cinnamon spice rub
2 teaspoons ground cinnamon
1 teaspoons salt
1 teaspoon cracked pepper
2 garlic cloves, crushed
1 teaspoon finely grated lemon rind
2 tablespoons lemon juice
2 tablespoons extra virgin oil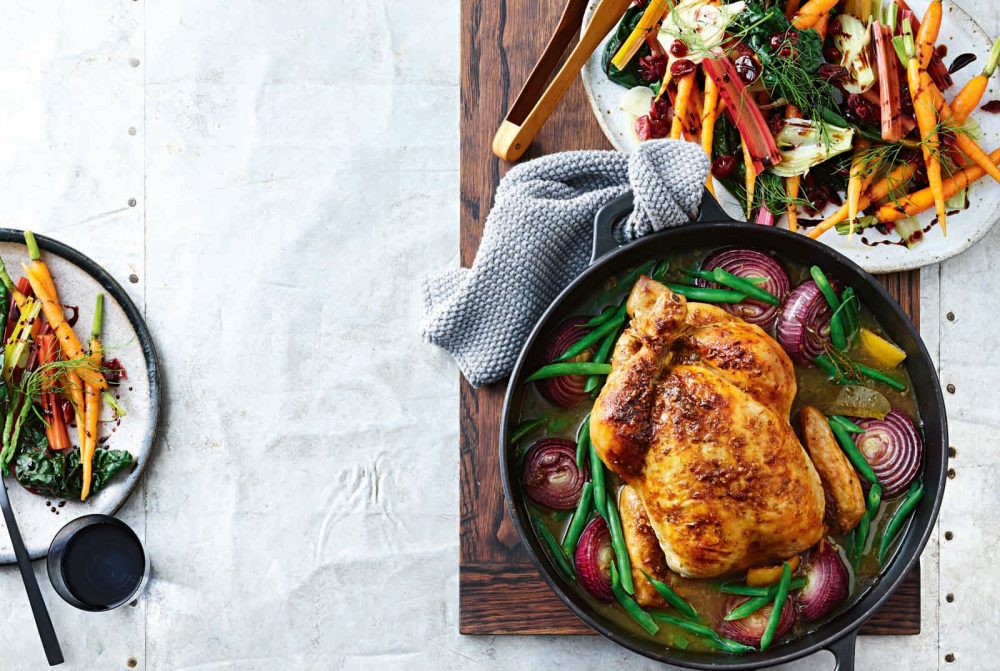 Method
1) Preheat oven to 220°C/200°C fan-forced.
2) Make Cinnamon Spice Rub Combine cinnamon, salt, pepper, garlic, lemon rind, juice and oil in a small bowl.
3) Drizzle oil over the base of a large heavy-based roasting dish. Pat chicken dry with paper towel, including cavity. Place chicken in dish. Fill cavity with half the lemon. Tie up legs with kitchen string. Tuck wings under chicken. Place remaining lemon around chicken. Add garlic, bay leaves and thyme. Spoon spice mixture over chicken. Rub to coat. Add stock to dish. Roast for 20 minutes.
4) Reduce oven temperature to 160C/140C fan-forced. Bake for 1 hour, spooning pan juices over chicken halfway through. Add red onion to dish. Bake for a further 1 hour, spooning over pan juices halfway through, or until juices run clear when thickest part of chicken is pierced with a skewer.
5) Add beans. Bake for a further 10 minutes or until bright green and tender. Stand for 10 minutes. Serve chicken with vegetables, pan juices, lemon wedges and mashed potato if desired.
Tools of the Trade
With the weather getting cooler, you probably can't wait to get stuck into a tender, juicy chicken. For exceptional results, look to the Omega 600mm Multi-Function Electric Oven, available now at Harvey Norman.