Getting ready for those magical summer barbecues? Make sure to give this wonderful Spicy Soy Lamb Skewers with Nashi Pear Salsa recipe a try!
Serves 8
Prep 30 minutes (plus 2 hours refrigeration)
Cook 10 minutes
Spicy Soy Lamb Skewer Ingredients
• 2 tablespoons soy sauce
• 1 1/2 tablespoons chilli sauce
• 1 tablespoon brown sugar
• 2 garlic cloves, crushed
• 1 teaspoon sesame oil
• 1.5kg lamb leg steaks, trimmed, cut into 4cm pieces
• Lemon wedges, to serve
Nashi Pear Salsa Ingredients
• 1 large nashi pear, cored, diced
• 1 eschalot, finely chopped
• 1 long red chilli, thinly sliced
• 1 tablespoon chopped garlic chives
• 2 tablespoons rice wine vinegar
• 1 tablespoon vegetable oil
• 1/2 teaspoon wholegrain mustard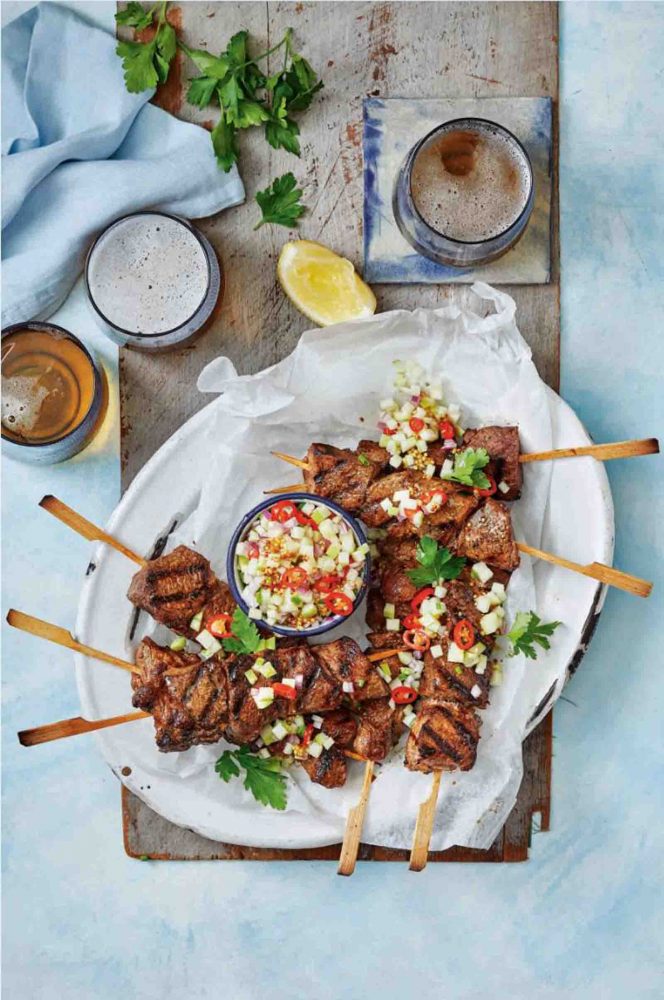 Method
1) Combine soy sauce, chilli sauce, sugar, garlic and sesame oil in a glass or ceramic dish. Add lamb. Stir to coat. Cover. Refrigerate for 2 hours, if time permits.
2) Thread lamb onto skewers. Heat a barbecue grill on medium-high heat. Cook skewers for 4 minutes each side for medium, or until cooked to your liking. Transfer to a large plate. Cover loosely with foil. Set aside for 5 minutes to rest.
3) Meanwhile combine pear, eschalot, chilli, garlic chives, vinegar, oil and mustard in a bowl. Season with salt and pepper.
4) Serve skewers with salsa and lemon wedges.
Tools of the Trade

This Spicy Soy Lamb Skewers with Nashi Pear Salsa recipe is perfect if you're outdoor entertaining this summer. The only thing better would be cooking it on an Outdoor Kitchen – the ultimate outdoor entertaining tool! With included BBQ, beverage cooler, bench space and storage, Outdoor Kitchens, such as the premium Masport 'Ambassador V2' 3-Piece Outdoor Kitchen, mean you'll have everything you need available in your own backyard.
To learn more about Outdoor Kitchens, check out our recent look at 3 of the Best Outdoor Kitchens for Summer Entertaining, or our earlier blog showing you The Easy Way To Design Your Own Outdoor Kitchen.