This showstopping dessert – a tempting trifle – is easy to assemble, offers layers of loveliness, a sweet melody of flavours and melt-in-your-mouth textures. Your Christmas guests will feel super-spoilt being served a generous helping of this decadent concoction that's full of cream, custard, chocolate cake and punnets of strawberries.
Serves: 12
Prep time: 30 minutes (plus overnight refrigeration)
Cook time: 30 minutes
Ingredients
• 2x 85g packet strawberry jelly crystals
• 380g double unfilled chocolate sponge cake
• 500g tub thick vanilla bean custard
• 1/2 of a 500g tub double thick chocolate custard
• 250g strawberries, hulled, sliced crossways
• 300ml thickened cream, whipped
Strawberry and Vanilla Bean Syrup
• 250g strawberries, hulled, roughly chopped
• 1/2 cup caster sugar
• 1 vanilla bean, split, seeds removed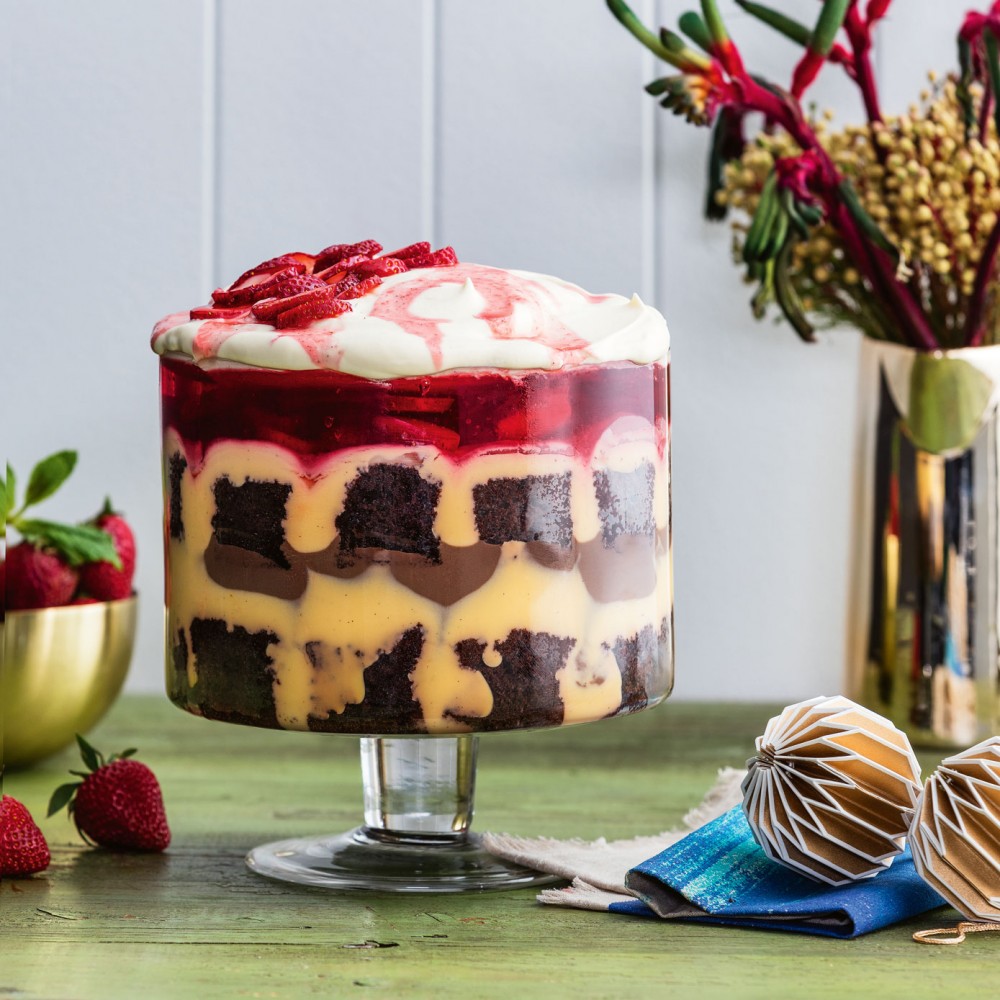 1. Make Strawberry and Vanilla Bean Syrup: Place roughly chopped strawberries, sugar, vanilla bean seeds and 1 cup water in a medium saucepan over medium heat. Stir for 3 to 4 minutes or until sugar has dissolved. Bring to the boil. Reduce heat to low. Simmer for 20 minutes or until slightly thickened. Stand for 5 minutes to cool slightly. Strain through a fine sieve. Discard solids. Set syrup aside to cool completely.
2. Make jelly in a large jug, following packet directions. Refrigerate for 2 hours or until jelly is just beginning to set (mixture should have a thick, syrup consistency).
3. Meanwhile, cut cake into cubes. Place half the cake cubes in the base of a 12-cup-capacity serving dish. Drizzle with 2 tablespoons strawberry syrup. Top with half the vanilla custard, spreading to level. Dollop with chocolate custard. Arrange remaining cake cubes over chocolate custard. Drizzle with 2 tablespoons strawberry syrup. Top with remaining vanilla custard. Cover and refrigerate until jelly is ready.
4. Stir half the sliced strawberries through the jelly. Spoon jelly over the custard. Cover. Refrigerate overnight, or until firm.
5. Dollop whipped cream on trifle. Top with remaining sliced strawberries and syrup. Serve immediately.
Tools of the Trade
Whip your cream, bake your own sponge cake or attempt a home-made custard with help from the right kitchen appliance from Harvey Norman.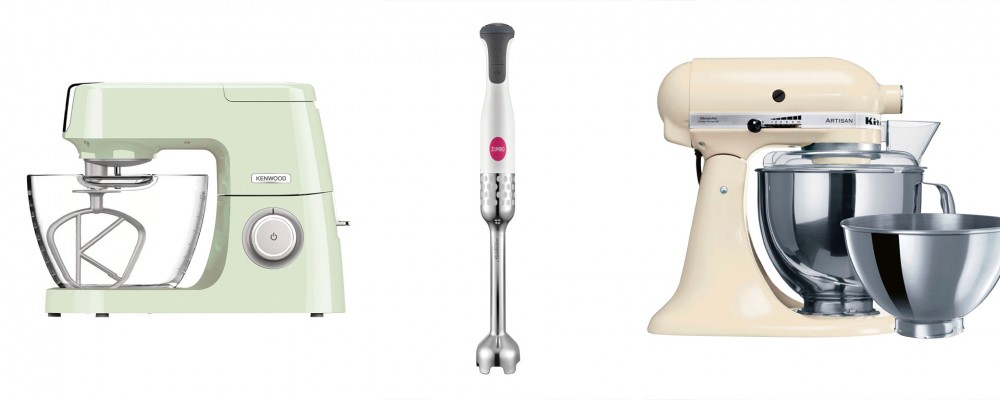 Appliances from left:
Kenwood 'Chef Sense' Kitchen Machine
Sunbeam Zumbo Limited Edition Stickmaster