Nothing beats homemade ice-cream. We repeat, nothing!
And that's why it's our absolute pleasure to share with you this amazing Strawberry and Vanilla Bean Ice-cream recipe – just in time for the Christmas entertaining season.
Serves 12
Prep 40 minutes (plus overnight refrigeration)
Cook 20 minutes
Strawberry and Vanilla Bean Ice-cream Recipe Ingredients
• 1 1/4 cups milk
• 900mL thickened cream
• 8 egg yolks
• 1 1/4 cups caster sugar
• 2 teaspoons vanilla beans paste
• A pinch of salt
• 350g strawberries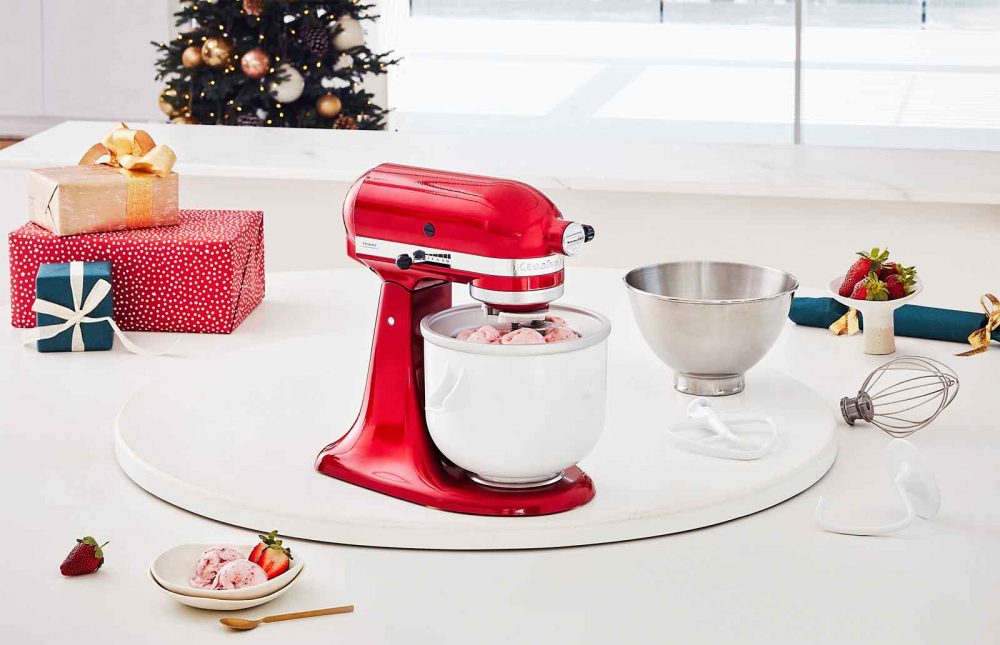 Method
1) Place milk and 300mL cream in a saucepan over medium heat. Heat, stirring occasionally, for 5 to 10 minutes until hot but not boiling. Remove from heat.
2) Place egg yolks and 1 cup sugar in KitchenAid Artisan Stand Mixer bowl. Attach bowl and wire whip to the KitchenAid Artisan Stand Mixer. Turn to Speed 2. Mix for 30 seconds or until well blended and slightly thickened. Continue on Speed 2, and gradually add the cream mixture, mix until blended.
3) Return cream mixture to saucepan. Place over medium heat. Heat, stirring constantly, until small bubbles form around edge of pan and mixture is steaming (do not boil). Transfer cream mixture to a large bowl. Stir in vanilla, salt and remaining cream. Cover. Refrigerate overnight.
4) Meanwhile, hull and chop 200g strawberries. Place chopped strawberries in a bowl with remaining sugar. Set aside, stirring occasionally, for 4 hours to soften. Transfer to a small food processor. Process until almost smooth.
5) Transfer chilled cream mixture to a large jug. Assemble and engage freeze bowl, dasher, and drive assembly as directed in attachment instructions. Turn to STIR Speed (Speed 1). Pour cream mixture into freeze bowl. Continue on STIR (Speed 1) for 15 to 20 minutes or until desired consistency, adding strawberry mixture in the last 1 to 2 minutes. Immediately scoop ice-cream into serving dishes and serve with remaining strawberries or transfer to an airtight container and freeze until required
More Christmas Recipe Ideas
• Americano Rosso Cocktail Recipe
• Passionfruit Kombucha Soda Recipe