Planning a Christmas feast? A sprinkle of sugar and spice will make everything nice and the classic orange and caramel combination of this gorgeous cake will please the fussiest of eaters!
Prep and Cook time 2 hrs (plus cooling)
Serves 24
Ingredients
12 eggs, at room temperature
160 g each brown and caster sugar
300 g (1 cup) plain flour, double sifted
2 tablespoons ground ginger
2 teaspoons ground cinnamon
2 teaspoons ground cardamom
1 teaspoon grated nutmeg
1/4 teaspoon baking powder
150 g butter, melted and cooled
1 (380g) jar caramel (Bonne Maman), blended in a Vitamix until smooth
220 g (1 cup) caster sugar and edible gold leaf for decorating
Orange Liqueur Cream
600 ml thickened cream
300 ml sour cream
2 tablespoons orange liqueur or brandy, optional
1 tablespoon icing sugar
2 teaspoons vanilla bean paste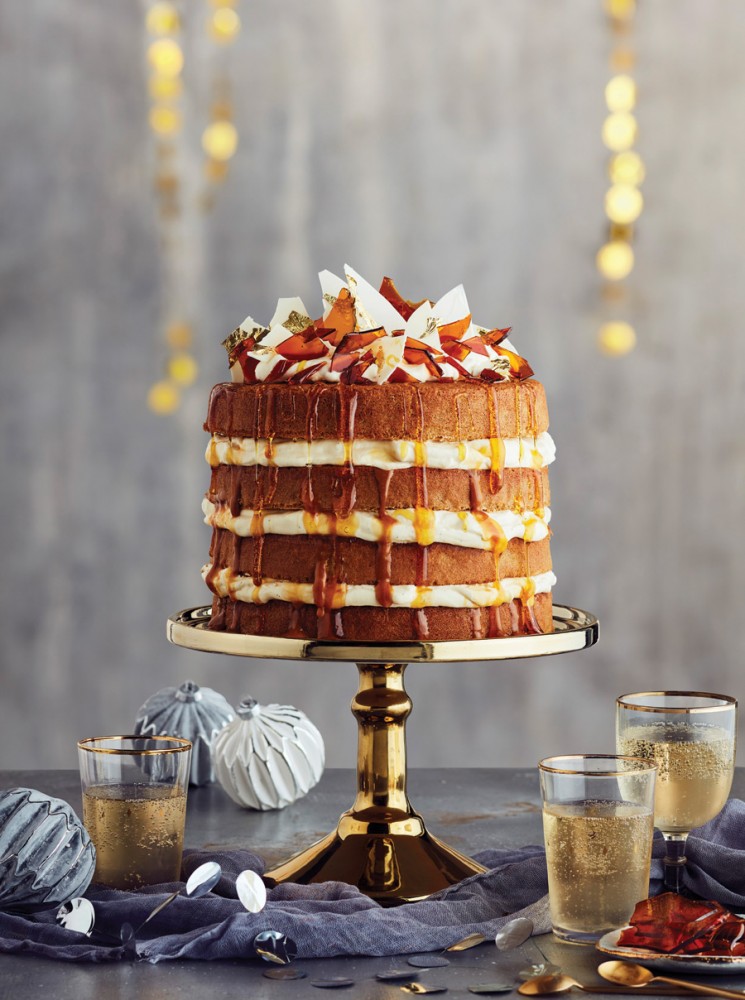 Method
1 Preheat oven to 180C (160C fan-forced). Grease and line two 20cm round cake pans.
2 Make cakes in two batches, two cakes at a time. Whisk half the eggs and half the sugars in the bowl of an electric mixer until mixture is tripled in volume and holds a trail (10-12 minutes). Transfer to a large bowl, sift over half the flour, half spice and half baking powder in two batches, gently fold to combine, then fold in half the butter. Divide among lined cake tins and bake until cakes are dark golden and centres spring back when gently pressed (20-25 minutes). Cool slightly in tins for 5 minutes, then turn out top down and cool completely on a baking paper lined wire rack. Repeat with clean lined tins and remaining ingredients.
3 Orange Liqueur Cream: Beat all ingredients with an electric mixer until medium peaks form.
4 Place one layer on a serving platter. Spread with 1 cup of the cream mixture, drizzle with 2 tbsp caramel. Repeat layers, ending with cake and cream mixture.
5 Make toffee shards with 220g caster sugar and 60ml water, boiled, stirred over high heat until  dissolved, cooled on oven tray and broken to pieces. Decorate with shards and gold leaf. Complement with white chocolate shards if desired. Cake suitable to freeze. Not suitable to microwave.
Tools of the Trade
This Kitchenaid mixer  from Harvey Norman is a must-have for all serious home bakers who need a handy helper that won't let them down this Christmas!