To celebrate the festive season, award-winning pastry chef Lauren Eldridge has created a series of special Christmas desserts to wow family and guests. On today's menu: Summer Berries Trifle.
Serves 12-14
Prep time 1 hour
Cook 1 hour + setting time for jelly
You will need a 16-cup (4 litre) trifle dish for this recipe. You will also need a cake tin to match the diameter of the base of your trifle dish.
Berry Jelly Ingredients

400gm caster sugar

840ml water

400gm raspberries

375gm blueberries

6 titanium-strength gelatine leaves (30gm)
Lemon Cake Ingredients
205gm plain flour
300gm caster sugar
1 ½tsp baking powder
¾tsp salt
1 ½tsp vanilla paste
2tsp lemon juice
Zest of 3 lemons
5 large eggs, at room temperature
270gm unsalted butter, melted
Lemon Syrup Ingredients
¼ cup fresh lemon juice
¼ cup caster sugar
¼ cup water
White Chocolate Cream Ingredients
300gm white chocolate, chopped
1120ml thickened cream
1tsp vanilla paste
¾tsp fine salt
Meringue Kisses Ingredients

2 egg whites
200gm caster sugar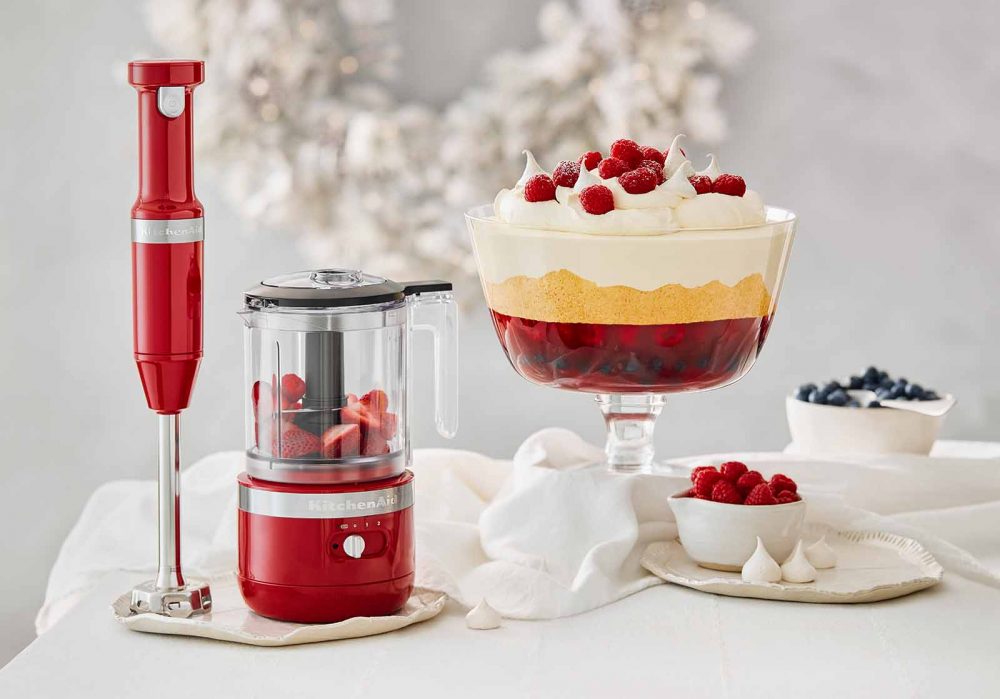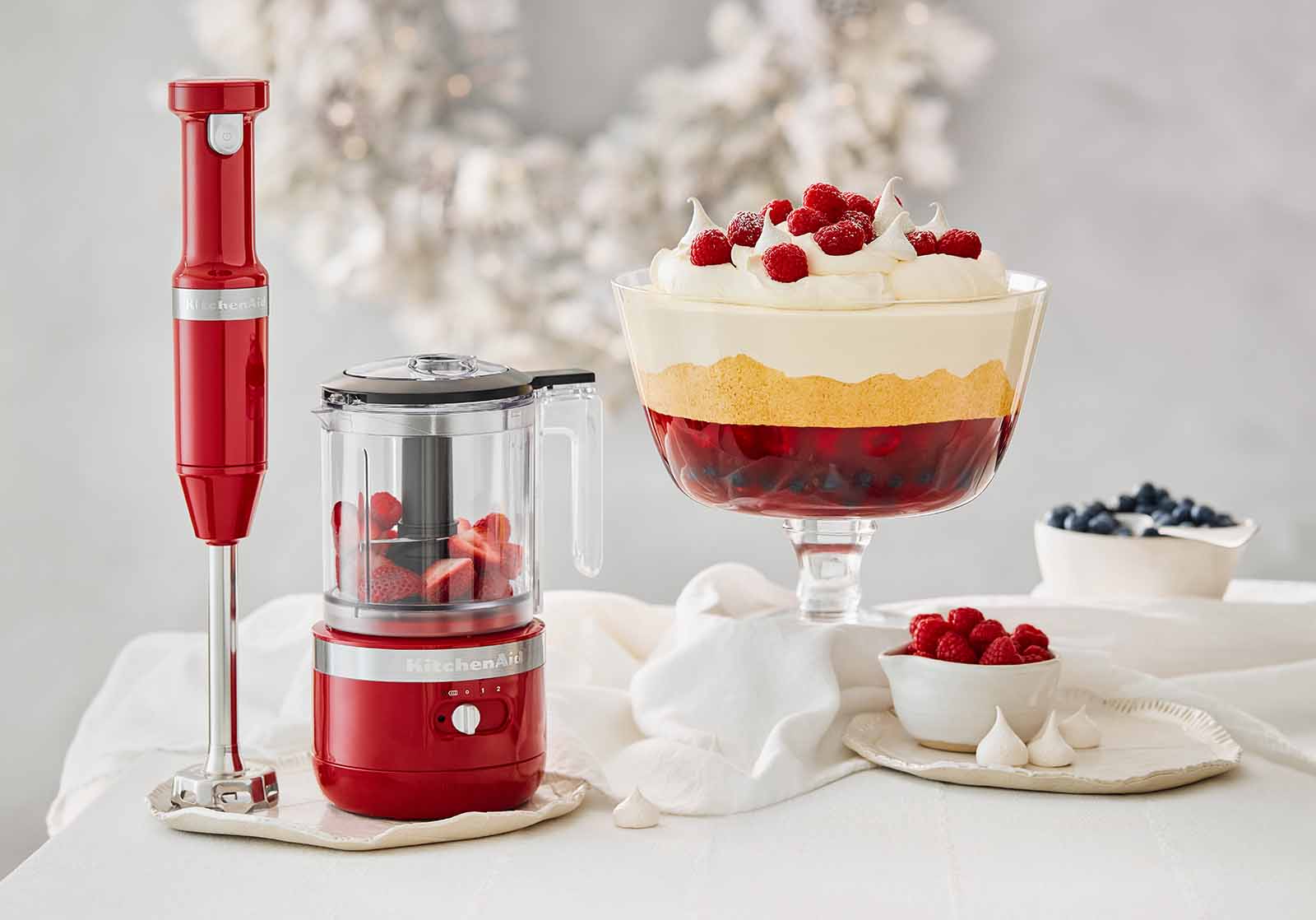 Summer Berries Trifle Method
1. For berry jelly, combine sugar, water, 125gm raspberries and 125gm blueberries in a saucepan over medium heat until sugar dissolves. Stir continuously to break down berries, remove from heat then blend in food processor.
2. Soak gelatine leaves in a bowl of cold water until softened. Strain berry mixture through a fine sieve into a clean pan (discard seeds and pulp). Remove gelatine, squeeze out any excess water and stir into berry mixture.
3. Place remaining blueberries into the bottom of the trifle bowl and pour enough jelly to cover. Refrigerate until set.
4. Place remaining raspberries onto the layer of set blueberry jelly and pour enough jelly mixture to cover. If the jelly has started to set, it can be gently reheated. Leave to set completely before placing the cake on top.
5. For lemon cake, preheat oven to 180⁰C. Grease and line the base and sides of a 20cm cake tin (or a tin the same size as trifle bowl).
6. Sift flour into a large bowl and set aside. Place sugar, baking powder, salt, vanilla and eggs and lemon juice and rind in the bowl of a food processer and blend for 10-15 seconds until combined. With motor running, add melted butter in a thin, steady stream until incorporated.
7. Gently fold the mixture into flour until there are no visible lumps. Pour the batter into prepared tin and bake until a skewer inserted comes out clean (50-60 minutes). Cool in tin for 10 minutes before turning out onto a wire rack to cool completely. Once cool place onto the set jelly and brush with lemon syrup.
8. For lemon syrup, bring lemon juice, sugar and water to the boil in a saucepan until sugar dissolves. Leave to cool to room temperature before using.
9. For white chocolate cream, place chocolate in a large bowl. Bring 475ml cream, vanilla and salt to a simmer in a saucepan, then pour over the chocolate. Leave to sit for 30 seconds, then blend with the stick blender until the mixture is emulsified. Refrigerate for 4 hours or overnight.
10. For meringue kisses, heat oven to 120° and line two baking trays with baking paper. Using electric beaters or a stand mixer, whisk egg whites until they are foaming.  Add sugar, 1 tbsp at a time whisking well between each addition. Continue beating until all the sugar dissolves. Rub a little meringue between your fingers, if it feels gritty, keep whisking until it is smooth. Transfer mixture to a piping bag fitted with a round nozzle and pipe small kisses onto the tray. Bake for 50-60 minutes or until dry. Leave to cool on the tray, then store in an airtight container until ready to decorate.
11. Add 250ml of cream to the bowl and whisk together. In a separate bowl, whisk remaining cream (390ml) until soft peaks form then fold into white chocolate mixture. Spread half onto the lemon cake and smooth the top then dollop the remaining half on top and finish with extra raspberries and meringue kisses.
Showstopping Christmas Desserts
Discover more showstopping Christmas dessert recipes created by Lauren Eldridge!
► Gingerbread and Coconut Layered Cake
► Chocolate Truffle Christmas Wreath
► Brandy and Vanilla Croquembouche
► Pavlova Stack with Peaches and Almond Praline
Summary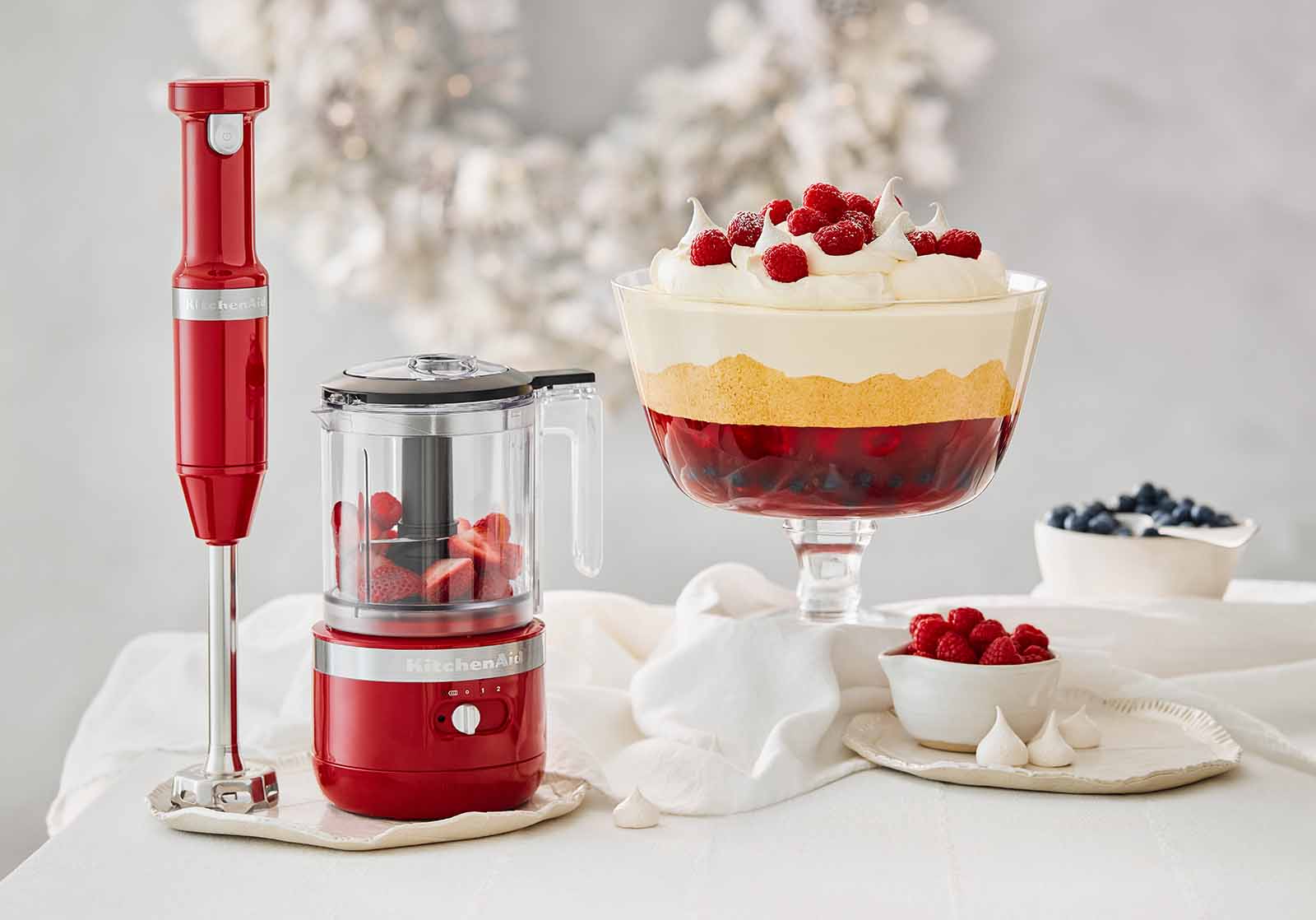 Recipe Name
Author Name
Published On
Preparation Time
Cook Time
Total Time