Looking for a new way to serve breakfast eggs? Then you have to try this scrumptious shakshuka recipe – flavoured with garlic, cumin, paprika and chilli, and topped with fresh parsley and crumbly feta. Be sure to toast extra sough dough to mop up the rich tomato sauce!
Serves 4
Prep 15 minutes
Cook 25 minutes
Ingredients
1 tablespoon extra virgin olive oil
1 brown onion, halved, sliced
1 chorizo, chopped
1 red capsicum, chopped
2 garlic cloves, finely chopped
2 teaspoons ground cumin
1 teaspoon sweet paprika
Pinch of dried chilli flakes
2 x 400g cans chopped tomatoes
2 talespoons chopped fresh parsley, plus extra leaves to serve
250g cherry tomatoes
4 large slices sourdough
80g goat's fetta, crumbled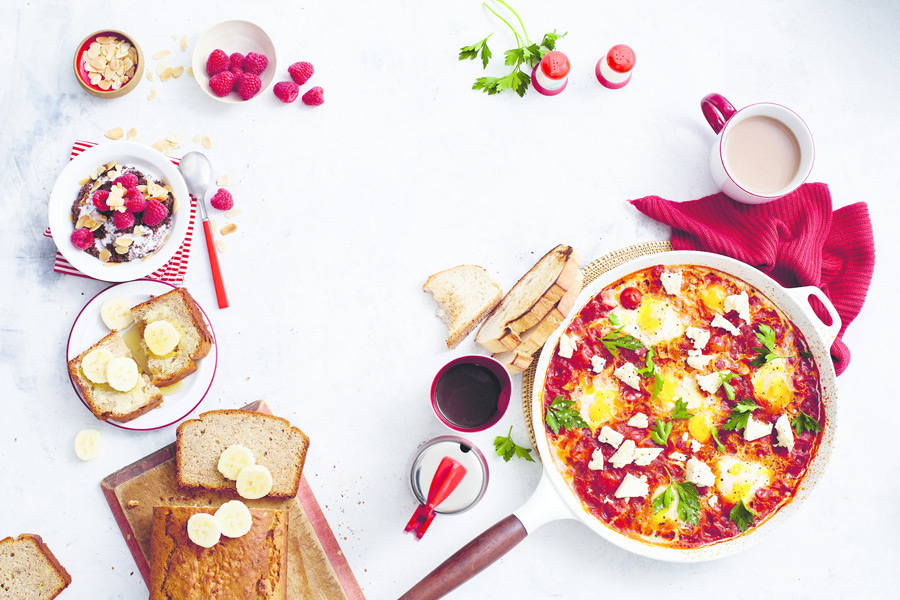 Method
1 Heat oil in a large frying pan over medium-high heat. Add onion. Cook, stirring for 5 minutes or until softened. Add chorizo and capsicum. Cook, stirring occasionally, for 5 minutes or until chorizo is browned.
2 Add garlic, cumin, paprika and chilli. Cook for 1 minute or until fragrant. Add chopped tomatoes, parsley and 1/3 cup water. Season with salt and pepper. Bring to the boil. Reduce heat to low. Simmer for 10 minutes or until sauce thickens.
3 Stir in cherry tomatoes. Using the back of a large spoon, make 8 holes in sauce mixture. Crack 1 egg into each hole. Cover. Cook for 5 minutes or until eggs are cooked to your liking.
4 Meanwhile, toast sourdough until golden.
5 Sprinkle shakshuka with feta and extra parsley. Serve with toast.
Let Them Eat Toast!
Add a little personality to your kitchen counter with these toasters from Harvey Norman that not only make the perfect toast every time but also look stylish while doing it!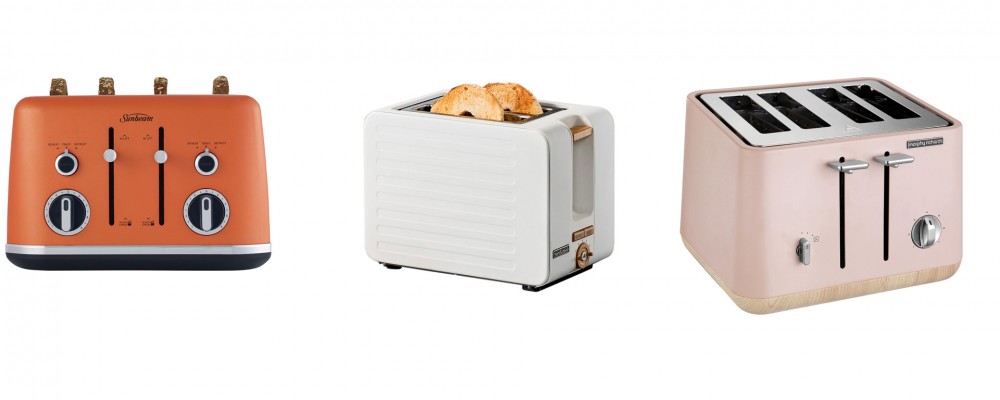 From left:
Sunbeam 'Gallerie' 4-Slice Toaster
Trent & Steele 'Lagom Collection' 2-Slice Toaster
Morphy Richards 'Scandi' Dusty Pink 4-Slice Toaster