A mouth-watering way to add spring lamb to the menu, this fresh and hearty salad is positively bursting with colour, flavour and nutrients. Enjoy!
Sweet Moroccan Roast Lamb and Carrot Salad
1 bunch baby carrots, trimmed
2 red capsicums, coarsely chopped
1 large red onion, cut into wedges
1 tablespoon extra virgin olive oil
2 (about 300g each) mini lamb leg roasts
2 tablespoons pomegranate molasses
2 teaspoons honey
½ teaspoon ground coriander
½  teaspoon ground cumin
½  teaspoon ground ginger
60g baby salad leaves
½  cup fresh mint, firmly packed
½  cup coriander leaves, firmly packed
400g can lentils, rinsed, drained
Low-fat Greek yoghurt, to serve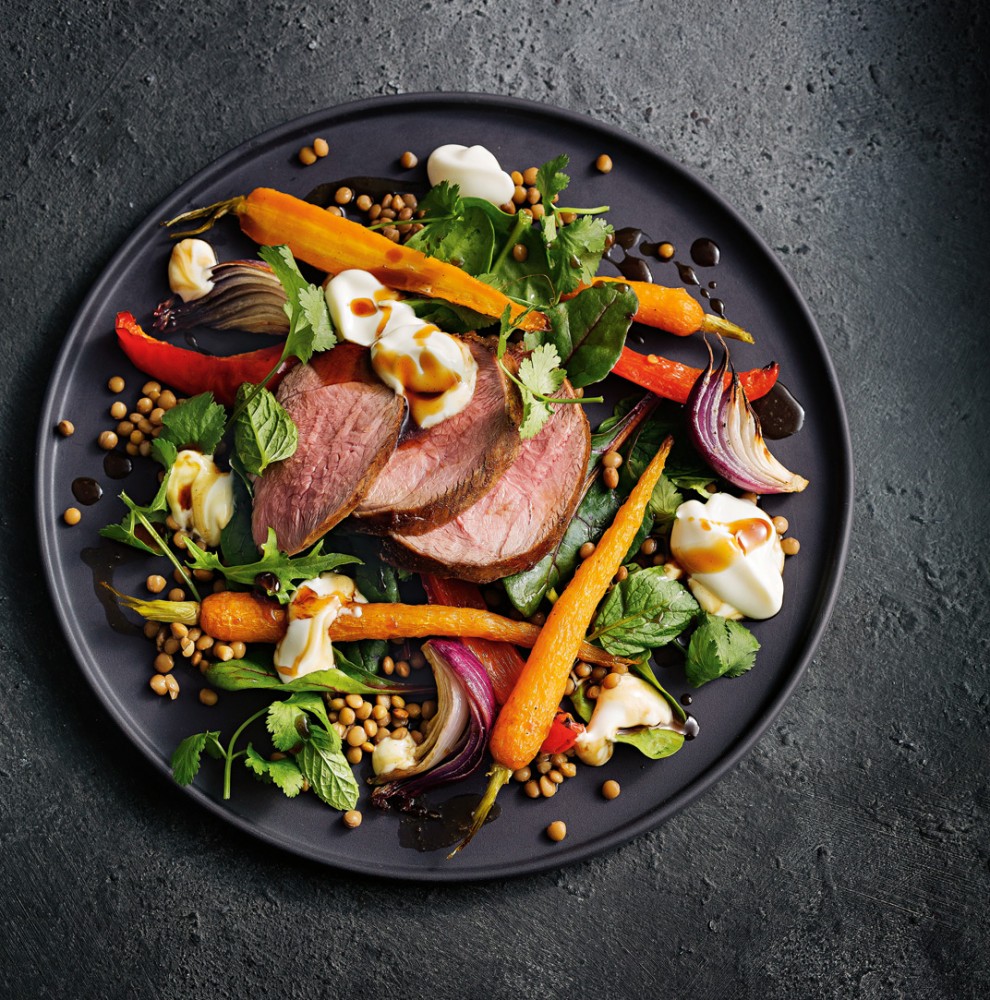 Step 1 Preheat oven to 210°C/190°C fan forced. Line 2 baking trays with baking paper. Combine the carrot, capsicum, onion and oil on 1 prepared tray. Season. Roast, stirring halfway, for 30 minutes or until golden and tender.
Step 2 Meanwhile, heat an ovenproof frying pan over medium-high heat. Spray with olive oil. Season the lamb. Cook, turning, for 5 minutes or until browned. Roast for 12 minutes. Combine the molasses, honey, ground coriander, cumin and ginger in a small bowl. Pour over the lamb. Roast for a further 5-6 minutes for medium or until lamb is cooked to your liking. Transfer lamb to a plate, reserving molasses mixture. Set aside for 10 minutes to rest. Slice lamb.
Step 3 Transfer the molasses mixture to a frying pan over medium heat and bring to the boil. Simmer for 2 minutes or until thickened. Set aside to cool slightly.
Step 4 Toss the salad leaves, herbs, lentils and roast vegetables in a large bowl. Divide among plates. Top with lamb and yoghurt. Drizzle with the pomegranate glaze.
Time for something sweet? Dish up this berry-licious Gluten-Free Blueberry Quinoa Crumble Cake with a large scoop of vanilla bean ice cream or a spoonful of fresh cream.